Astros confident facing Game 5 vs. Royals
Road challenge in KC doesn't worry Houston after winning opener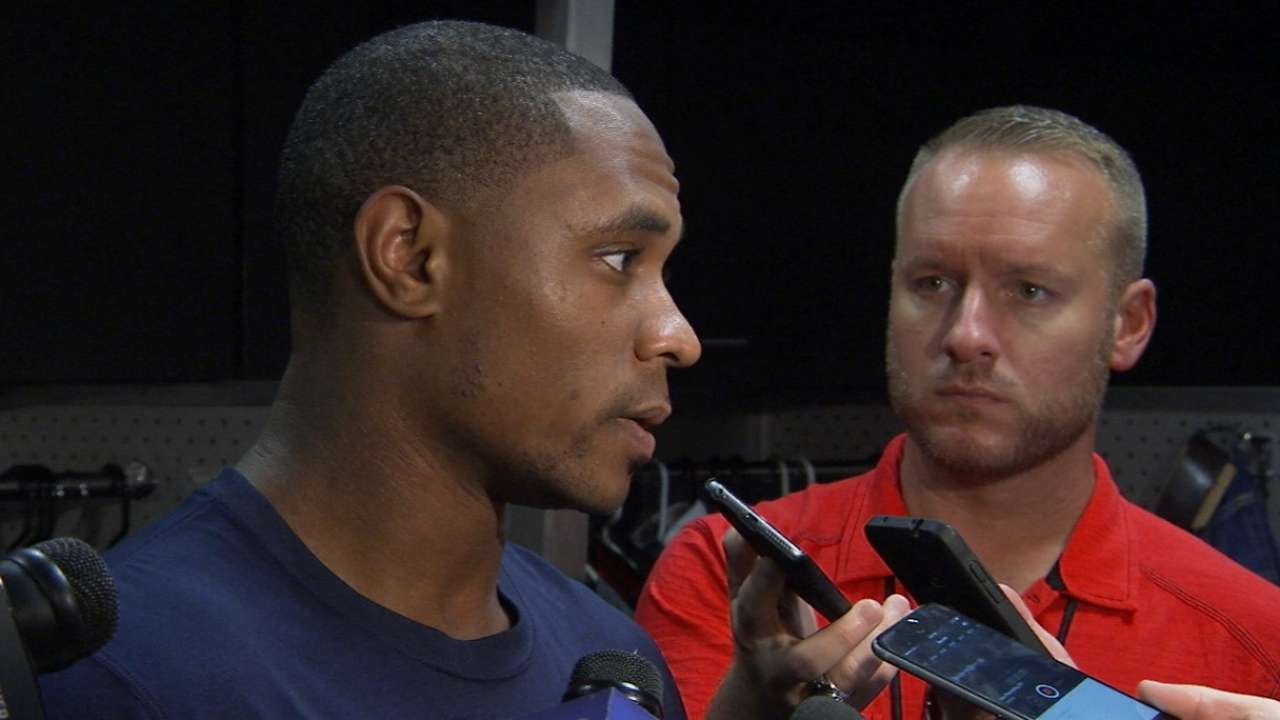 HOUSTON -- Just last week, the Astros thrived in an elimination game, one of many reasons they're feeling confident they can pull off the act again in a different setting in Game 5 of the American League Division Series on Wednesday (8 p.m. ET on FOX Sports 1).
After putting themselves in this position in the most excruciating way -- by losing grasp of a four-run eighth-inning lead against the Royals in front of their home crowd Monday afternoon, resulting in a 9-6 loss in Game 4 of the ALDS -- the Astros group that's proven resilient all year acknowledged Kansas City's fight, while recognizing its own.
Houston showed it time and time again this season, most recently in a 3-0 AL Wild Card Game presented by Budweiser victory over the Yankees last Tuesday at Yankee Stadium.
"Baseball is tough, and we play against a really good team that has kinda the same style as we do and never gives up, and that's what makes our teams special," Astros center fielder Carlos Gomez said. "They came back when we were supposed to win the game. They come back like that, there's respect. But we also play with that passion, and we'll be ready."
"We're disappointed, but they've got a good squad over there, and they fought us and they outgrinded us," left fielder Colby Rasmus said. "They know we're here. They know we're playing them well. We've played them good the whole series. It's been a great series. This has been some good baseball. Getting riled up and getting after it, it's fun."
Houston will have right-hander Collin McHugh on the mound Wednesday in a rematch with Royals righty Johnny Cueto, who was taken off the hook for a 5-4 loss in Game 2 when his teammates rallied back against the Astros' bullpen.
"I thought we should've won every game we've played so far against this team," said closer Luke Gregerson. "I really feel we gave two of them away, and hopefully we can come out Wednesday with the same intensity and come out on top.
"I think down the stretch, we showed that we can win on the road. We went into New York and did it. We went into KC and did it. I don't think [Wednesday] should be any different. I think overall the team is playing phenomenal baseball. The eighth and the ninth today just got away from us. That's unfortunate, because we had a nice little lead there on our home field. Everyone was feeling good, and it's unfortunate, but I think we have a lot of confidence going back to KC."
That extends to the younger core. Chief among that group is Carlos Correa, the rookie who went 4-4 in Monday's loss. Correa made a rare -- albeit crucial -- error in the Royals' five-run eighth.
"We have another game," Correa said. "You guys are acting like we're out of it. We're not out of it. We got to go out there and win it, and everyone will forget about this game."
Jane Lee is a reporter for MLB.com. This story was not subject to the approval of Major League Baseball or its clubs.