Cards chase Arrieta in 6th, but it's not enough
Despite snapping Cubs ace's scoreless streak at 34 innings, St. Louis falls in Game 3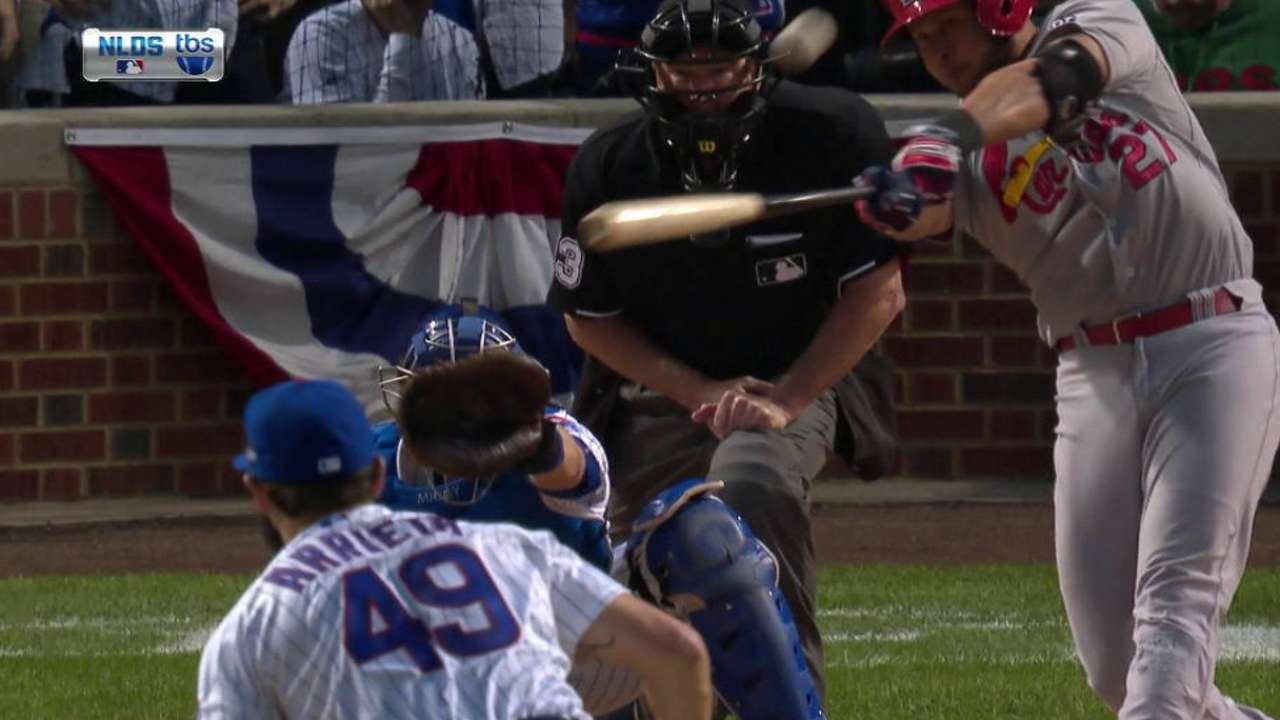 CHICAGO -- It was, in many ways, a near best-case scenario for the Cardinals, watching Jake Arrieta walk off the mound with an out still left to get in the sixth and having already given up as many earned runs (four) as he had allowed in his previous 13 starts combined. St. Louis, trailing by one at the time, salivated over an opportunity to finish off a comeback against what they thought could be a porous 'pen.
But a favorable outcome wouldn't just hinge on hitting the recently unhittable Cubs ace. It required the Cardinals' pitching staff, the best in the Majors this season, to step up. And that is where the Cards' best-laid plans unraveled. Despite making Arrieta look human again, the Cardinals' pitching couldn't keep pace, the result of which was an 8-6 loss in Game 3 of the National League Division Series that leaves the Cards needing to win a pair of elimination games to keep their season alive.
"We thought we put together some good at-bats," Cardinals manager Mike Matheny said. "We were grinding against Arrieta all night, and we did have opportunities. They just kept adding on."
A team that, heading into Monday's game at Wrigley Field, had gone 38-0 this year when scoring at least six runs in a game found an inopportune time to play to the exception.
"Really, really incredible offensive club on their side," Arrieta said. "They had a really good approach today. Laid off some really nice cutters, sliders early in counts, made me come in the zone with more hittable pitches, They were able to capitalize on two walks there in the third and scratch for a couple."
The Cardinals didn't capitalize on every opportunity Arrieta offered -- most notably squandering Heyward's leadoff double in the second -- but they ended his scoreless-innings streak at 34 and had more production off him than any team since June 16. A Jhonny Peralta double and a productive Tommy Pham groundout gave the Cards a 2-1 lead in the fourth. Heyward's two-run blast in the sixth forced the Cubs' bullpen to stir.
"Absolutely," Heyward said, when asked if the offense executed its game plan. "We put up four on him. We put up some good [at-bats], made him work, made him earn it, and tonight, they earned it."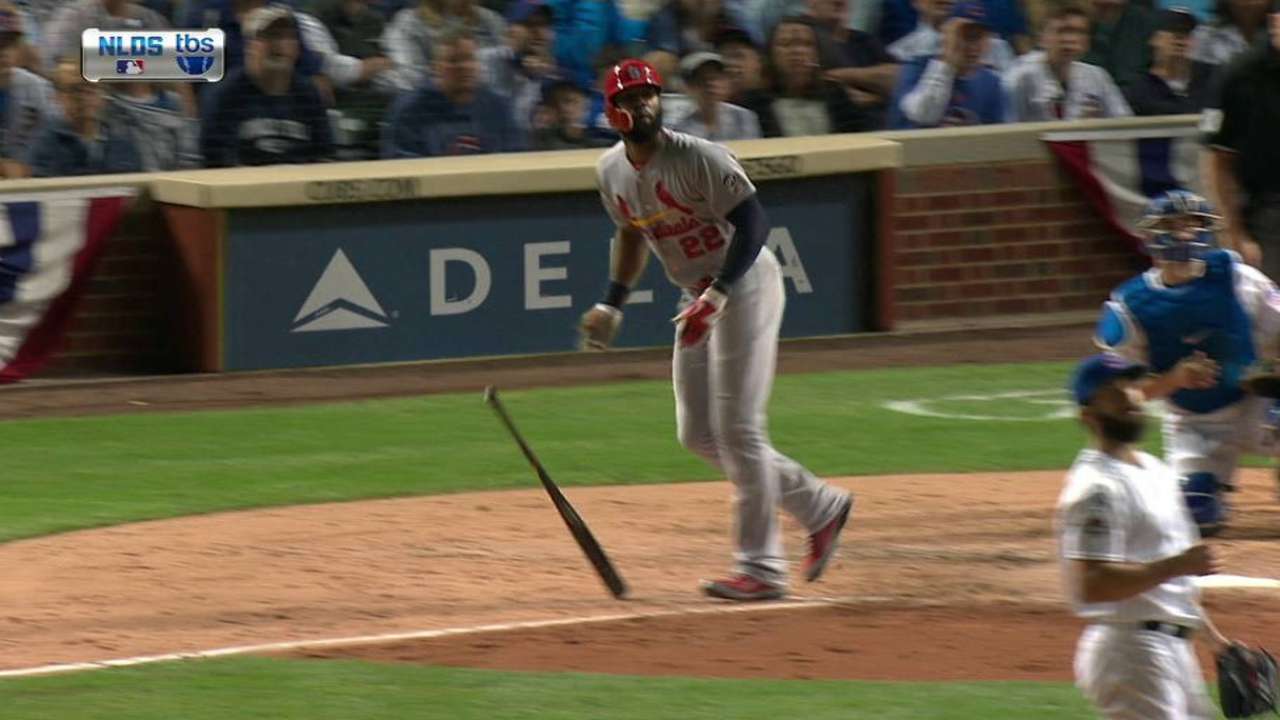 And even though Michael Wacha searched for fastball command throughout much of his 4 1/3-innings start, he didn't let the game get away under his watch.
Matheny managed aggressively, calling for reliever Kevin Siegrist to begin warming up in the top of the fifth, with the game tied at 2 and the left-handed-hitting Anthony Rizzo due up fourth. If Wacha got into trouble, Siegrist would face the Cubs' cleanup hitter.
Before Siegrist could bail him out, however, Wacha fell behind Kris Bryant, 3-0, and then served up a two-run blast, the third of six home runs the Cubs would hit en route to establishing a single-game postseason record. To make it worse, Rizzo then greeted Siegrist with another blast.
It went similarly for Adam Wainwright, who, carrying the Cardinals' manageable one-run deficit into the bottom of the sixth, had a left-too-high cutter pulverized by Jorge Soler. It was a momentum crusher, the Cardinals' high of having just knocked Arrieta out of the game neutralized by now finding themselves down three.
"Yeah, we were in a good spot there," Wainwright said. "We just came back with a crooked number to get it back to a one-run game, and the biggest sin a pitcher can commit is go out there and give the other team right back the runs you just got. I hate that that happened. I can't stand that that happened."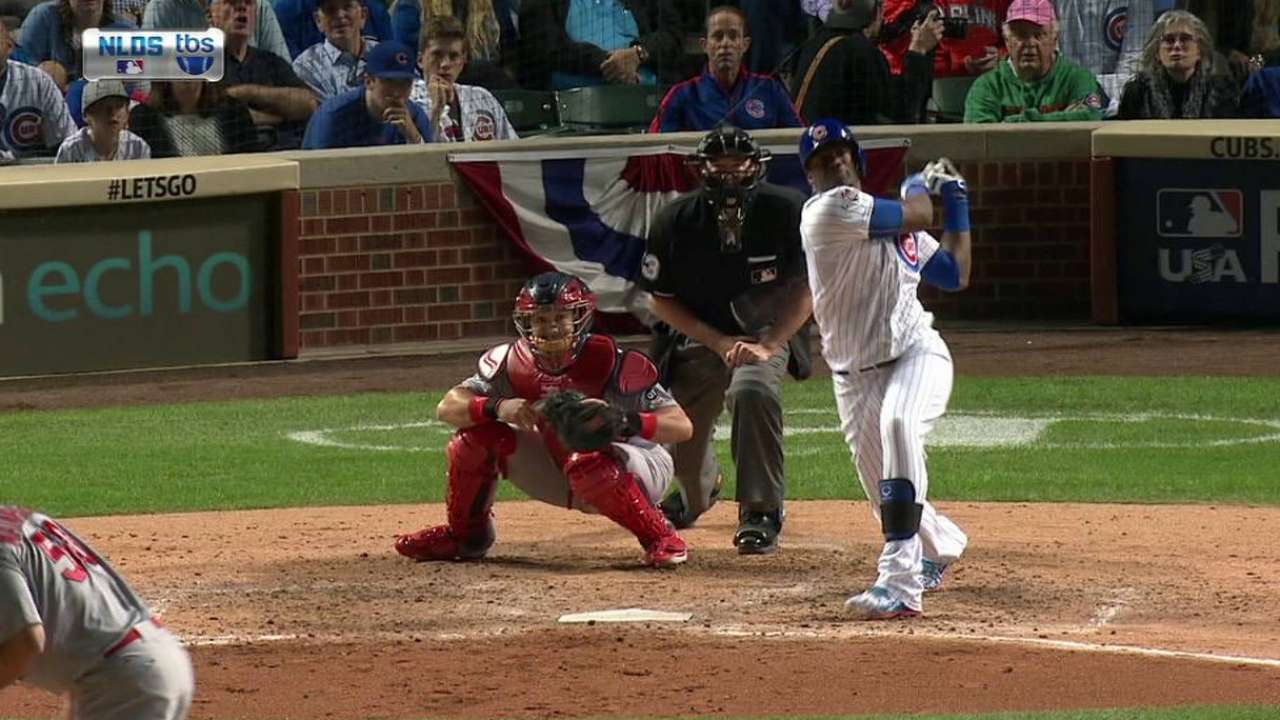 The Cardinals played catch-up the rest of the night and never got there. A Dexter Fowler home run off Jonathan Broxton in the eighth made the ninth-inning task off Hector Rondon too tall.
"In a game like this when you know that you've just got to keep going, every one of them makes it a little more difficult," Matheny said. "We just let guys go at it and see who ends up finishing up on top, and they won that one."
All that work to get to -- and through -- Arrieta went for naught because of the Cardinals' inability to keep the ball inside the park. Since 1914, the Cardinals had allowed six home runs in a game just 10 times in franchise history -- and never before in the postseason.
Jenifer Langosch is a reporter for MLB.com. Read her blog, By Gosh, It's Langosch, follow her on Twitter @LangoschMLB, like her Facebook page Jenifer Langosch for Cardinals.com and listen to her podcast. This story was not subject to the approval of Major League Baseball or its clubs.