McCullers gives it all in postseason debut
Rookie righty spins quality start before watching Royals' late rally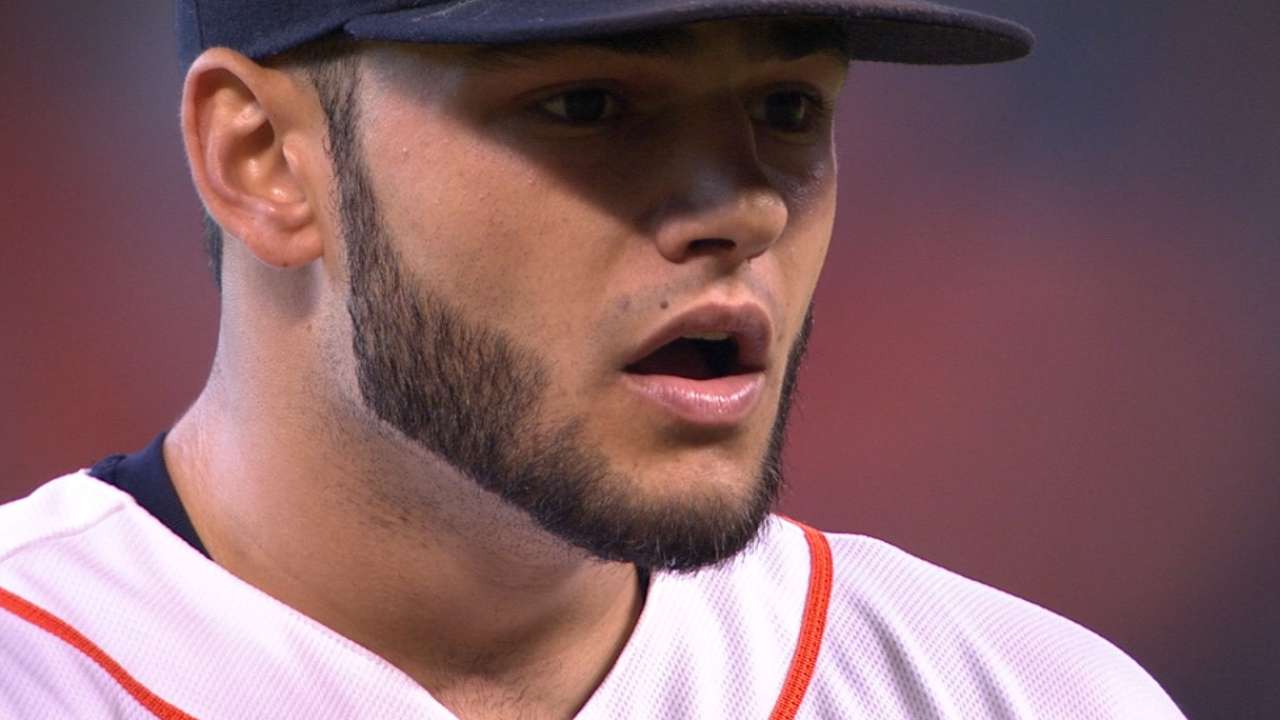 HOUSTON -- His rookie starting pitcher nearing 100 pitches after just five innings of Monday's 9-6 loss to the Royals in Game 4 of the American League Division Series, Astros manager A.J. Hinch instructed Lance McCullers to empty his tank in the sixth inning.
Facing the meat of Kansas City's order -- Lorenzo Cain, Eric Hosmer and Kendrys Morales -- McCullers required just 11 pitches to get through the sixth, striking out Cain with a breaking ball before inducing a popout and a groundout that had the 22-year-old hurler pounding his chest and gesturing toward his dugout as he ran off the field.
Hinch approached McCullers in the seventh.
"I can go, I can keep going," McCullers implored.
Hinch obliged, sending McCullers out, and he quickly got Mike Moustakas to bounce out to first before plunking Salvador Perez and ending his gritty afternoon at 110 pitches -- one off tying his career high -- in his first postseason start.
Once in the dugout, McCullers was almost as boisterous as when he toed the rubber, slapping the dugout railing numerous times and jumping from the steps as reliever Will Harris skirted seventh-inning trouble and Jason Castro caught Terrance Gore stealing (on a replay review) to end the frame.
"I was amped up," McCullers said. "I was feeling good. My goal was to go out there and compete for the guys. When you make it as simple as that, when you keep that as your goal, you don't try to do too much. You just go out there and pitch your heart out, and it turned out OK for me today."
After opening the game by hitting Alcides Escobar on a full-count pitch, McCullers steadied to allow little traffic on the basepaths, his only blunder a two-run home run to Perez in the second inning that opened the scoring on a pitch McCullers thought was decent -- a fastball up in the zone.
Spinning a nasty breaking ball that only got sharper as the afternoon progressed, McCullers allowed just one hit and three baserunners after the home run. He maintained mid-90s velocity on his fastball while his pitch count creeped into triple digits.
"It was nice to see him settle down and execute some pitches and get some big swings and misses," Hinch said. "He was starting to land his breaking ball as the game went along, and to finish his outing the way he did was very, very impressive."
With the recent success of an otherwise shaky Astros bullpen, McCullers said he briefly began to think about a potential trip to the AL Championship Series. And though it didn't come to fruition, McCullers said Wednesday's decisive Game 5 puts Houston in a familiar position.
"As good as we've been closing out baseball games, at that point, you're already envisioning what the next couple outs are going to be," McCullers said. "But it didn't go our way. That's life, that's baseball -- it rolls around. We've played some really good baseball this series and we've pretty much controlled our own destiny the entire time."
Chandler Rome is an associate reporter for MLB.com. This story was not subject to the approval of Major League Baseball or its clubs.