MLB.com Columnist
Jim Callis
Curtain rises on prospect-packed Fall League
Twelve players from MLB Pipeline's Top 100 list on AFL rosters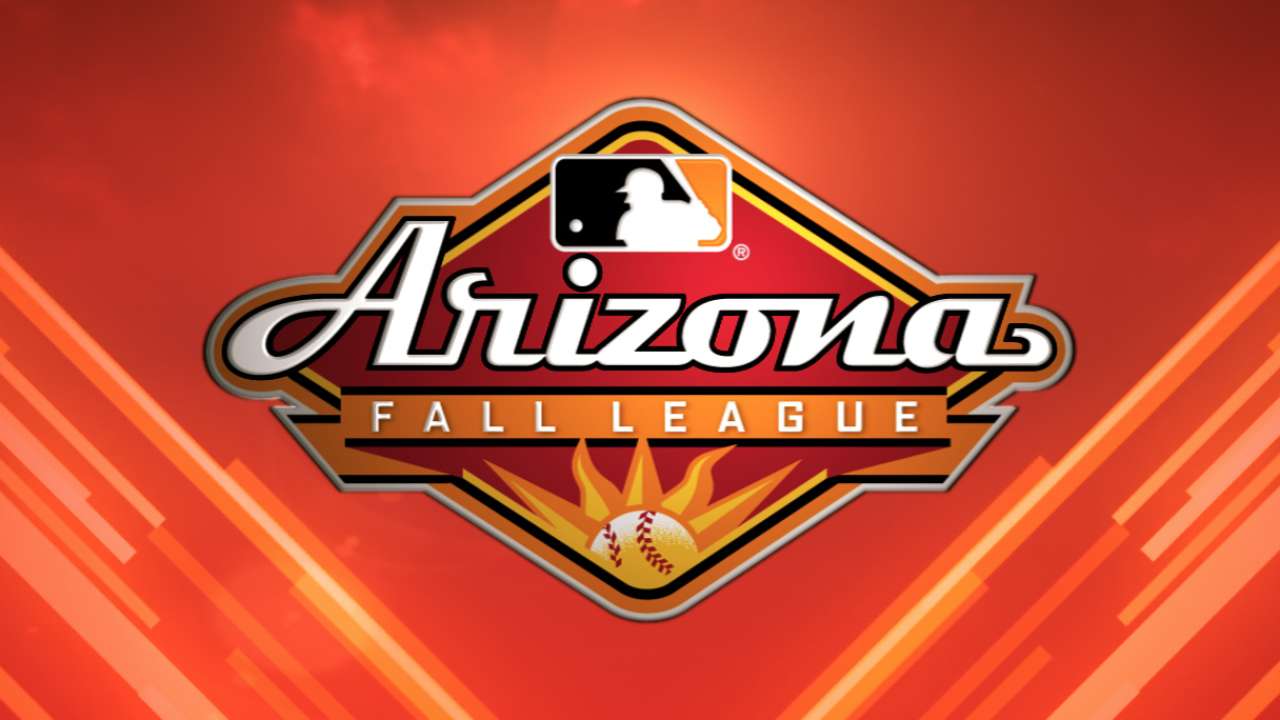 Baseball's annual preview of coming attractions, better known as the Arizona Fall League, recently raised the curtain on its 24th season.
The Glendale Desert Dogs' roster features the highest-rated prospect in the league, Phillies shortstop J.P. Crawford (No. 5 on MLBPipeline.com's Top 100 list), and Minor League home run leader A.J. Reed (Astros). The Mesa Solar Sox have a top shortstop prospect of its own in Daniel Robertson (Rays), who batted .301 for the Solar Sox last fall.
The Surprise Saguaros' lineup is powered by outfielders Brett Phillips (Brewers) and Lewis Brinson (Rangers). And the Peoria Javelinas boast a pair of former first-round picks in shortstop Alex Blandino (Cardinals) and corner infielder D.J. Peterson (Mariners).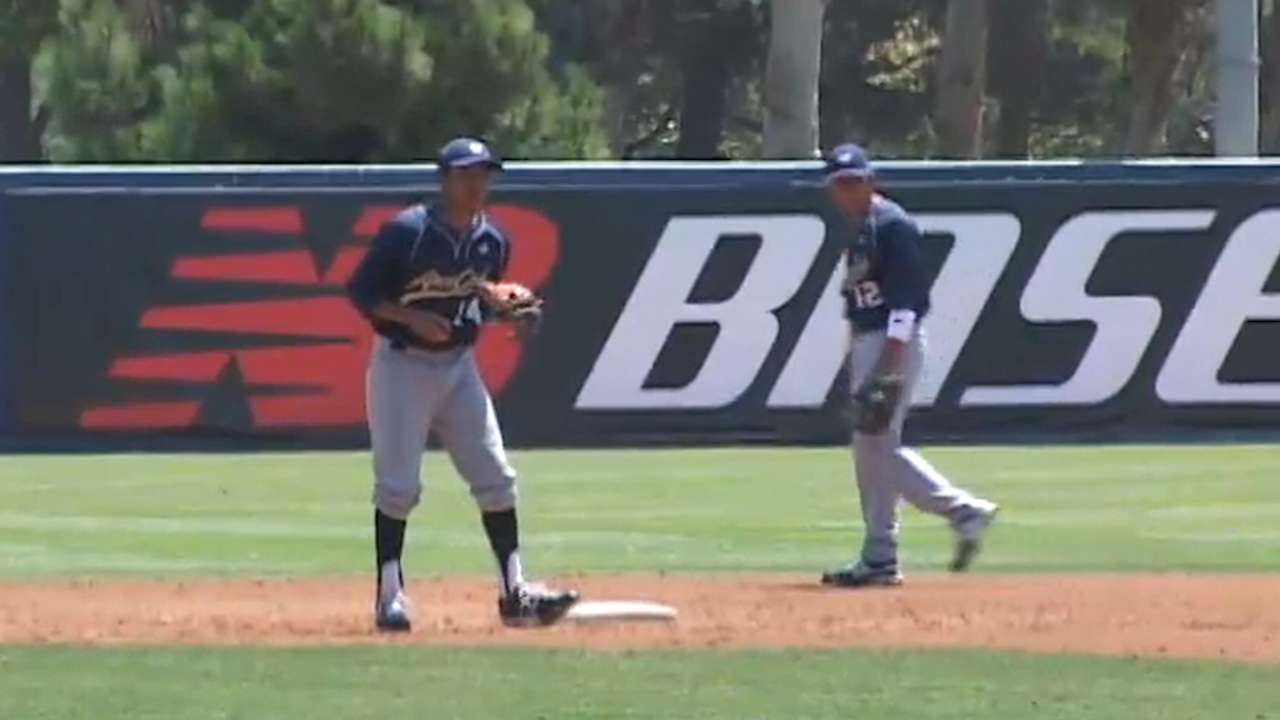 The first night game of the season featured the Scottsdale Scorpions at the crosstown Salt River Rafters, the AFL's defending champions. Salt River has one of the deepest lineups in the league, led by two Mets first-round picks, shortstop Gavin Cecchini and first baseman Dominic Smith. Scottsdale's headliner is Indians outfielder Clint Frazier, the fifth overall pick in the 2013 Draft.
The AFL's lone Top 100 pitching prospect, right-hander Alex Reyes (Cardinals), anchors the Saguaros' rotation. The best left-handers, Sean Manaea (Athletics) of the and Kyle Freeland belong to the Solar Sox and Rafters, respectively.
2015 Arizona Fall League rosters
Click on the AFL team name to see complete roster.

| AFL club | MLB clubs |
| --- | --- |
| Glendale | CWS, HOU, LAD, PHI, PIT |
| Peoria | ATL, BAL, CIN, SD, SEA |
| Salt River | ARI, COL, NYM, TOR, WSH |
| Surprise | KC, MIL, NYY, STL, TEX |
| Scottsdale | BOS, CLE, DET, MIN, SF |
| Mesa | CHC, LAA, MIA, OAK, TB |
This type of talent is typical for the league, which has sent roughly 2,500 players to the big leagues, including Derek Jeter, Andrew McCutchen, Buster Posey, Max Scherzer and Mike Trout. The AFL has spawned 231 All-Stars (including 42 from this summer's game alone), 25 Rookies of the Year, 14 MVPs and five Cy Young Award winners. Several members of this year's historic rookie class played in the AFL, including the last two league MVPs, Kris Bryant and Greg Bird, as well as Francisco Lindor, Joc Pederson and Addison Russell.
Complete coverage of the Fall League on MLBFallBall.com
Each of MLB's 30 organizations sends at least a half-dozen prospects to Arizona, where they'll play six games per week in a regular-season schedule that runs through Nov. 19. The two division leaders will meet Nov. 21 in a one-game championship that will be broadcast live on MLB Network. MLBN also will broadcast the Fall Stars Game on Nov. 7, a Military Appreciation Game between Salt River and Surprise on Nov. 14, and other regular-season games to be announced.
Besides giving prospects six more weeks of at-bats and innings to hone their skills, the AFL also provides an opportunity to make up for time lost to injury. Reyes missed a month at midseason with minor shoulder soreness and totaled 101 1/3 innings. Manaea lost the first half to abdominal and groin strains and worked just 74 1/3 frames this season, while Freeland pitched just 46 2/3 amid battling bone chips in his elbow and shoulder fatigue.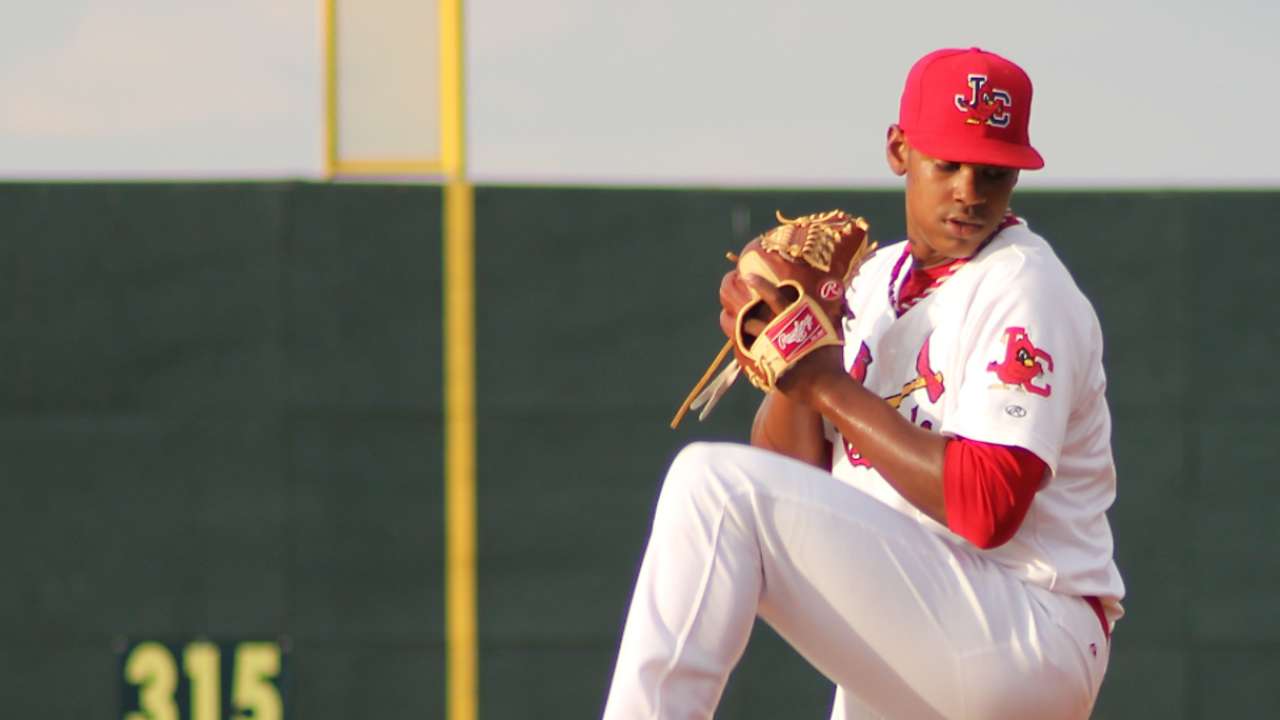 Among position players, Robertson was limited to 82 games by a broken hamate bone in his left hand. Peterson played in just 97 contests and saw his season end on Aug. 1 with an Achilles strain. Another former first-rounder, Mesa first baseman Casey Gillaspie (Rays), was held to 79 games after he injured his left wrist on a swing.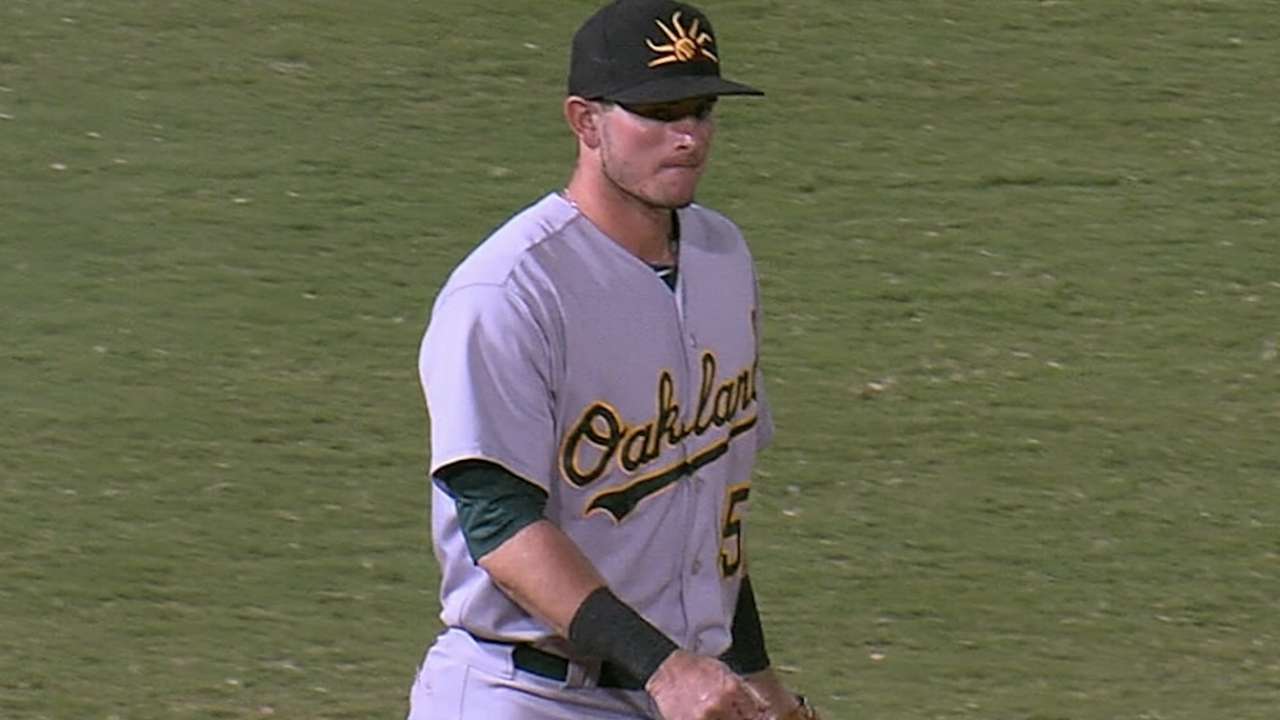 Even big leaguers use the AFL on their way back from injuries. Surprise infielder Jurickson Profar (Rangers), who once ranked as the best prospect in the Minors, missed all of 2014 and appeared in just 12 games (none above low Class A) this year after he tore the labrum in his throwing shoulder. Peoria left-hander James Paxton made only 13 starts for the Mariners while dealing with a strained tendon and torn fingernail.
Top 100 Prospects
Eleven players from MLBPipeline.com's Top 100 Prospects list are on AFL rosters. Glendale (Crawford, Pirates outfielder Austin Meadows, Reed), Salt River (Cecchini, Smith, Rockies outfielder Raimel Tapia) and Surprise (Reyes, Phillips, Brinson) lead the way with three each.
The Mets (Cecchini, Smith) are the only organization that sent multiple Top 100 Prospects to Arizona. Here's the complete list:
J.P. Crawford, SS, Glendale/Phillies (No. 5 on Top 100)
Alex Reyes, RHP, Surprise/Cardinals (No. 16)
Austin Meadows, OF, Glendale/Pirates (No. 22)
Brett Phillips, OF, Surprise/Brewers (No. 32)
Clint Frazier, OF, Scottsdale/Indians (No. 35)
Dylan Bundy, RHP, Javelinas/Orioles(No. 64)
Lewis Brinson, OF, Surprise/Rangers (No. 65)
Daniel Robertson, SS, Mesa/Rays (No. 79)
Gavin Cecchini, SS, Salt River/Mets (No. 90)
A.J. Reed, 1B, Glendale/Astros (No. 91)
Dominic Smith, 1B, Salt River/Mets (No. 92)
Raimel Tapia, OF, Salt River, Rockies (No. 99)
Top Organization Prospects
Below is a list of each organization's top-rated AFL prospect, according to MLBPipeline.com:
Angels: Greg Mahle, LHP, Mesa (No. 15 on organization list)
Astros: A.J. Reed (No. 5)
Athletics: Sean Manaea, LHP, Mesa (No. 3)
Blue Jays: Rowdy Tellez, 1B, Salt River (No. 7)
Braves: Lucas Sims, RHP, Peoria (No. 7)
Brewers: Brett Phillips (No. 2)
Cardinals: Alex Reyes (No. 1)
Cubs: Pierce Johnson, RHP, Mesa (No. 7)
Diamondbacks: Yoan Lopez, RHP, Salt River (No. 5)
Dodgers: Jharel Cotton, RHP, Glendale (No. 15)
Giants: Christian Arroyo, SS, Scottsdale (No. 2)
Indians: Clint Frazier (No. 2)
Mariners: D.J. Peterson, 3B/1B, Peoria (No. 3)
Marlins: Austin Dean, OF, Mesa (No. 7)
Mets: Gavin Cecchini (No. 4)
Nationals: Drew Ward, 3B, Salt River (No. 11)
Orioles: Dylan Bundy, Peoria (No. 2)
Padres: Ryan Butler, RHP, Peoria (No. 11)
Phillies: J.P. Crawford (No. 1)
Pirates: Austin Meadows (No. 2)
Rangers: Lewis Brinson (No. 4)
Rays: Daniel Robertson (No. 5)
Red Sox: Sam Travis, 1B, Scottsdale (No. 11)
Reds: Nick Travieso, RHP, Peoria (No. 6)
Rockies: Raimel Tapia (No. 8)
Royals: Bubba Starling, OF, Surprise (No. 5)
Tigers: Austin Kubitza, RHP, Scottsdale (No. 8)
Twins: Adam Brett Walker, OF, Scottsdale (No. 10)
White Sox: Trey Michalczewski, 3B, Glendale (No. 6)
Yankees: Gary Sanchez, C, Surprise (No. 5)
Jim Callis is a reporter for MLB.com and writes a blog, Callis' Corner. Follow @jimcallisMLB on Twitter. This story was not subject to the approval of Major League Baseball or its clubs.