MLB.com Columnist
Alyson Footer
Hosmer in the thick of KC's comeback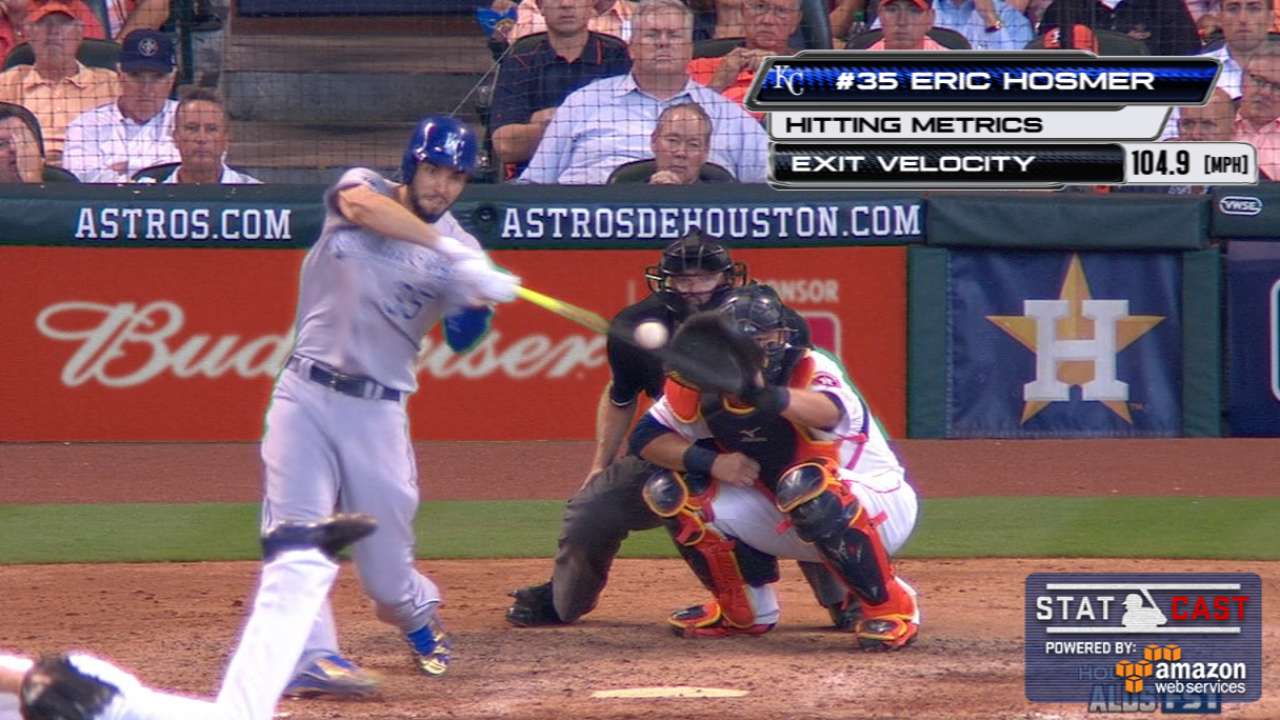 HOUSTON -- Keep the line moving. It's a well-worn phrase used by teams when describing rallies that involve hit after hit after hit after hit, usually resulting in a win.
That's what the Royals did against the Astros in the eighth inning of Game 4 of the American League Division Series on Monday afternoon, and it's what led to them winning, 9-6, instead of losing by four, to send the series back to Kansas City for a decisive Game 5 on Wednesday at 8 p.m. ET on FOX Sports 1.
• Shop for Royals postseason gear
"It's big," manager Ned Yost said. "You keep looking at this group, and our bats were really silent until the eighth inning, but having watched them as much as I've watched them, you know that sooner or later, they're going to break out."
Right in the thick of things was Eric Hosmer, the second batter to enter a bases-loaded no-out situation in that eighth frame. Lorenzo Cain had just singled home Alex Rios to make it 6-3, and with the bases still loaded, Hosmer, facing Tony Sipp, singled to right, sending home Alcides Escobar to bring Kansas City within two at 6-4.
And the line kept moving.
Following a Carlos Correa error, which allowed the game-tying runs to score, Hosmer crossed the plate with the go-ahead run on a one-out force play on a one-out groundout to second base by Alex Gordon.
The rally stunned and silenced the sellout crowd at Minute Maid Park and thrilled the down-but-never-out Royals.
"The mind-set -- really from the whole entire team, the whole entire offense -- was just, 'Make this at-bat count,'" Hosmer said. "Obviously, we're pretty late in the game right there and down by four, so not one guy can get us back in this game. So we've got to do whatever we can to keep the line moving."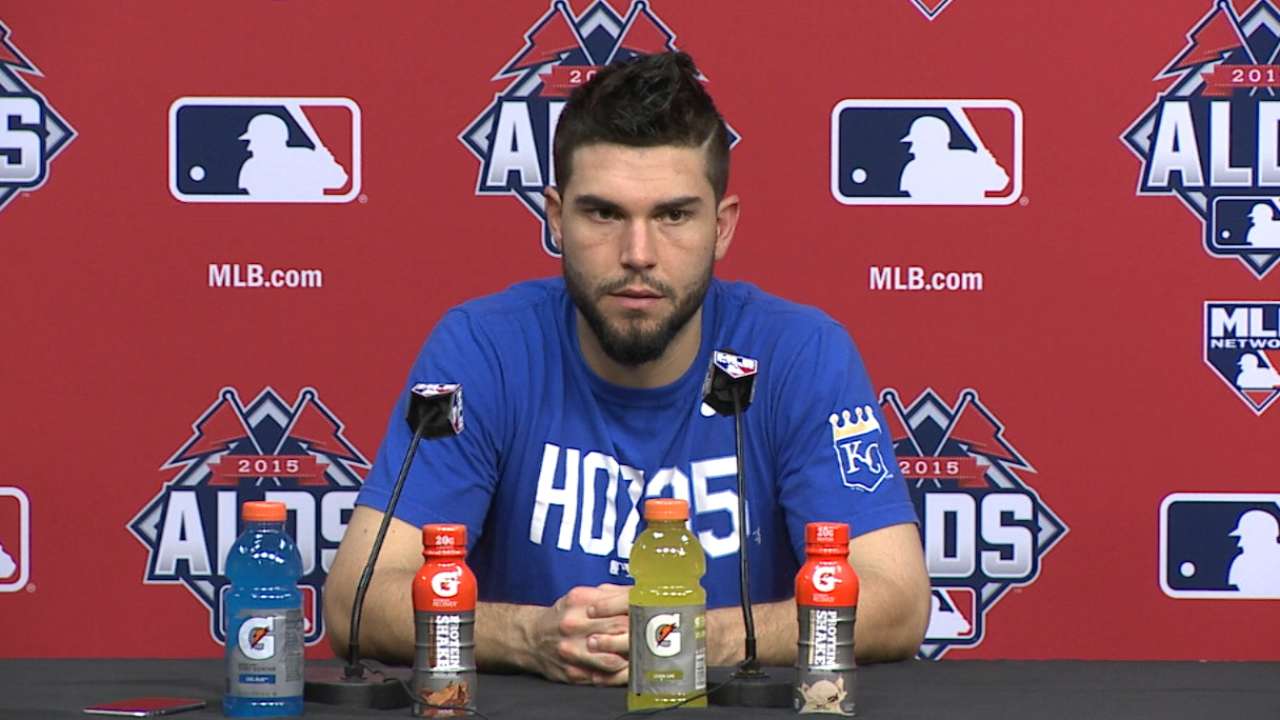 Hosmer added some insurance in the ninth with a two-run homer off Josh Fields to all but seal the win for Kansas City.
"I've been getting beat a lot by fastballs, especially today, so I just wanted to get it going early," Hosmer said. "And you get down two strikes, you miss a couple heaters, you just try and put the ball in play.
"And right there, bases loaded, especially with Kendrys [Morales] coming up, you're trying to keep the line moving, trying to get on base for him. And I just fouled off some good pitches, but finally got one out over the plate and put a good swing on it."
Dramatic comebacks are nothing new to these Royals. They were outs away from losing last year's AL Wild Card Game against the A's, trailing, 7-3, in the bottom of the eighth before rallying to win, 9-8, in 12 innings.
Apparently, "down and out" is not a part of the mind-set of the reigning AL champs.
"You have confidence that sooner or later, they're going to put together some hits and they're going to put some runs on the board," Yost said. "And even though we were down four in the eighth inning, I felt real confident that we were going to make a game out of it. I just felt that the bats were going to come alive, and they really did in the eighth inning. I mean, really did."
It may have saved the season, just in the nick of time.
"That's the mentality for this whole entire team," Hosmer said. "It's 'never quit,' and the character we showed today, that's what a championship ballclub does."
Alyson Footer is a national correspondent for MLB.com. Follow her on Twitter @alysonfooter. This story was not subject to the approval of Major League Baseball or its clubs.