MLB.com Columnist
Tracy Ringolsby
Game 5 another chance for Astros to defy odds
After missing opportunity to clinch at home, Houston faces road test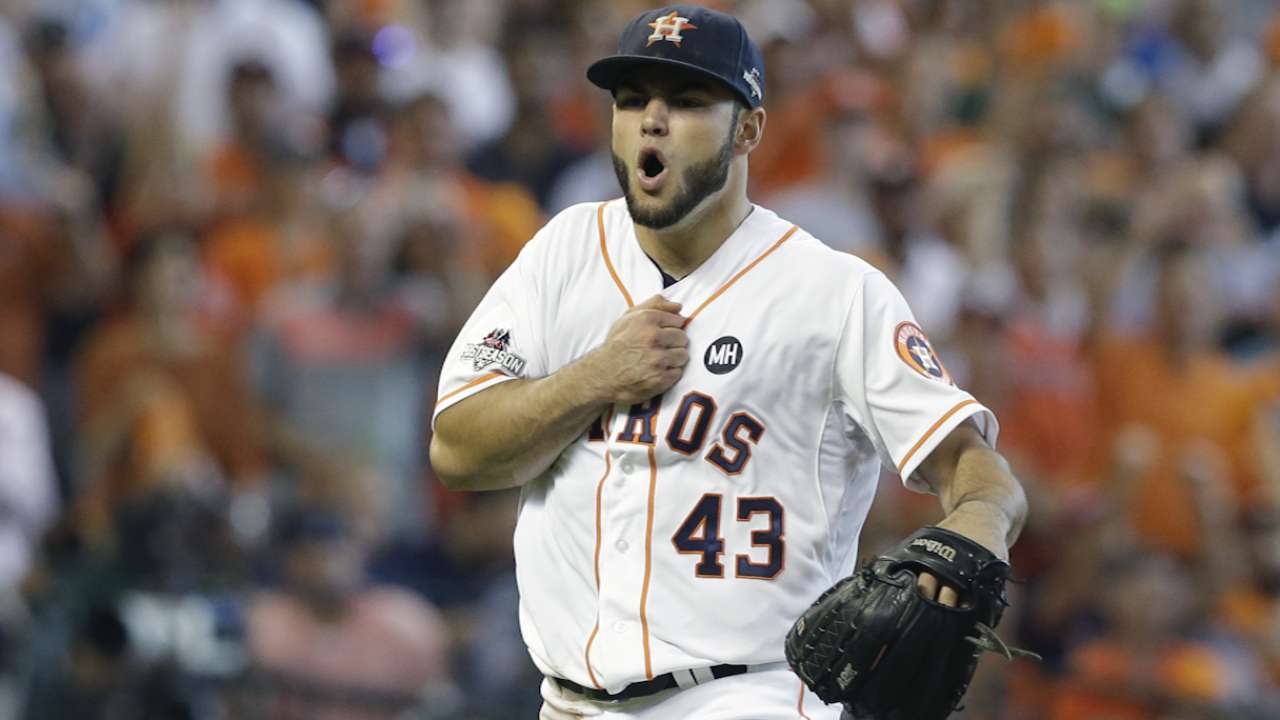 HOUSTON -- The Houston Astros are excited. Why not? They get to play another game on Wednesday.
It will be a winner-take-all showdown with the Kansas City Royals at Kauffman Stadium (live on Fox Sports 1 at 8 p.m. ET) to decide which one of the two teams advances to the American League Championship Series against the winner of the Rangers/Blue Jays AL Division Series.
Shop for Astros postseason gear
Oh, sure, the Astros could have wrapped it up at home on Monday afternoon. Yes, they had a four-run lead going into the eighth inning. No, it wasn't enough.
The Royals worked their way through the three best the Astros had to offer out of their bullpen -- left-hander Tony Sipp sandwiched between right-handers Will Harris and Luke Gregerson -- for a five-run rally, and next thing a sellout crowd at Minute Maid Park knew, Houston found itself on the wrong side of a 9-6 decision.
"These are fun games," said Astros manager A.J. Hinch. "I know it doesn't feel that way coming out of this game with a loss and no celebration, but we have continued to put ourselves in a position where we control our own destiny."
So Houston had a chance to win the series on Monday and didn't. The Astros at least get another chance to clinch on Wednesday. And they are looking forward to it.
"Obviously," said outfielder George Springer, "Game 5 of the ALDS is something to look forward to. It's going to be fun. Their fans are probably going to be crazy there. You have to have fun."
These Astros are playing on house money, anyway. So there is no sense getting shook up. Nobody projected them to finish .500, much less end a decade-old postseason drought this year, but here they are, staring at the defending AL champion Royals and not inclined to blink in the slightest.
"Stuff like this happens," said Springer. "We weren't fortunate today."
Wednesday? Time will tell.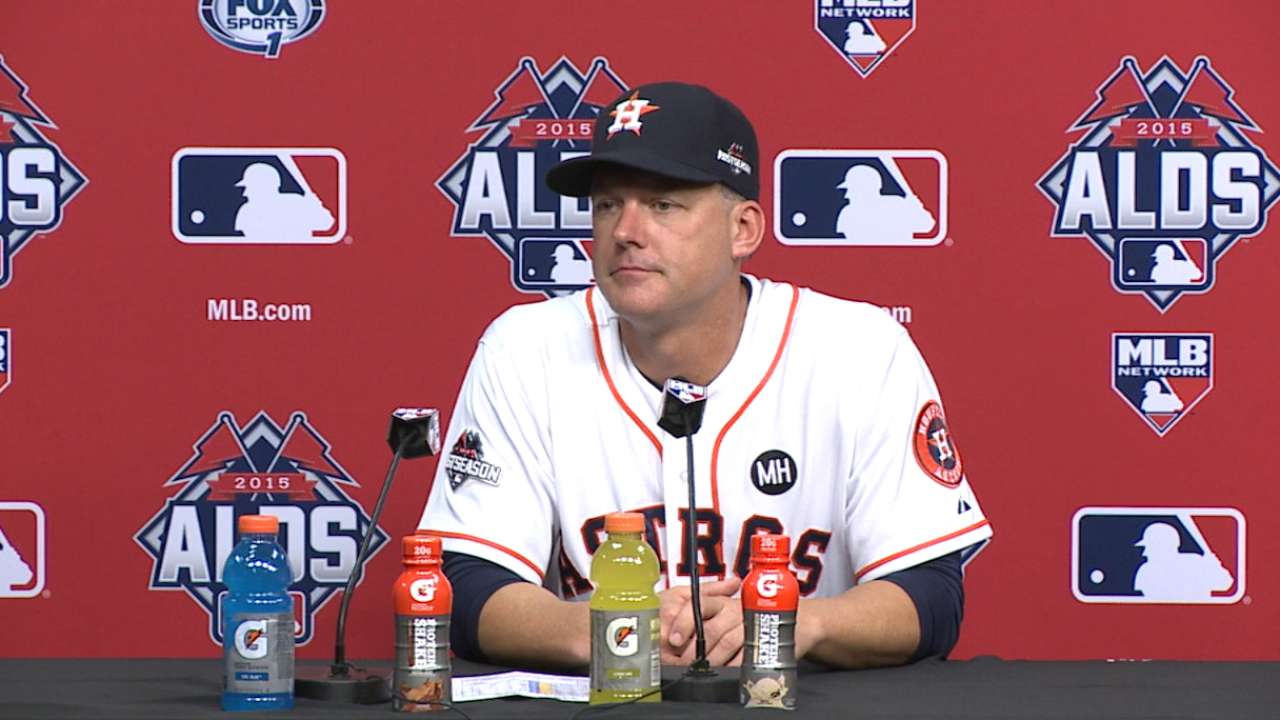 History, however, would seem to be on Houston's side. In the first 20 years of the Division Series, which was added in 1995, the best-of-five event has required five games 23 times, and the visiting team in Game 5 has won 14.
And lately, the visitor has won 12 of 16 Division Series Game 5s dating back to 2002, and seven of the 10 Games 5s played the past five Octobers.
Besides, what is another challenge for this Astros team? The optimistic outsider picked them to finish fourth in the AL West, maybe beating out the Rangers in the battle to avoid last place.
But what do the folks making wintertime predictions know about what's going to be happening the next fall?
Look at this postseason. The Rangers, having won the AL West, will battle the Blue Jays in a Game 5 at Rogers Centre on Wednesday, a warmup for the Astros and Royals in a Game 5 of their own at Kauffman Stadium later that night.
It is a challenge. The whole season has been a challenge for the Astros, proving they are no fluke after losing 416 games the four previous seasons combined.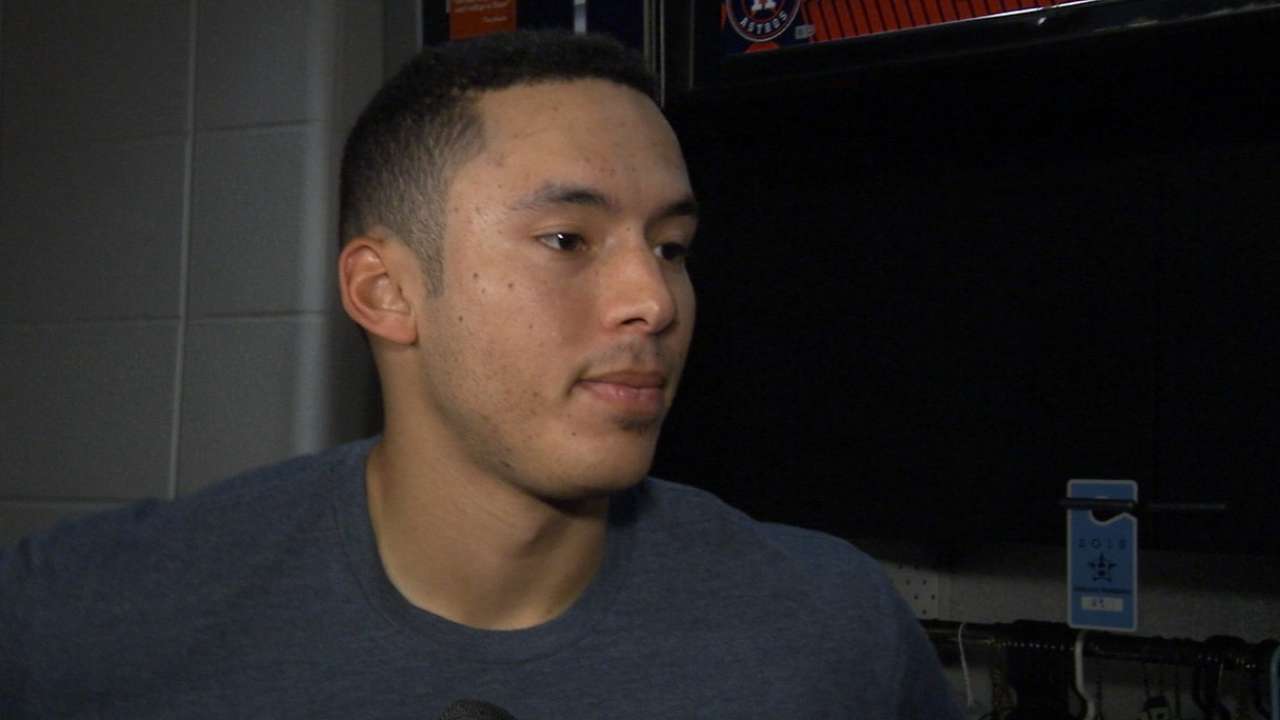 And nothing was more challenging for them than the road, but they conquered that demon when they had to.
After winning 10 of their first 12 road games in the regular season, the Astros lost 44 of the next 63. Going into the final week of the regular season having to win on the road to advance to the postseason, they won four of six on a trip to Seattle and Arizona before beating the Yankees in the AL Wild Card Game presented by Budweiser at Yankee Stadium, and then splitting the first two Division Series games in Kansas City.
So what's another game in Kansas City?
"It's a big-boy sport," said Hinch.
Houston at least gets to play another game, and wipe away any memories of that 6-2 lead in the eighth that turned into a 9-6 loss.
"There are emotional swings all the time," said Springer. "Playoff baseball is crazy. But no one is giving up."
Hinch will offer up a few reminders of what Wednesday means, but he is not working on any Knute Rockne "Win one for the Gipper" pep talks.
"I don't have to give my message to our team," he said. "We know exactly what's at stake. This group, man, they are as resilient as any group I've been around in any role I've served in this sport.
"They don't need to be told that this was a tough loss. They don't need to be told that Game 5 is a big game."
The Astros don't even mind having to spend Tuesday waiting for that chance of redemption. They actually see it as a benefit.
It gives shortstop Carlos Correa (hit by a pitch on the left elbow) and second baseman Jose Altuve (foul ball off his foot) a day for the aches to subside, and it means the bullpen big three of Harris, Sipp and Gregerson gets a day to recharge.
"So from a physical standpoint, I think it's a very good thing," said Hinch. "From a mental standpoint, there will be a little bit of anxiousness to get to Game 5."
But then the Astros have waited a decade to get back to the postseason, so what's another day or so delay in getting that chance to advance to the next round this October?
Tracy Ringolsby is a columnist for MLB.com. This story was not subject to the approval of Major League Baseball or its clubs.