MLB.com Columnist
Mike Bauman
Royals rise from the brink yet again
Last season's magic resurfaces in Game 4 comeback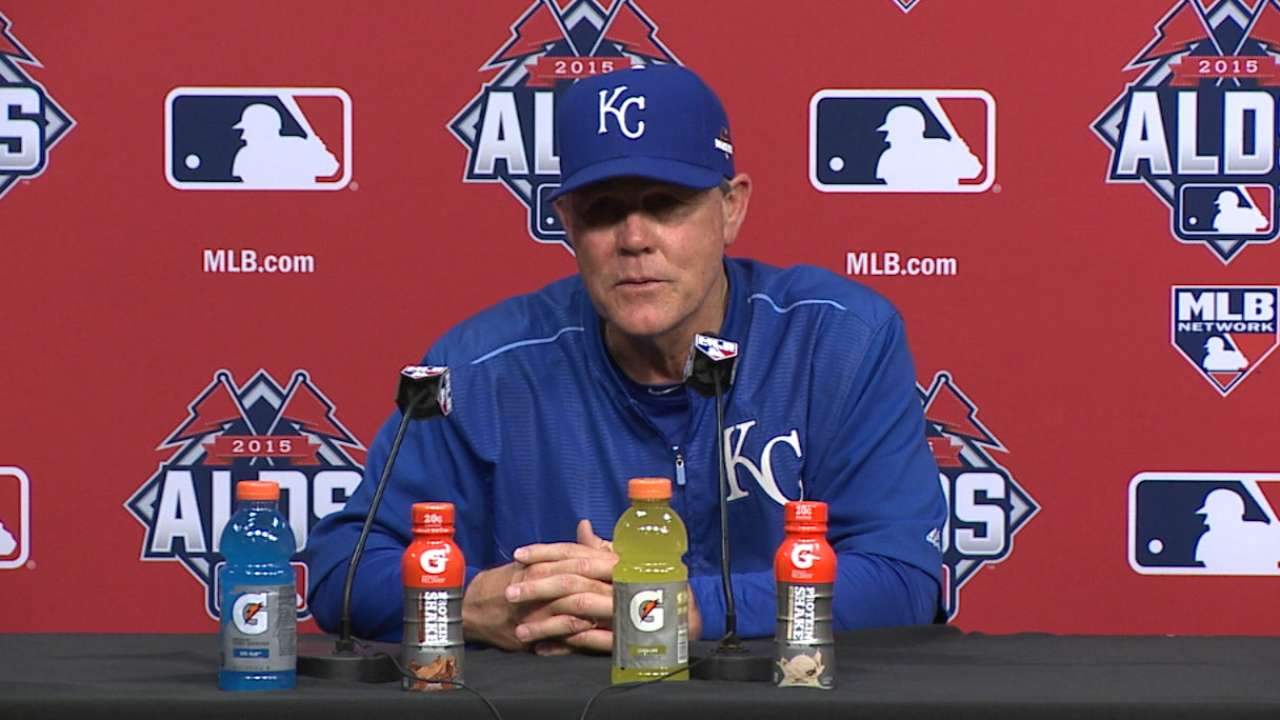 HOUSTON -- Just when reasonable people might have believed that the season of the Kansas City Royals was over, kaput, history, down and done, the Royals rose up and proved that you can never depend on them to lose.
These guys specialize in the October postseason comeback from a late four-run deficit in elimination games. They did it against the Oakland Athletics in the 2014 American League Wild Card Game. And they did it again Monday afternoon at Minute Maid Park in what could have been the final game of their AL Division Series against the Houston Astros.
• Shop for Royals postseason gear
Trailing, 2-1, in the series, they were also trailing, 6-2, in Game 4. They were six outs from elimination. People were wondering about the balance between a 95-victory season, the best record in the AL and an early exit from the postseason.
It was bound to be a letdown for the defending AL champions, no matter how you sliced it. Time to start congratulating the Astros, who were looking a lot like the 2014 Royals; a young team, a Wild Card qualifier, potentially the biggest surprise of the postseason.
• KC forces Game 5 with huge comeback
And then Kansas City struck, not with lightning, not with thunder, but with what must have seemed to Houston like a daylong rainfall. Five straight singles started the eighth-inning rally. That was truly impressive.
"They just never quit," said Astros manager A.J. Hinch. "They put together really good at-bats, and we couldn't get the inning to end in any way.
"The thing that's interesting about that inning is they didn't try to do too much. To get singles -- what is that? Five singles in a row, and even the ball that bounced up on [shortstop Carlos] Correa is on the ground, so when they were trailing by that much, it looked like their approach was going to be take whatever [Will] Harris gave them or whatever [Tony] Sipp gave them or whatever [Luke] Gregerson gave them.
"They never tried to come out of their shoes and try to change the score with one swing. So credit to them for their approach. Obviously, to get six baserunners on in a row, that's good team offense, which we have seen out of them for a lot of games. Not only in this series, but as you study them and see how they're successful, it's usually involving quality at-bats, and they executed them."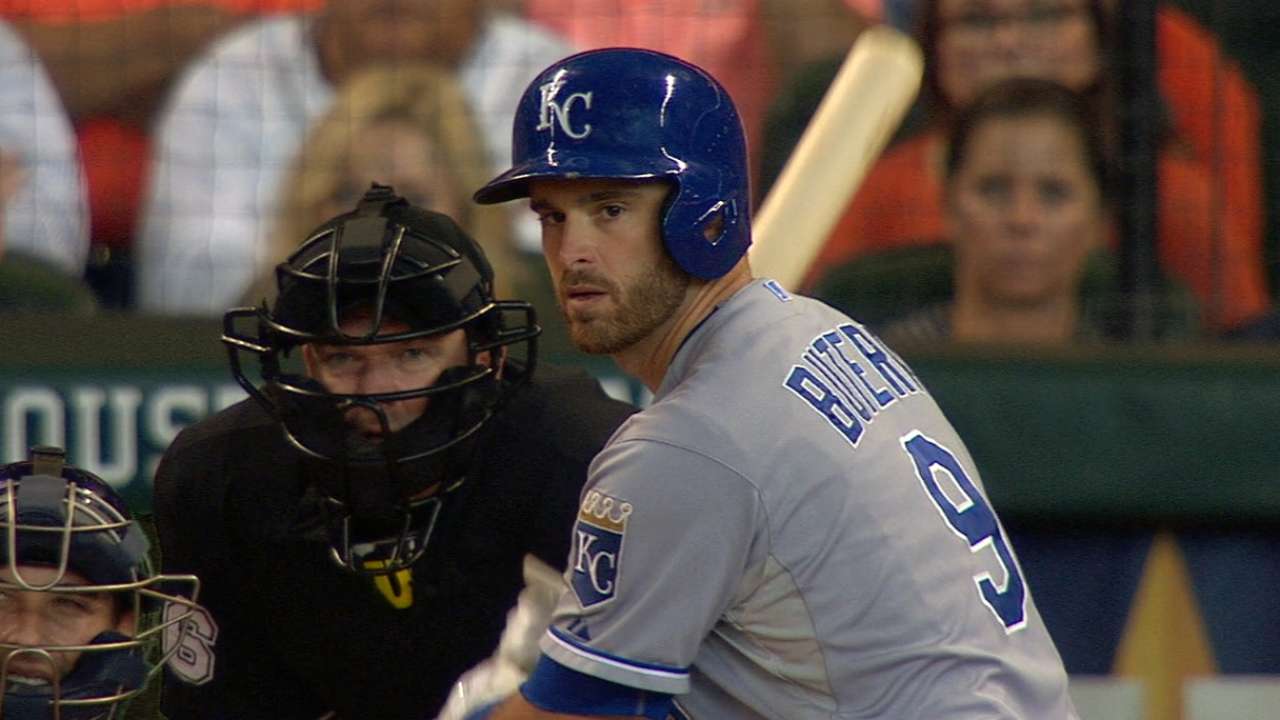 The five straight singles were followed by a potential double-play ball hit to Correa. Up to that moment, he was having a game for the ages, with two home runs, a double and four RBIs. But here, the AL Rookie of the Year Award favorite did not make the play, and he was charged with an error as the tying runs scored. One of the highlights of the inning came when backup catcher Drew Butera, getting his first plate appearance of the postseason after Salvador Perez was lifted for a pinch-runner, worked a 10-pitch at-bat for a walk against Gregerson. Alex Gordon then drove in the go-ahead run with a groundout to second base.
The Royals scored five runs in the eighth, taking a 7-6 lead. Eric Hosmer's two-run homer in the ninth padded the margin for a 9-6 Kansas City victory.
After seven innings, much of the rest of the baseball world may have been chalking up this game and this series for the Astros. But the Royals' belief in themselves never wavered. Asked about the mood of his club in the dugout coming into the eighth inning, Kansas City manager Ned Yost responded:
"The thing about this club is that they don't quit. They don't. And after giving up three runs there in the bottom of the seventh, they came in on fire. Again, like they do. 'Come on, let's go, good at-bats, let's start it moving. On base, on base, on base, let's go, boys. Let's get it going.'
"They come into that dugout and they're on fire, they're ready to go. Come on, you know, it's like it's a tie ballgame or we're down one. It didn't matter. They just come into that dugout ready to go.
"That was an unbelievable inning. I think we ended up seeing like 53 pitches in the eighth inning. I mean, that just shows you the quality at-bats that we had, at-bat after at-bat after at-bat. So it was a great inning right there."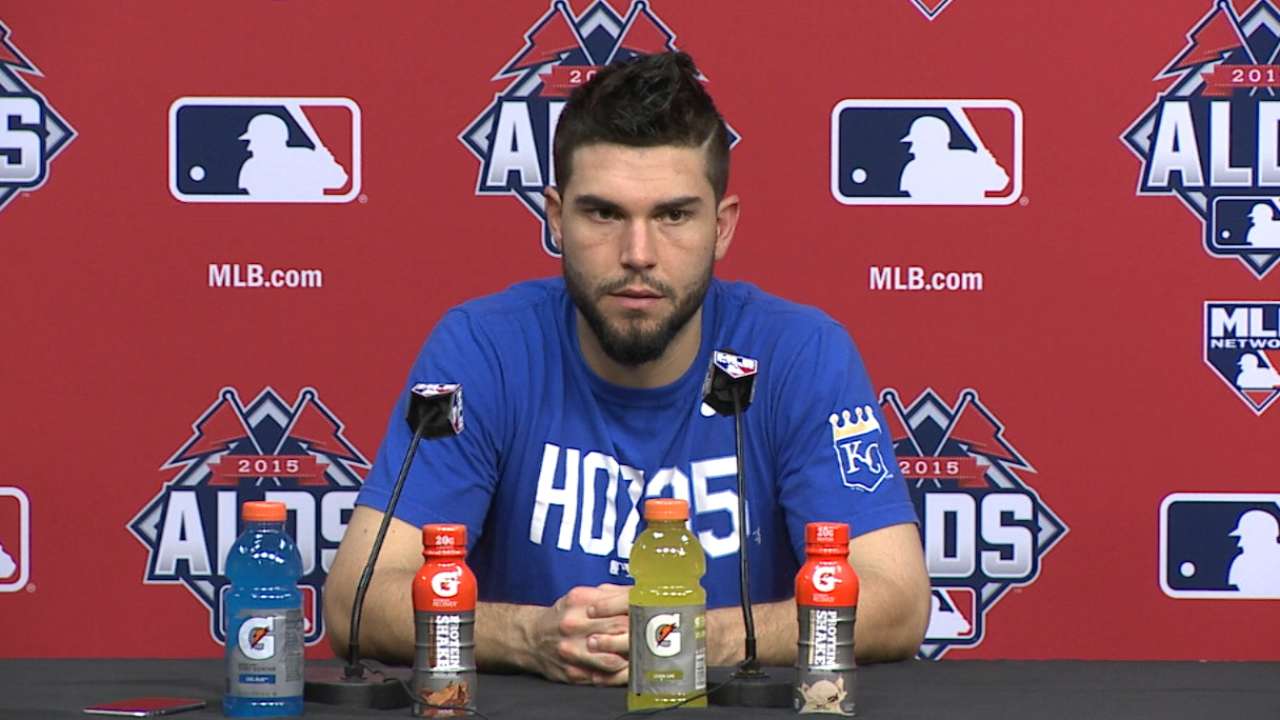 Hosmer -- who also had a single, an RBI and scored a run in the five-run eighth -- explained the team's approach in the inning that transformed the game.
"The mindset really from the whole entire team, the whole entire offense, was just make this at-bat count," Hosmer said. "Obviously, we're pretty late in the game right there and down by four, so not one guy can get us back in this game. So we've got to do whatever we can to keep the line moving."
This kind of performance speaks not only to the talent of this club, but to its character as well.
"That's the thing about this team, we always feel that we're still in games and we still have a chance," Hosmer said.
"So, that's the mentality for this whole entire team. It's never quit, and the character we showed today, that's what a championship ballclub does."
And that's what the Kansas City Royals have done once again. In this case, they have earned a fifth and deciding ALDS game on Wednesday (8 p.m. ET on FOX Sports 1) at their Kauffman Stadium home.
Mike Bauman is a national columnist for MLB.com. This story was not subject to the approval of Major League Baseball or its clubs.