Dickey delivers in first postseason appearance
Despite early hook, veteran knuckleballer's solid outing helps Blue Jays force Game 5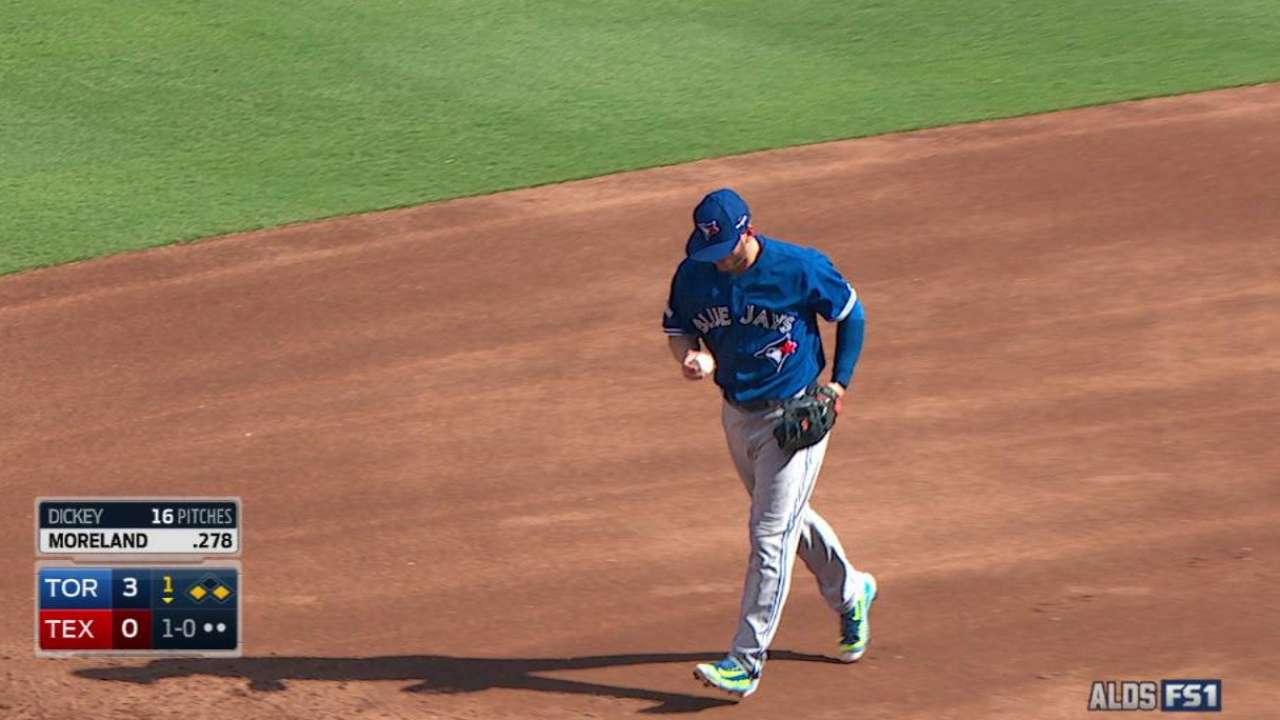 ARLINGTON -- R.A. Dickey's first career appearance in the postseason wasn't quite as long as he might have liked, but the veteran knuckleballer certainly won't complain about the final results.
Dickey allowed one run over 4 2/3 innings in Monday's 8-4 victory over the Rangers, helping to force a decisive Game 5 in the American League Division Series (Wednesday at 4 p.m. ET, FOX Sports 1/Sportsnet). He fell one out shy of picking up the victory and appeared to be a little caught off guard by the early hook, but Dickey more than did his job to extend the series.
Toronto was faced with another win-or-go-home situation, and while the knuckleball can sometimes be unpredictable, Dickey carried his momentum from the second half of the year into the postseason. With a 7-1 lead after three, Dickey cruised through most of his outing before giving way to David Price with one on and two out in the fifth.
• Shop for official Blue Jays postseason gear
"Let me just say this, no competitor would, or should, want to come out of a game like that," Dickey said. "Gibby's the manager and when he says go, I'm an employee, and then sometimes you don't necessarily like what your boss wants you to do, but I respect him.
"At the end of the day, when you've got a guy like [Price] coming in behind you, it makes it a whole lot easier to give the ball to Gibby. So am I disappointed? Sure, I think any competitor should be, but at the end of the day ... it's amazing what you can accomplish when you don't care who gets the credit."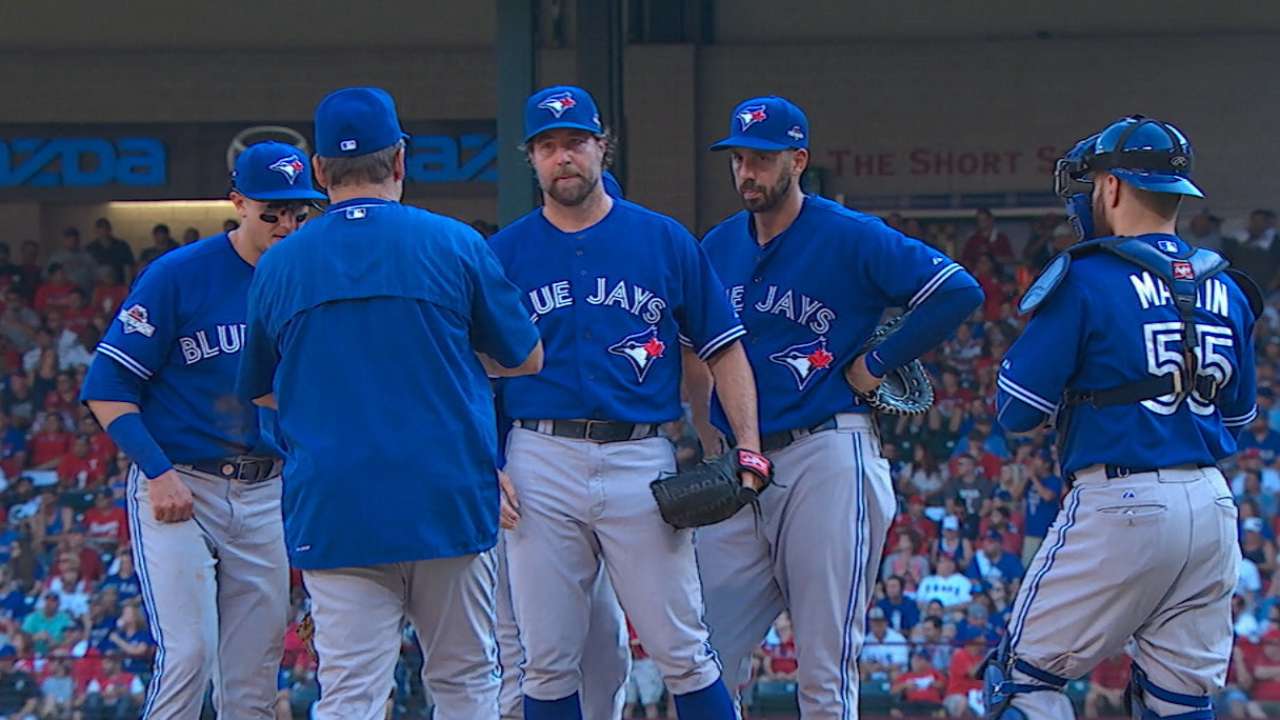 The decision to remove Dickey didn't appear to be much of an issue inside the Toronto clubhouse. Several players were asked after the game what they thought about Gibbons' decision, and more often than not, the questions were met with a confused look.
The way the Blue Jays saw it, they were going from one quality pitcher to a Cy Young candidate in Price. No lead is ever safe in the postseason, and Gibbons decided to err on the side of caution instead of trying to get another inning out of his workhorse starter.
Dickey, for his part, can only be judged on his 4 2/3 innings, and there will be no complaints about his performance. The knuckleball was moving, and he limited the Rangers lineup to five hits while striking out three and not walking a batter.
"Man, it's good to go from one pretty good pitcher to the next pretty good pitcher," first baseman Chris Colabello said. "Today was about winning the game, finding a way to get back to Toronto on Wednesday and give ourselves a chance."
Dickey had been waiting for this moment for 15 years, and after the game he couldn't help but celebrate a little bit. There is more work to be done, but after everything was over, he returned to the field taking pictures with friends and family while some remaining Blue Jays fans chanted his name.
It was quite the moment for the 40-year-old, who was originally drafted in 1996 and later had to transform his career as a knuckleballer in 2005. Dickey's journey was a long and arduous one. He might never hear the end of it about the 2012 trade that saw Noah Syndergaard and Travis d'Arnaud head to the Mets, but at least for one night, none of that mattered.
"It's nice because my career as a Toronto Blue Jay hasn't necessarily gone perfectly," Dickey said. "So it's nice to be able to celebrate a moment with people who traveled down and are bleeding with you and sweating with you and hoping with you. That's what that was about, and I really appreciated it. We've got some great fans, they're excited and so are we."
Gregor Chisholm is a reporter for MLB.com. Read his blog, North of the Border, follow him on Twitter @gregorMLB and Facebook, and listen to his podcast. This story was not subject to the approval of Major League Baseball or its clubs.