Royals' bats awaken with epic 8th-inning rally
Down 6-2, Kansas City scores 5 against Houston's bullpen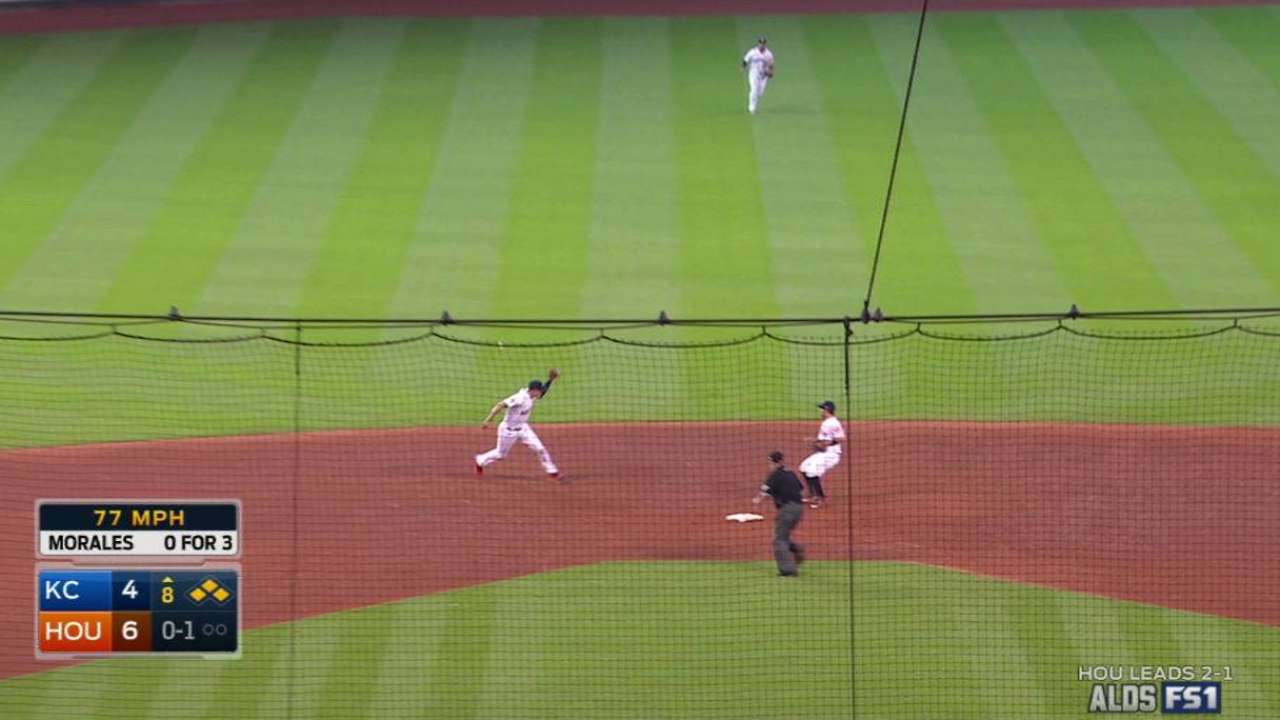 HOUSTON -- The situation was grim, with the Astros having piled on three runs off reliever Ryan Madson in the bottom of the seventh to push the lead to a seemingly insurmountable four-run advantage on Monday afternoon.
That's when the Royals' dugout got loud. First it was third baseman Mike Moustakas who began chirping, "We are not going to lose this game! We've worked too hard!" And with that, a five-run eighth erased the deficit en route to a 9-6 win in Game 4 to even the best-of-five American League Division Series.
• Shop for Royals postseason gear
Then other Kansas City players began to chime in as well. Madson, dejected after allowing two homers, smiled.
"They just kept coming up to me and saying, 'We got you. Don't worry. It's not ending like this,'" Madson said. "And it didn't. They got fired up. I guess [my outing] is what it took."
The Royals rallied from the four-run hole, much like last year's AL Wild Card Game when they overcame a 7-3 deficit en route to a 9-8 victory in 12 innings over the A's. This time, Kansas City forced a Game 5 of the ALDS at Kauffman Stadium on Wednesday (8 p.m. ET on FOX Sports 1).
Alex Rios started this rally with a sharp single to left. Then it was Alcides Escobar, Ben Zobrist and Lorenzo Cain, all with singles, and suddenly it was 6-3.
Then came Eric Hosmer, who had been just 1-for-15 in the series. Hosmer fired another single to right and it was 6-4, with the bases still loaded.
"Everyone just had professional at-bats," Zobrist said.
Added Cain, "Just keep the line moving. That's what everyone said."
Kendrys Morales followed with a sharp grounder up the middle that bounced off the glove of lefty Tony Sipp and then also hit the glove of shortstop Carlos Correa and went into center field. Two more runs came home and it was tied.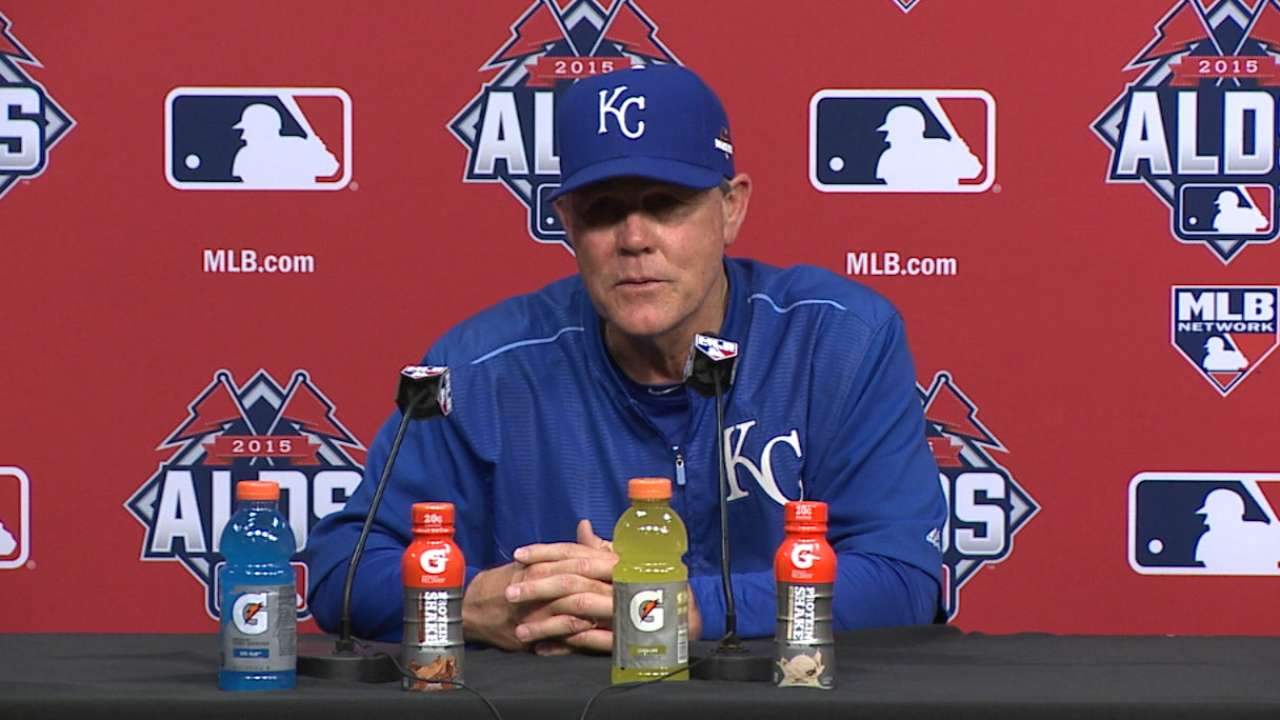 "You keep looking at this group and our bats were really silent until the eighth inning," Royals manager Ned Yost said, "but having watched them as much as I've watched them, you know that sooner or later, they're going to break out.
"You just know it. You have confidence that sooner or later, they're going to put together some hits and they're going to put some runs on the board. And even though we were down four in the eighth inning, I felt real confident that we were going to make a game out of it. I just felt that the bats were going to come alive, and they really did. I mean really did."
After Moustakas struck out in a 10-pitch at-bat, Drew Butera made his first postseason appearance as a hitter with runners at the corners and one out against Houston closer Luke Gregerson.
"Just fight and stay in the at-bat," Butera said he told himself.
Butera battled and finally drew a walk, as his teammates howled in approval in the dugout.
"That was the biggest at-bat of the inning," said Christian Colon, whose infield chopper in last year's Wild Card Game brought home the tying run in the 12th inning. Colon then scored the winning run on Salvador Perez's famous single down the left-field line.
After Butera's walk loaded the bases, up came Alex Gordon, who like Hosmer had been struggling this series, just 3-for-15 coming into the at-bat.
"Just had to get it in play somewhere," Gordon said.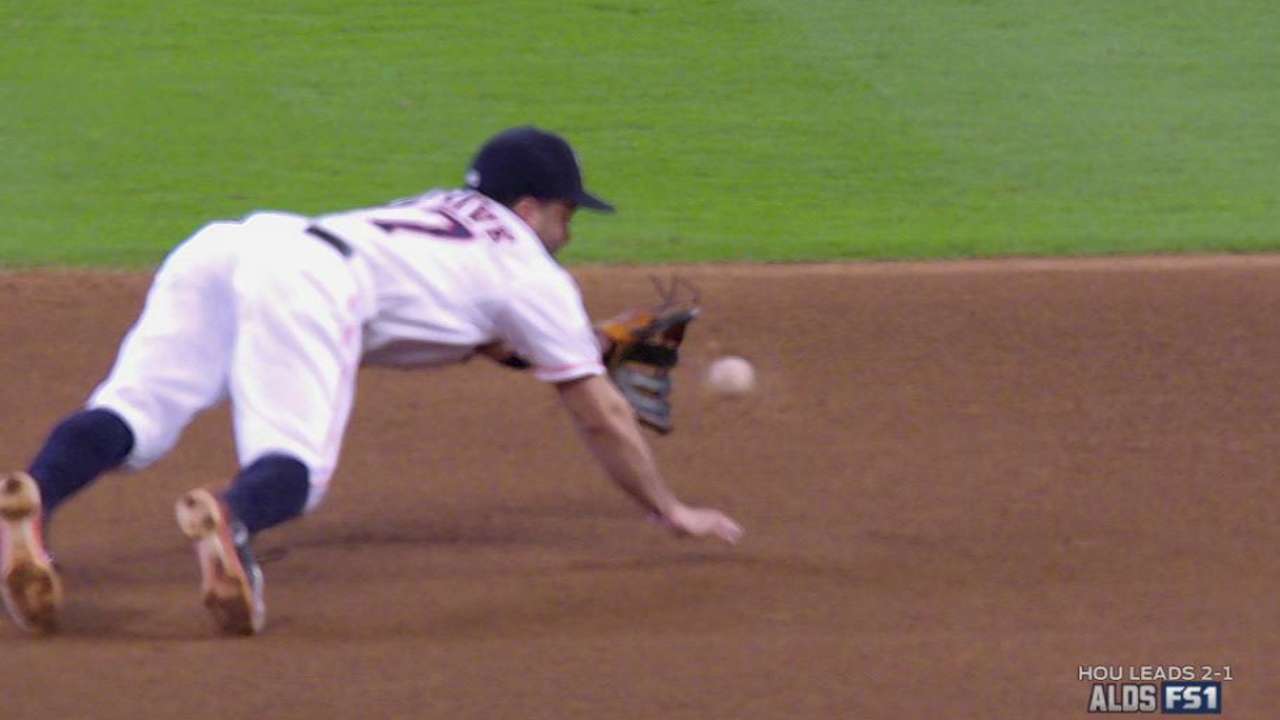 Gordon did, rolling a grounder to second baseman Jose Altuve's left. Gordon was thrown out after Altuve's diving stop, but the go-ahead run scored.
"Probably my favorite groundout of my career," Gordon said smiling.
And again, the Royals' dugout erupted.
"It was a lot like the Wild Card Game last year, down by four," Gordon said. "We just have that mindset to not give up. You keep battling no matter if you strike out or get a hit. Keep battling."
And now the series shifts back to Kansas City.
"That's going to be great, to try to win it for our fans in front of our fans," Zobrist said.
Jeffrey Flanagan is a reporter for MLB.com. Follow him on Twitter at @FlannyMLB. This story was not subject to the approval of Major League Baseball or its clubs.