Hawkins trying to stay in the moment
After 21-year career, reliever thrives off teammates' energy
ARLINGTON -- LaTroy Hawkins says he's trying to stay in the moment as his 21-year Major League career hangs in the balance with the Blue Jays' fate in the best-of-five American League Division Series. He doesn't want to think of each day as potentially his last in the big leagues. He'll think back when it's all over, not when he's living day-to-day with Toronto's fortunes.
"I made it a point not to think about it," the 42-year-old reliever said Monday morning before Game 4 against the Rangers at Globe Life Park. "I want to stay focused on the task at hand and not focus on whether I'm playing next year or not.
"A lot of people ask me, 'Well, have you started to have those moments yet?' I made it a point not to have those moments because there's a lot of baseball today, especially after I got traded. I'll have that moment probably when Winter Meetings come around [in December] and guys are starting to get deals and have another moment, once February 20th rolls around when all my buddies are starting to go to Spring Training. I think I'll have a moment then, but now I'm trying to stay in the moment and enjoy it."
That awareness, that mindset of living in the moment is a boon in a Toronto bullpen where many of his teammates are a generation younger, with their careers all in front of them. Roberto Osuna was 2 months old, and Aaron Sanchez was 2 years old, when Hawkins made his Major League debut on April 29, 1995.
He's feeding off their energy, and giving them his wisdom in return. Sometimes, such as in the wake of their loss in Game 1 of the series, his wisdom tells him to foster their energy.
"This is a very high energy bunch of guys," Hawkins said. "So after the first game in Toronto, I turned on the music instantly right after the game. Most clubhouses you go in, you lose a game, it's dead silence, but I cut the music on. That's part of us. That's part of the team. That's what gets these guys going, and they're unbelievable. I've been on a lot of teams, but not teams with this much energy. And particularly Josh Donaldson, a lot of energy."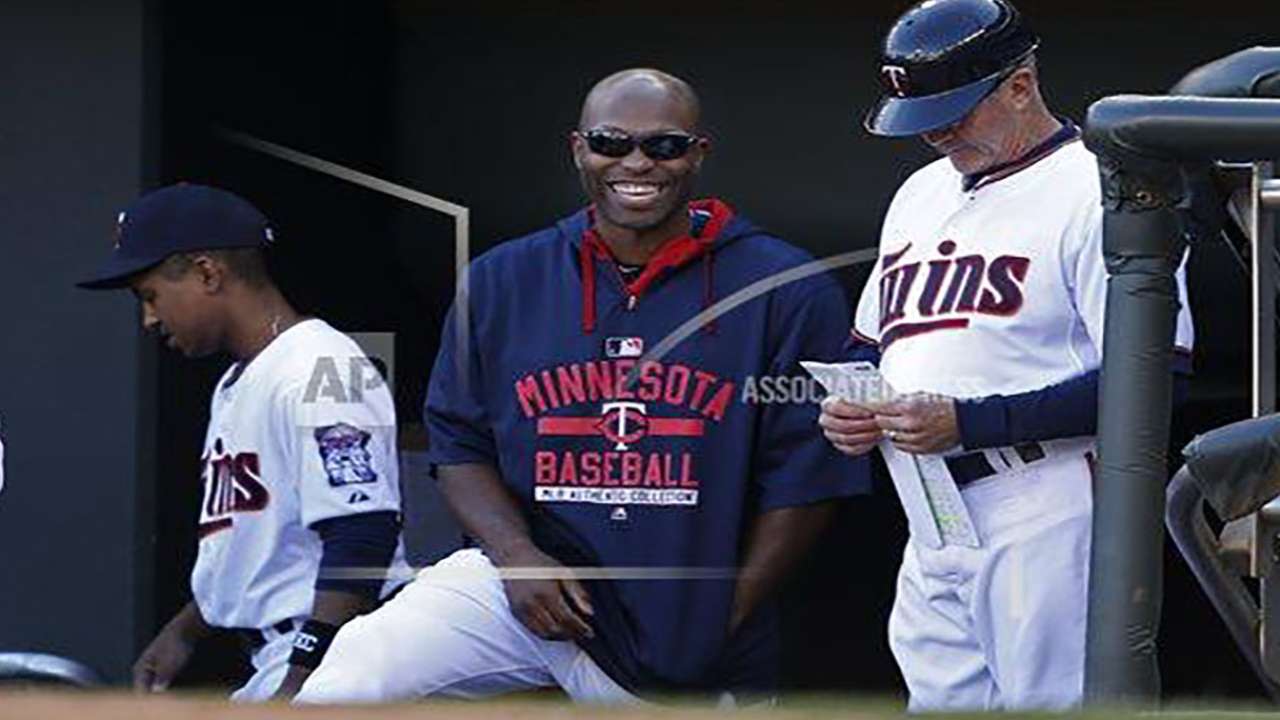 The mood, Hawkins said, never wavered when they were on the verge of being swept from the series. The excitement built, he said, when Troy Tulowitzki's home run padded their lead in Game 3. The urgency became apparent when David Price began warming in the bullpen.
Neither Price nor Hawkins was needed. Sanchez and Osuna, those youngsters who were babies when Hawkins' big league career began, handled the late innings. He'd love to take some credit for their maturation, but he won't.
"They were already pretty much mature once I got here," Hawkins said. "Seeing the way they're throwing the ball in the playoffs just let me know they've definitely matured and come into their own. Good to see, and you see young guys that can go out there and command their pitches, and control the moment and not let the moment control them."
Hawkins is living in those moments, his career potentially ending on any of them. He trades text messages with former Twins teammate Torii Hunter, who faced those same thoughts as the season unfolded in Minnesota. They're neighbors not far from here in the Texas town of Prosper, and they've followed each other through the late-season runs. At some point, they could be fellow retirees, but that's not the issue yet.
"Birds of a feather have to flock together," he said.
Jason Beck is a reporter for MLB.com. Read Beck's Blog, follow him on Twitter @beckjason and listen to his podcast. This story was not subject to the approval of Major League Baseball or its clubs.