Utley on Dodgers' bench; Lagares starts for NY
LA inserts Rollins at shortstop over rookie Seager against Harvey at Citi Field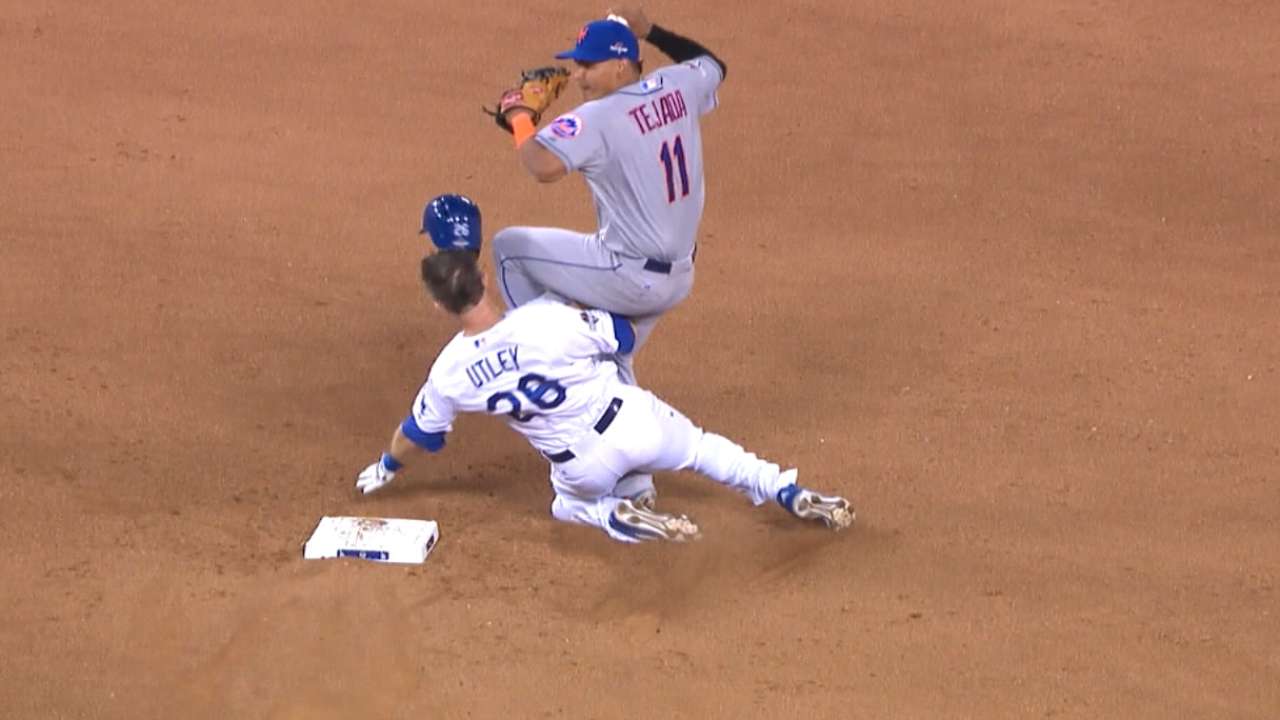 NEW YORK -- Chase Utley will not start tonight's Game 3 of the National League Division Series between the Mets and Dodgers at Citi Field (8:30 ET, TBS; will start on TNT if Cardinals-Cubs NLDS Game is ongoing and will return to TBS after completion of Cards-Cubs game), but Jimmy Rollins will, replacing struggling rookie Corey Seager at shortstop for Los Angeles.
Utley, who is appealing a two-game suspension imposed for what MLB has termed an illegal slide, is eligible to play and will be on the Dodgers' bench. He is 6-for-18 against Mets scheduled Game 3 starter Matt Harvey.
Dodgers go with Rollins
Rollins is 5-for-19 with two homers against Harvey in his career, and also has 47 postseason games on his resume. Seager is 1-for 7 in the series with four strikeouts, the only hit being a misplayed double in Game 1.
Manager Don Mattingly also is starting Kiké Hernandez in center field and Yasmani Grandal at catcher. Hernandez, after replacing Game 1 center-field starter Joc Pederson, helped key the winning seventh-inning rally in Game 2 with a walk and stolen base. Grandal, however, finished the season in an 0-for-22 tailspin and went 0-for-4 with two strikeouts starting Game 2.
Lagares over Cuddyer
Two games after Michael Cuddyer committed a pair of defensive miscues in left field, Mets manager Terry Collins started Juan Lagares over Cuddyer against a left-handed pitcher on Monday.
Rather than turn to Cuddyer vs. Dodgers starter Brett Anderson or give Michael Conforto a crack at the lefty, the Mets instead started Lagares in center field and shifted Yoenis Cespedes to left. Though some fans were clamoring for Conforto to play after he homered in Game 2, the rookie has just 15 career plate appearances against left-handed pitchers.
The rest of the Mets' Game 3 lineup is relatively unchanged, save for Wilmer Flores starting at shortstop over the injured Ruben Tejada:
METS LINEUP
Curtis Granderson, RF
David Wright, 3B
Daniel Murphy, 2B
Yoenis Cespedes, LF
Lucas Duda, 1B
Travis d'Arnaud, C
Wilmer Flores, SS
Juan Lagares, CF
Matt Harvey, RHP
Anthony DiComo is a reporter for MLB.com. Follow him on Twitter @AnthonyDiComo and Facebook, and listen to his podcast. Ken Gurnick is a reporter for MLB.com. This story was not subject to the approval of Major League Baseball or its clubs.