Gore steal overturned by Astros' challenge
Replay review stops Royals' threat in seventh inning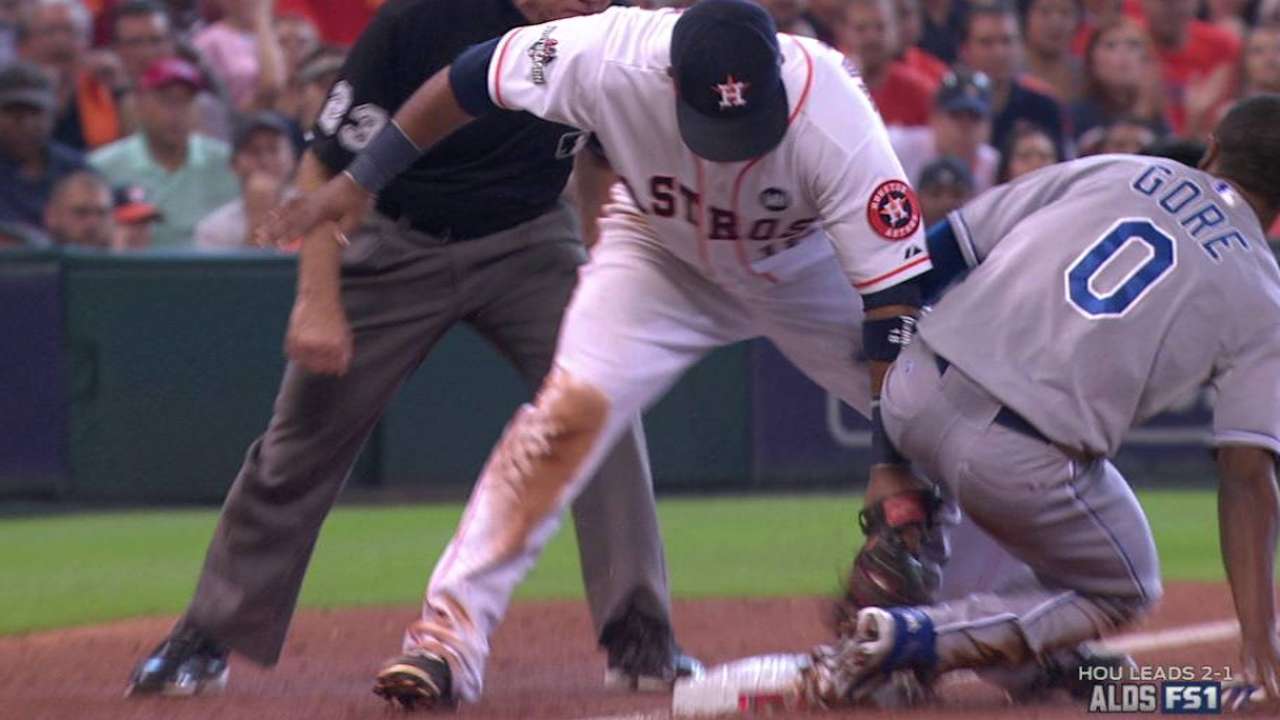 HOUSTON -- Controversy spilled into Game 4 of the American League Division Series in Houston on Monday afternoon, though by day's end, it was downplayed by the final outcome.
Before the Royals staged an improbable eighth-inning comeback over the host Astros in a wild 9-6 victory, they witnessed their potential tying run disappear from third base on an overturned call to end the seventh inning.
With one out, Kansas City pinch-runner Terrance Gore, representing the tying run of a 3-2 game, swiped second base to improve to 12-for-12 in stolen-base chances. After Alex Gordon went down swinging for the second out of the inning, Gore tried to swipe third with Alex Rios at the plate against Houston reliever Will Harris. Gore was initially ruled safe by third-base umpire Lance Barksdale, beating the throw from catcher Jason Castro.
But Astros manager A.J. Hinch challenged the play, as Gore's foot appeared to briefly pop off the bag -- and Hinch was rewarded when it was determined that Gore's foot did leave the base, while third baseman Luis Valbuena was still applying the tag.
"When they reviewed it, I was like, 'What is there to review?'" Gore said. "But I guess I came off."
"I tried to tag him, because he can go up and I can get the out at any time," Valbuena said. "That's what happened. I'm not surprised, because I had the tag and thought he had come off a little bit."
The replay also showed that Gore may have been tagged by Valbuena's wrist, instead of his glove.
"That's what I got a lot texts about from my family," Gore said. "They said he tagged me with his wrist. But that's baseball."
The Royals scored five runs in the eighth, then added two in the ninth to extend the series to a decisive Game 5 on Wednesday night at Kauffman Stadium (8 p.m. ET on FOX Sports 1).
Jane Lee is a reporter for MLB.com. This story was not subject to the approval of Major League Baseball or its clubs.