Hammel can lead Cubs to NLCS in Game 4
Getting the chance he returned to the North Side for, righty to face Game 1 starter Lackey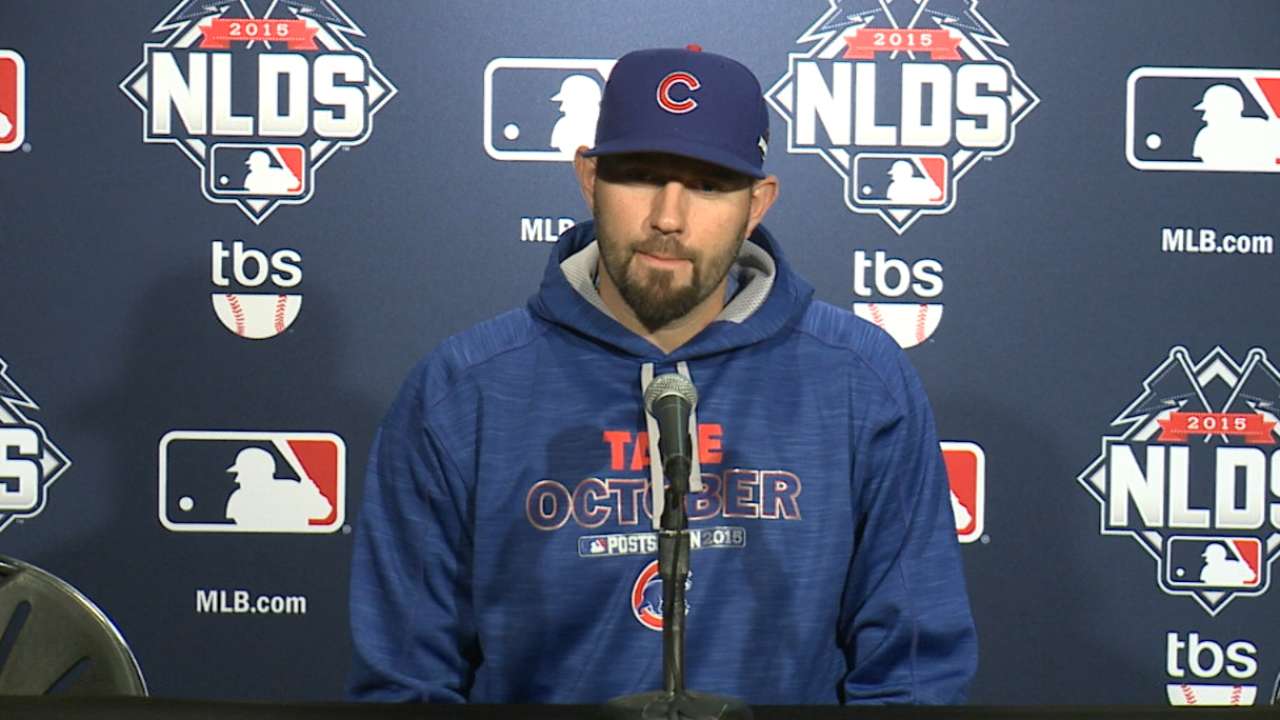 CHICAGO -- After being signed and traded and granted free agency within a year, Jason Hammel came back to the Cubs with days like Tuesday in mind. But even he might not have known the day would come so soon.
Hammel will start Game 4 of the National League Division Series against the Cardinals at Wrigley Field (4:30 p.m. ET on TBS) with a chance to help the Cubs clinch their first postseason series victory since 2003 -- and the first in history at Wrigley. The Cards will counter with right-hander John Lackey, who started Game 1 and will be going on three days' rest.
• Shop for Cubs postseason gear
"I'm 100 percent confident he's going to give us a chance to win. Hopefully that's the case," catcher Miguel Montero said. "He's going to be pumped, but he's been around a while. He knows how to keep his composure out there."
With an 8-6 win over the Cardinals on Monday night, the Cubs took a 2-1 lead in the best-of-five NLDS. Clubs staked to a 2-1 lead have gone on to win the series 20 out of 24 times in NLDS history. Overall, teams that jump ahead 2-1 in a Division Series are 39-10.
Twenty-six of those 49 series never saw a Game 5. Hammel is ready to make it 27 out of 50 when he takes the mound Tuesday.
"He's a professional," Cubs manager Joe Maddon said. "Talking to him now, I know he's ready for the moment."
"I've done this a few times now in the postseason, and I understand that it's just another ballgame," added Hammel. "Have to approach it that way, and I know the guys in the clubhouse will be, too."
Hammel pitched in three games against the Cardinals this season, giving up seven earned runs on 10 hits over 11 innings. The 10-year veteran went 10-7 with a 3.74 ERA in 31 starts for the Cubs this season. After the All-Star break, however, he posted a 5.10 ERA over 14 outings.
One of those outings ended earlier than Hammel might have liked. On Aug. 6, Maddon pulled Hammel with two on and no outs in the fifth inning against the Giants. Hammel said afterward he felt he earned the right to pitch his way out of the jam, but he and Maddon have since smoothed things over.
• One win from NLCS, Cubs turn to Hammel in Game 4
"That was such a blip," Maddon said. "Our relationship is good and always has been. I think he eventually understood why we did it."
One reason they did it? That was the start of a stretch in which the Cubs played every game like it was a must-win. The decision to pull Hammel early was a clear signal that the Cubs truly considered themselves a contender in the highly competitive NL Central.
• Tale of the Tape: Lackey vs. Hammel
Hammel signed with the Cubs before the 2014 season. A few months later, he was sent along with Jeff Samardzija to the A's for a package of prospects that included shortstop Addison Russell, one of the rookies who helped push the Cubs into the postseason earlier than some might have expected.
• Russell day to day with tight left hamstring
Not Hammel, though. He knew this was coming for the Cubs. That's why he wanted to come back: for days like Tuesday.
"I had a blast for the three months that I was here, and there was a lot of good things happening," Hammel said. "And who wouldn't want to be a part of a winner?"
Adam Berry is a reporter for MLB.com. Follow him on Twitter at @adamdberry. This story was not subject to the approval of Major League Baseball or its clubs.