MLB.com Columnist
Jim Callis
Young hurlers pack Giants instructs
Bickford, Coonrod, Black among prospects working on craft in Arizona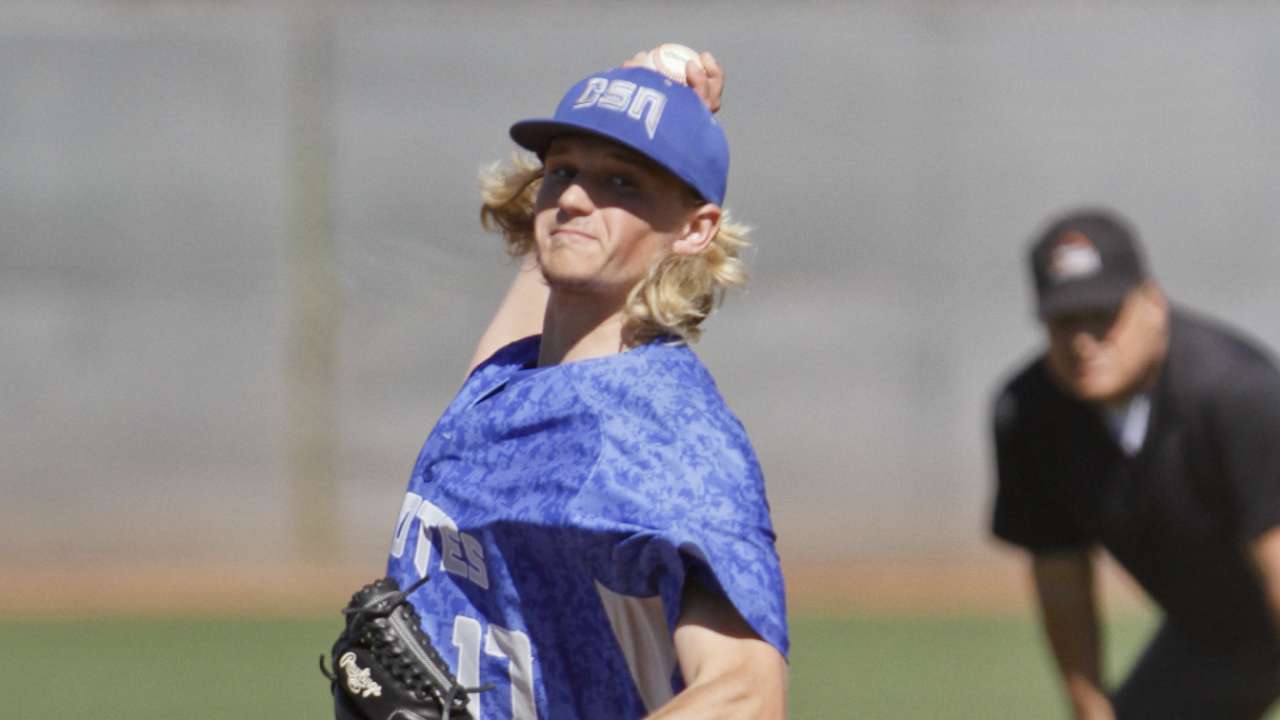 If instructional league is any indication, the organization that has ridden pitching to three World Series titles this decade has more arms on the way.
"We've all been very impressed with our pitchers in instructional league," Giants farm director Shane Turner said. "They've been very, very good with their tempo, working ahead in the count, using the corners, pitching with their offspeed stuff. The pitching has been phenomenal."
Right-handers Phil Bickford and Sam Coonrod are the two best pitching prospects at San Francisco's five-week program in Scottsdale, Ariz., which will run through Oct. 23. Bickford is a rare two-time first-round pick who turned down the Blue Jays as the 10th overall choice out of high school in 2013 before signing for $2,333,800 as the No. 18 selection from the JC of Southern Nevada this June.
Still just 20, Bickford eased into pro ball by making 10 starts in the Rookie-level Arizona League, none more than three innings. Relying heavily on a lively fastball that has topped out at 98 mph, he struck out 32 and walked just six in 22 1/3 innings. The Giants are spending the fall helping him improve his secondary pitches, command and delivery -- and his long-term success in doing so ultimately will determine whether he becomes a starter or reliever.
"Bickford has a high ceiling and a great fastball," Turner said. "He can smooth out his mechanics and get a better release point. We're trying to simplify his mechanics so we get his arm where it needs to be. His changeup and slider are good when he does that. We're hoping to set a foundation going into next year so he'll be successful wherever he goes."
Coonrod has a similar to-do list. A fifth-round choice from Southern Illinois in 2014, he would have led the low Class A South Atlantic League in strikeout rate (9.2 per-nine-innings) if he hadn't fallen one out short of qualifying. He was able to blow his 90-96 mph fastball by hitters with ease -- perhaps too much ease.
"He's working on smoothing out his mechanics and consistently locating his fastball," Turner said. "In the South Atlantic League at times, he got away with good stuff but not great location. Working down with his fastball to both sides of the plate is the key. He has an overpowering fastball and a power slider, but at times he gets under the ball and leaves it up in the zone."
Neither Bickford nor Coonrod has the most overpowering fastball in Giants camp. That distinction belongs to right-hander Ray Black, who throws harder than anyone in the Minor Leagues. He can sit in the triple digits with his heater and run it up to 103 mph.
The problem is that Black rarely has been healthy enough to unleash that fastball. He missed his high school senior season with an elbow injury that required Tommy John surgery, then pitched just 36 2/3 innings in three years of college at Pittsburgh and 60 1/3 innings since signing as a seventh-round pick in 2011 because of knee and shoulder woes.
San Francisco sees a lot of parallels between Black and Josh Osich, who overcame injury issues in college and pro ball to give its big league bullpen a significant boost in the second half of the 2015 season. Black will be 26 next year, the same age Osich was when he broke through to the Majors, and the Giants hopes he can do the same after getting some much-needed innings in instructional league, and later in the Arizona Fall League. He's working on cleaning up his mechanics as well, plus learning that he doesn't have to muscle up to generate premium velocity.
"This year we took the kid gloves off with Josh and he took off," Turner said. "We're hoping to see the same process with Ray next year. We're hopeful that we'll be able to send him to Double-A and nurse him through first month or so of cold weather, then he heats up.
"His stuff is electric. His fastball is explosive, especially when he creates angle, and he has a hard, hard, late, late breaking ball. We're trying to get him to not be so violent and just let things work."
They don't light up radar guns like Bickford, Coonrod and Black, but left-handers Deiyerbert Bolivar and Andrew Suarez also have made a strong impression during the Giants' instructional league program. Bolivar, a slight 19-year-old who has yet to pitch above the AZL, has impressive sink on his fastball and owns an advanced changeup. Suarez throws strikes with four pitches and is on the fast track after reaching high Class A in his pro debut this summer after signing as a second-round pick out of Miami.
Jim Callis is a reporter for MLB.com and writes a blog, Callis' Corner. Follow @jimcallisMLB on Twitter. This story was not subject to the approval of Major League Baseball or its clubs.