MLB.com Columnist
Anthony Castrovince
5 potential follow-up scenarios to Utley incident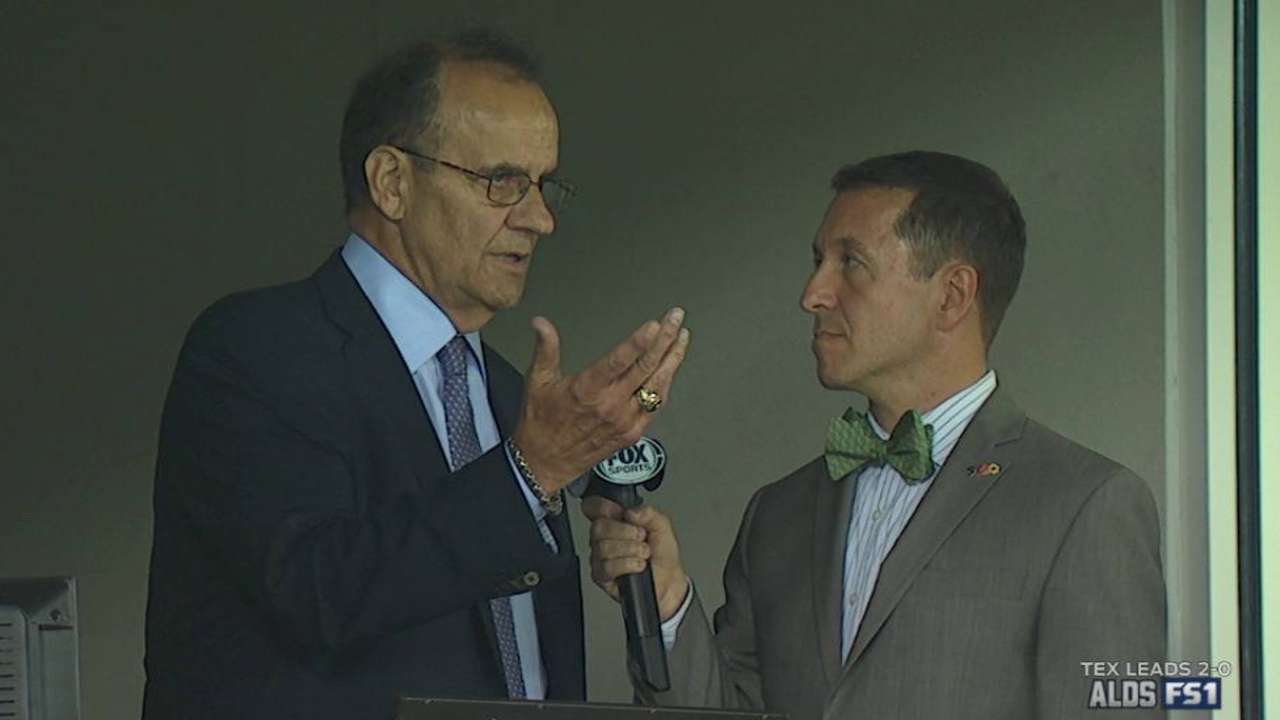 NEW YORK -- Major League Baseball attempted to handle the discipline of Chase Utley with a two-game suspension for his so-called "slide" that broke Ruben Tejada's leg. Utley appealed, as is his right, and the appeal process will allow him to be available for Game 3 of the National League Division Series between the Dodgers and Mets at 8:30 p.m. ET Monday on TBS.
So now, if any discipline is to be doled out to Utley or another Dodger in this game, it's more likely the Mets will be the ones doing the doling.
What follows, then, are the potential scenarios at play in Game 3, when Matt Harvey takes the mound, representing an aggrieved party that may or may not take matters into its own hands. These are listed in predicted order of likelihood.
1. Nothing happens
I'm advocating for this, and so is Mets manager Terry Collins. His forceful words in advance of Game 3 ("The minute we make this some kind of grudge match, we're going to make some mistake," he said) make me feel it's not the wishful thinking I thought it was when this column was first posted.
Let's play baseball, guys. Let the outcome do the talking. The Mets right now possess access to the high ground here. An intentional plunking not only alters that equation but, you know, puts a runner on base. On purpose. In a postseason game. So that's pretty dumb.
When Matt Holliday took out Marco Scutaro on a late, regrettable and altogether reckless slide in Game 2 of the 2012 NL Championship Series, the Giants did not retaliate with an intentional plunking of Holliday later in that series. The distinct difference here is that Scutaro not only survived the play but went on to deliver a huge hit later in that game. That was a different form of justice unavailable to Tejada, but here's hoping cooler heads prevail again.
2. Utley gets hit next year
Baseball players have long memories. It's how they keep track of all those various complicated unwritten rules that, of course, are not available for public consumption or library archive. So even if this isn't resolved this week, don't rule out the possibility of it carrying over into a new campaign, when it won't be getting nearly as much public attention.
3. Another Dodger gets plunked
With Utley surprisingly out of Monday's Dodgers lineup despite his 6-for-18 history against Harvey, perhaps this applies.
4. Jimmy Rollins gets taken out at second
If there is a double play to be broken up in this game, you'd have to assume the Mets are going to break it up as hard as humanly possible. Let's just hope it's done with an actual slide and not a variation of that shin-seeking missile launch Utley got away with in Game 2.
5. Utley gets plunked with a pitch
When this column first ran, I had this at No. 1. But Collins' words and Utley's bench spot drop it all the way down, thankfully. Vigilante justice is deeply embedded into baseball's culture, unfortunately, but now it looks like we'll only see Utley in Game 3 in a late-game spot. And late-game spots are usually big spots. And if the Mets intentionally put him on in a big spot, that would be pretty dumb.
Anthony Castrovince is a reporter for MLB.com. Read his columns and follow him on Twitter at @Castrovince. This story was not subject to the approval of Major League Baseball or its clubs.