MLB.com Columnist
Alyson Footer
Royals' win best medicine for Salvy's bruises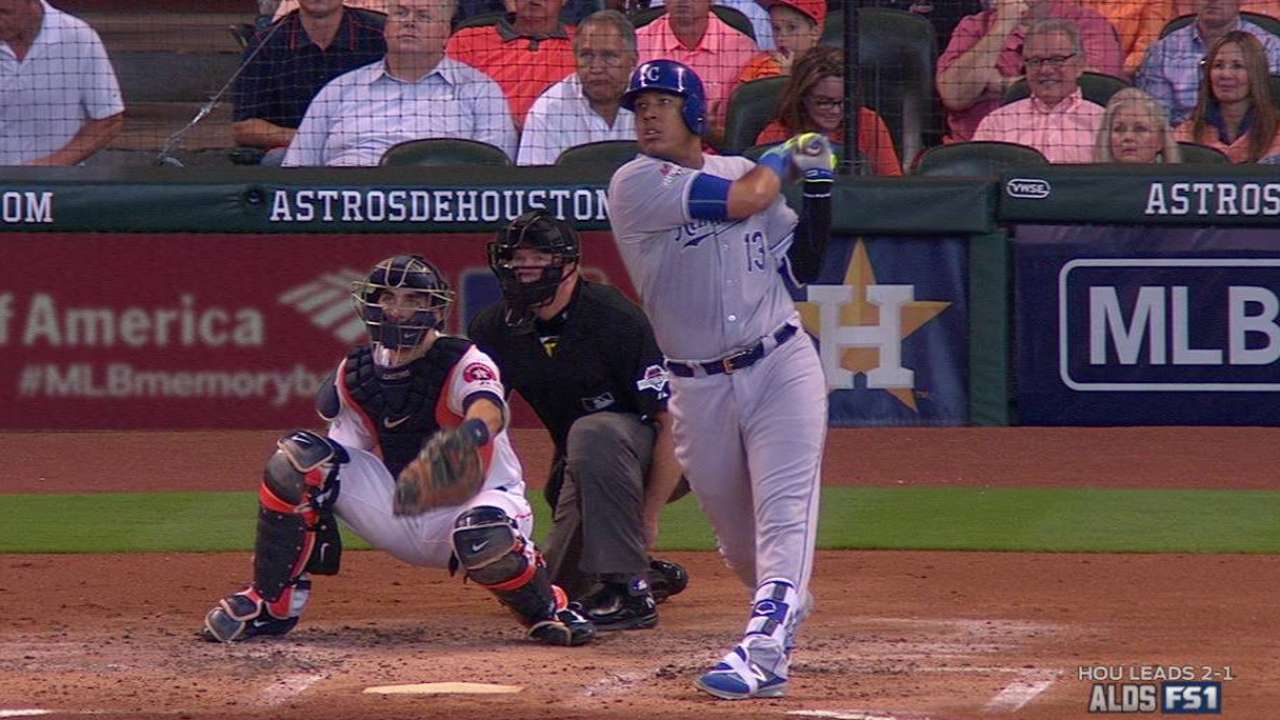 HOUSTON -- They say winning cures all, but even if that is the case, Royals catcher Salvador Perez could probably stand to benefit from an off-day before Game 5 of the best-of-five American League Division Series on Wednesday night (8 p.m. ET on FOX Sports 1) at Kauffman Stadium.
Perez was all smiles after his team's 9-6 win over the Astros in Game 4 on Monday afternoon, and he brushed off any notion of lingering effects from the Lance McCullers fastball that hit him in his ribs in the seventh or the foul ball that bounced off his face while he was catching in the sixth. (This all happened about 15 hours after he was involved in a minor fender-bender while taking an Uber ride to a Venezuelan food truck for dinner.)
• Shop for Royals postseason gear
But still, Perez, who spent the latter part of Game 4 in the training room, passed two concussion tests, according to FOX. In that respect, it's probably best for him that Tuesday is an optional workout day for Kansas City.
"Jaw is OK," Perez said. "Pretty good. It feels like somebody hit me, but I'm good."
Winning can have that effect on a player. It's the world's best all-natural numbing agent. Aches, pains, sore jaws, bruised ribs ... those all take a back seat to the euphoria that envelops a team when it comes back from a four-run deficit to win by three and heads back to its home ballpark for a decisive Game 5.
These are good times for the Royals, and, in turn, good times for Perez.
"Crazy game," he said. "That was an exciting, crazy game to me. I haven't seen a game like that before."
Before the game became crazy, though -- when it was still in the early stages, when both starting pitchers were feeling strong, when the rally towel-waving Minute Maid Park crowd was loud and on its feet for seemingly every pitch -- Perez made his presence known. He homered in the second inning, giving Kansas City a 2-0 lead and temporarily quieting the crowd.
"That's a pretty good pitcher over there," Perez said of McCullers. "He has a nasty curveball. He threw me a fastball up over the plate and I hit it pretty good."
Catchers are, by definition, perhaps a little tougher than players at other positions. They have to multitask in ways others do not, staying mentally focused as they guide their pitchers through their outings while enduring extraordinary physical challenges behind the plate that relentlessly test their endurance.
And they don't succumb quietly to setbacks. It's likely Perez didn't want to come out of the game after he was hit in the ribs, but manager Ned Yost thought better of it.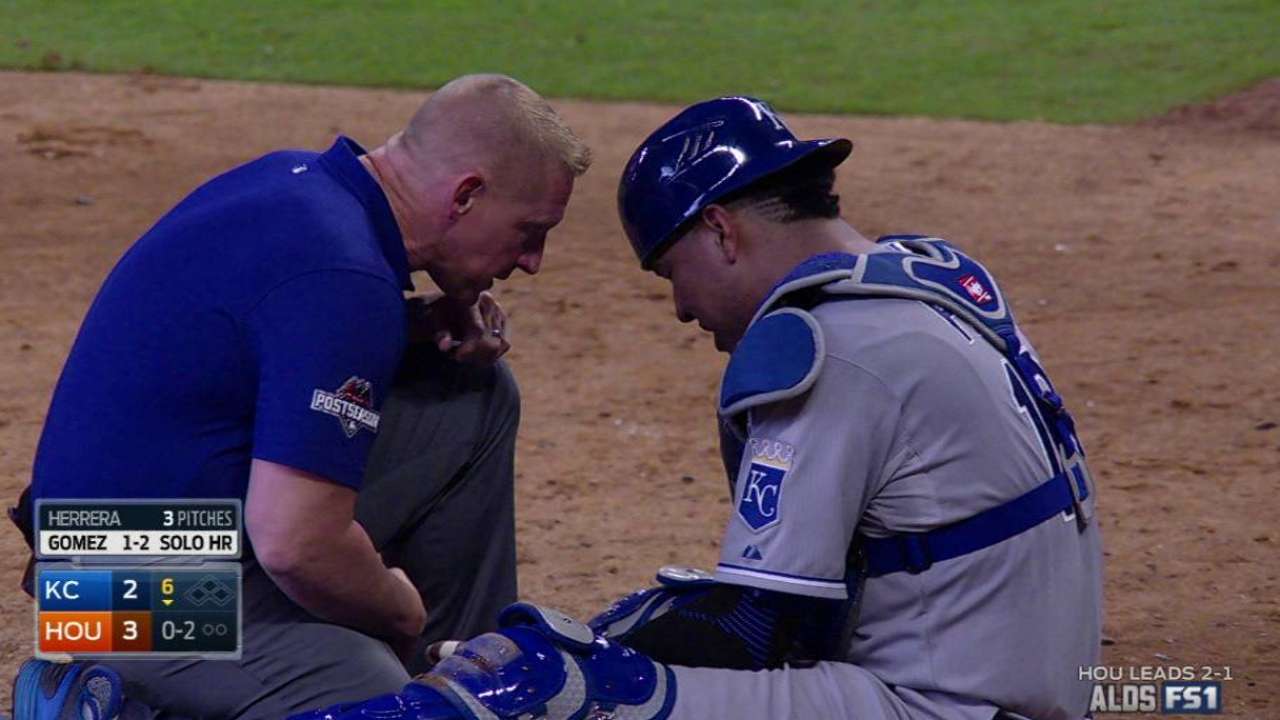 "Salvy got smoked pretty good in the face, and right in the spot where we kind of guard against, low on the chin," Yost said. "He said he was fine, but that rings your bell a little bit. And then when he got hit by the pitch, I'm like, 'OK, that's enough beating for one day.'"
From the training room, Perez watched his team come back from what seemed to be a steep deficit, scoring five runs in the eighth. Perez did his part in keeping the mojo going.
"Didn't move. Didn't breathe," he said. "The trainers said, 'No, no, Salvy, stay here, stay here.' I waited until the inning was over. I had ice on my neck, and watched the TV."
Having been through the roller-coaster ride of 2014, Perez wasn't surprised to see his Royals teammates doing such dramatic things in this game.
"The game's not over until the 27th out," he said. "The game's crazy and we've been in that situation before. Just play hard until the last out, and that's what we did today."
Alyson Footer is a national correspondent for MLB.com. Follow her on Twitter @alysonfooter. This story was not subject to the approval of Major League Baseball or its clubs.