Chirinos works simple approach in Game 4
Catcher goes 2-for-4 with RBI single vs. Blue Jays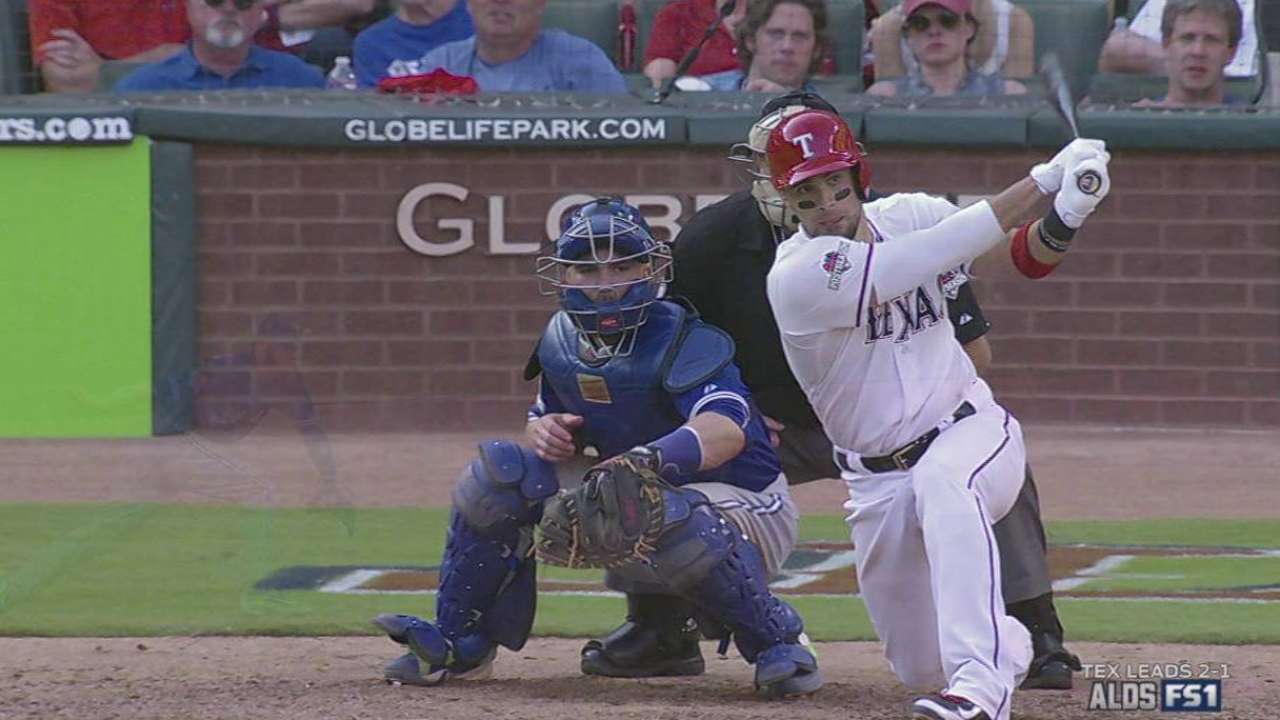 ARLINGTON -- Robinson Chirinos has found a home in Texas.
As the primary catcher for the Rangers, Chirinos has assumed a leadership role on the field and with the pitching staff. He knew that meant it was his job to usher Game 4 starter Derek Holland while also trying to figure out Blue Jays knuckleballer R.A. Dickey. The Rangers fell, 8-4, to Toronto on Monday, forcing a decisive Game 5 (Wednesday, 4 p.m. ET, FS1/Sportsnet) at Rogers Centre.
• Shop for Rangers postseason gear
"We talk a lot before the game, even during the game," Chirinos said of Holland. "I know everybody on this team knows how much Derek likes to compete and likes to be on the mound, and sometimes we have to just slow him down a little bit."
Holland struggled in Game 4, allowing six runs in two-plus innings, but Chirinos' simple approach vs. the often-baffling Dickey paid off.
"See it and hit it," Chirinos said before the game of his approach. "I mean … the ball will move everywhere. Try to concentrate and see the ball up in the strike zone."
Chirinos went 2-for-4 on Monday with an RBI single in the seventh.
Doug Miller is a reporter for MLB.com. Follow him on Twitter @DougMillerMLB. This story was not subject to the approval of Major League Baseball or its clubs.