MLB.com Columnist
Alyson Footer
Rapper Bun B is enjoying Astros' resurgence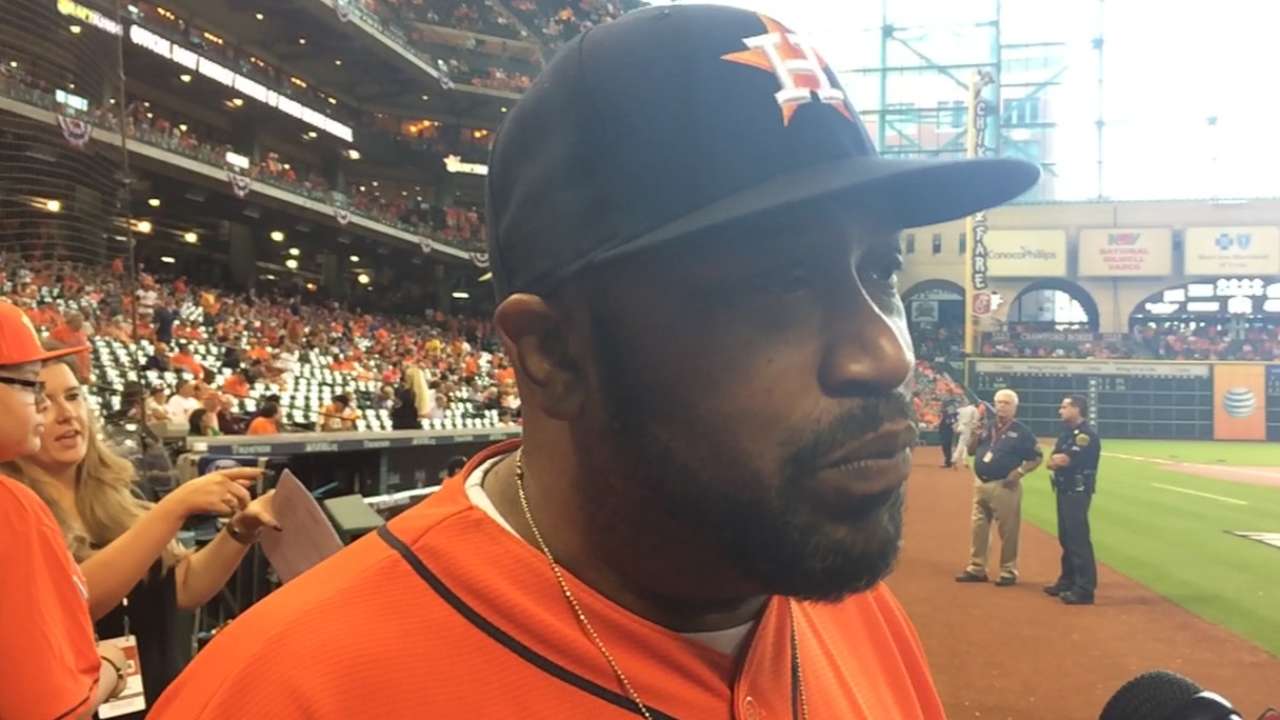 HOUSTON -- If you're one of Bun B's million-plus Twitter followers, you probably know this Houston native is a huge supporter of all the local sports teams, and he sticks with them through the good and the bad.
Bun B has had a semi-regular presence at Minute Maid Park over the years. He remembers watching the exhilarating postseason runs from a decade ago, and he also recalls the tough seasons that preceded the Astros' current resurgence.
• Shop for Astros postseason gear
Through it all, Bun B has maintained his unwavering fandom, and although he's a big name in the rap and hip-hop world, when he's at Minute Maid Park, he feels like just another pumped-up Astros fan.
"I'm here to be a part of it just like everybody else," he said, minutes before throwing out the ceremonial first pitch prior to the Astros' 9-6 loss to the Royals in Game 4 of the American League Division Series. "Go 'Stros."
Bun B, born Bernard Freeman, recently wrote a song titled "Crush City," celebrating the Astros' entry into the postseason after a 10-year playoff drought. He managed to work in the names of at least half the roster, if not more. For example:
Talkin' down, we don't listen to what you say
We keep it 200 like the hits from Altuve
H-Town, you don't want it down here
We've got Carlos Correa, he's the Rookie of the Year
With Keuchel on the mound backed up by Tony Sipp
Not to mention Evan Gattis and Conger, don't trip
With Rasmus, Gomez and Springer on deck
Chris Carter and Luis Valbuena is gonna rip
So show us some respect, we came to lay the muscle down
Turn it up in Club Astros, for Hustle Town
Bun B wrote the song in about two days, inspired to do so after the Astros beat the Yankees last Tuesday in the AL Wild Card Game presented by Budweiser.
"We went to the game in New York and came back the next night," he said. "I was looking at my Twitter and everybody was like, 'Yo, when is somebody going to do a song? Bun B, what's up?'
"We do music a lot for the local sports teams. I'm like, 'You know what? Yeah, they need a song right now.' I started writing it that night, and I woke up in the morning and finished writing it. I went straight to the studio and recorded it, brought it to the station and played it. The rest is history."
He's hoping for some Astros history as well.
"I was here 10 years ago during their World Series run," he said. "To be back here 10 years later and be a part of this, it's really kind of overwhelming."
The national anthem was performed by 14-year-old Nicholas Connors, whose singing voice has captured the attention of an entire sports fanbase -- including Texans star J.J. Watt, who tweeted about the kid after listening to him sing at a Rockets playoff game.
Hard to believe, but there was a time Connors found it difficult to convince the local sports teams to give him a chance to perform the anthem. Watt's endorsement changed all of that, and since then, he's performed at Dynamo, Dash, Rockets, Texans and Astros games.
"I've sung at a lot of Astros games, but my mom wanted me to sing for a huge Astros game," Connors said. "This is a huge Astros game, so this is yet another dream come true."
Alyson Footer is a national correspondent for MLB.com. Follow her on Twitter @alysonfooter. This story was not subject to the approval of Major League Baseball or its clubs.