Back in lineup, Beltre tallies two hits in loss
Third baseman bats third in Game 4 of ALDS, inspires teammates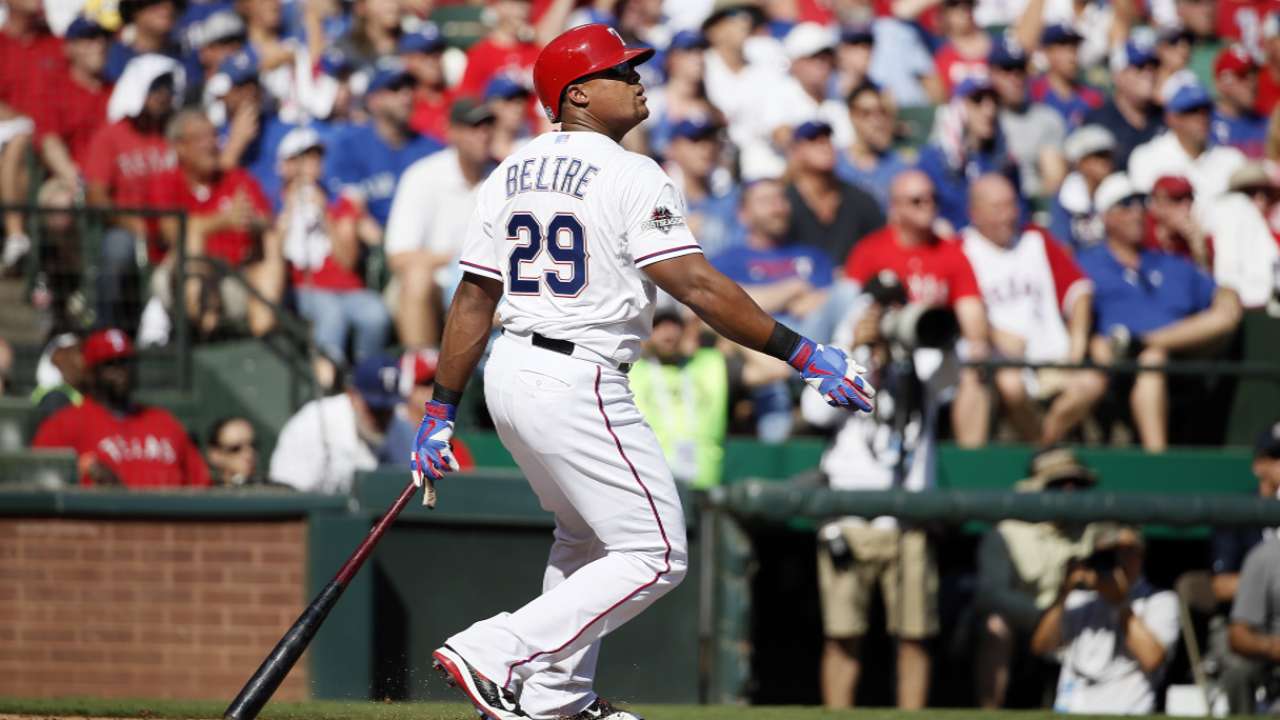 ARLINGTON -- Elvis Andrus had to smile.
The Rangers' shortstop's good buddy and teammate, Adrian Beltre, had just played nine innings of a game that nobody who pays any attention to Major League Baseball expected him to participate in. Beltre stroked two base hits and fielded both of his chances at third base without issue in the Rangers' 8-4 loss to the Blue Jays in Game 4 of the best-of-five American League Division Series.
All of this four days after suffering a lower back strain that had him just about unable to move.
So Andrus didn't dwell on the fact that his team lost. He didn't lament the fact that the Rangers lost both games at their home field of Globe Life Park to allow Toronto to tie the series at 2-2 and send it back to Canada (Wednesday, 4 p.m. ET, Fox Sports 1/Sportsnet). When asked what it was like to have the team's heart and soul back to his right in the field and hitting third in the lineup, Andrus couldn't help but express relief in the form of a grin.
• Shop for Rangers postseason gear
"Amazing," Andrus said. "He got two knocks. He looked good, man, and he makes so much difference in the lineup when he's there. His presence in the lineup is huge. He makes everybody better. I was glad to see him play because it means that he'll be ready to play the next game."
Beltre, who was removed from Game 1 in the early innings after suffering the injury on a slide into second base, was supposed to get another day off, but about an hour before the first pitch, he informed Rangers manager Jeff Banister that he could play.
That was all Banister needed to hear.
"I mean, you look at what he did today," Banister said. "That's why I don't question when he says he's ready to go. And you saw what he was able to give us today."
Beltre didn't get too detailed in how his day went, and, as his teammates know, this is standard operating procedure for a guy who is famous for playing through many maladies over the course of a 162-game grind and beyond.
"It was good to be back out there and contributing a little bit," Beltre said. "Even though we didn't end up the way we wanted to, but it's good to know that I'm good enough to be out there.
"I'm not exactly where I want to be, but I'm getting better, I hope."
Catcher Chris Gimenez, who was in the dugout all game, watched his teammate move and said he liked what he saw as far as how Beltre has progressed in the last few days with intense treatment. He said he asked Beltre how he was feeling after the game and got a typical, not terribly descriptive response.
"He said, 'I'm all right,'" Gimenez said. "But he'd say he was all right and a bone could be sticking out of his arm."
After Monday's game, Andrus was asked what Beltre's Game 4 performance showed him about his friend.
"How much heart he's got," Andrus said. "How much pride and love he's got for the game. He's a person that if he's really, really hurt, like I know he is right now, he's still going to find a way to go out there and help the team. It means a lot for us.
"And going into Game 5, he'll be out there. He'll be ready to go. And as a team, we have to have that mentality and throw everything out there."
Doug Miller is a reporter for MLB.com. Follow him on Twitter @DougMillerMLB. This story was not subject to the approval of Major League Baseball or its clubs.