Young Indians' arms getting work at instructs
Two of Tribe's top three '15 Draft picks give club high-ceiling pitchers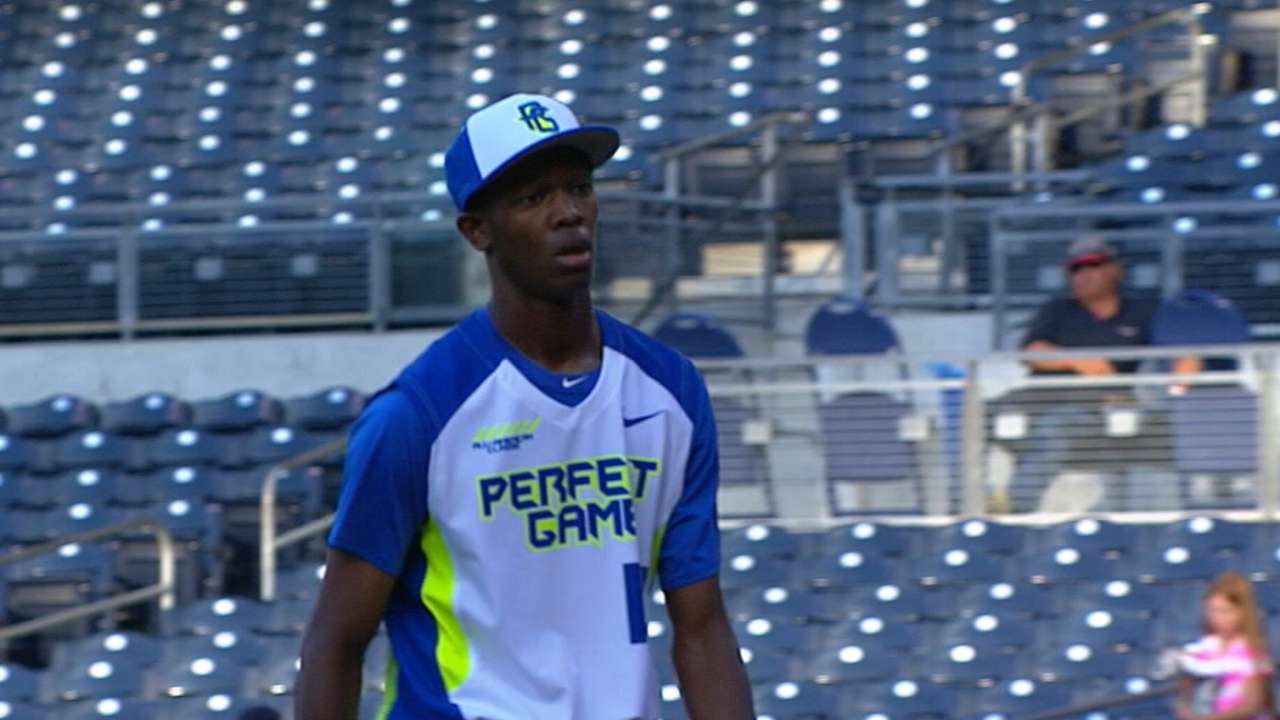 If there was one knock on the Cleveland Indians' farm system headed into the season, it was that it lacked young, high-ceiling arms.
That changed in a hurry in this past June when the Indians used their first three picks on prep pitchers Brady Aiken (No. 17 overall), Triston McKenzie (No. 42 overall, Competitive Balance A round) and Juan Hillman (No. 59 overall, second round).
"To define a Draft as what the strength is, or what the strength isn't, isn't necessarily the right way to do it," Indians director of amateur scouting Brad Grant told MLB.com following the Draft.
"What we did was target the players that we felt best at those selections and we happened to come away with three high school pitchers. At the same time, we're very excited to be able to come away with three high school pitchers."
While Aiken continues to work his way back from Tommy John surgery in the spring, McKenzie and Hillman's development has continued this fall in instructs.
McKenzie, the Tribe's No. 8 prospect, took the mound just four times this summer after receiving the highest signing bonus among high school pitchers. He was excellent in those showings, however, posting a 0.75 ERA with 17 strikeouts in 12 innings (three starts).
At 6-foot-5 and 160 pounds, McKenzie is the definition of projectable -- even more so considering that, at 17, he was one of the youngest players in the Draft. Therefore, it's easy to envision the wiry right-hander, who currently works in the 88-93 mph range with his fastball, adding velocity as he develops physically.
"We see potential definitely in Triston's frame," said Grant. "We did a lot of work on him and went through a lot to try to get to know him and learn about him as much as we possibly can. We do feel we have the opportunity to get him stronger and have him throw harder."
But there's more to like about McKenzie than simply projection.
"He's tall, thin-framed," noted Grant, "but what we like with Triston is it's a fastball that's up to 93. He's another one who can spin a curveball. A guy with a good feel for a change. And Triston, as well, throws a lot of strikes, and has a very good delivery."
Hillman, Cleveland's No. 9 prospect, saw a bit more work than McKenzie, logging 24 innings over eight appearances (six starts) in the Rookie-level Arizona League. The 18-year-old left-hander registered a 4.13 ERA in that span, but he also struck out 20 batters against three walks and did not yield a home run. Hillman's final regular-season start was his best of the year, as he allowed just one hit over four scoreless frames. Hillman's overall performance was reminiscent of the southpaw's senior campaign at Olympia (Fla.) HS, when he issued 12 walks and struck out 80 batters in 62 innings.
"With Juan, we have a solid-to-average fastball," Grant said. "A pitcher who throws 90-91 with real good life to his fastball. He's another high school pitcher with a good feel for a curveball, a feel for a changeup and, again, a guy who throws a lot of strikes. He's a guy who has very good delivery mechanics and a guy who has a lot of upside."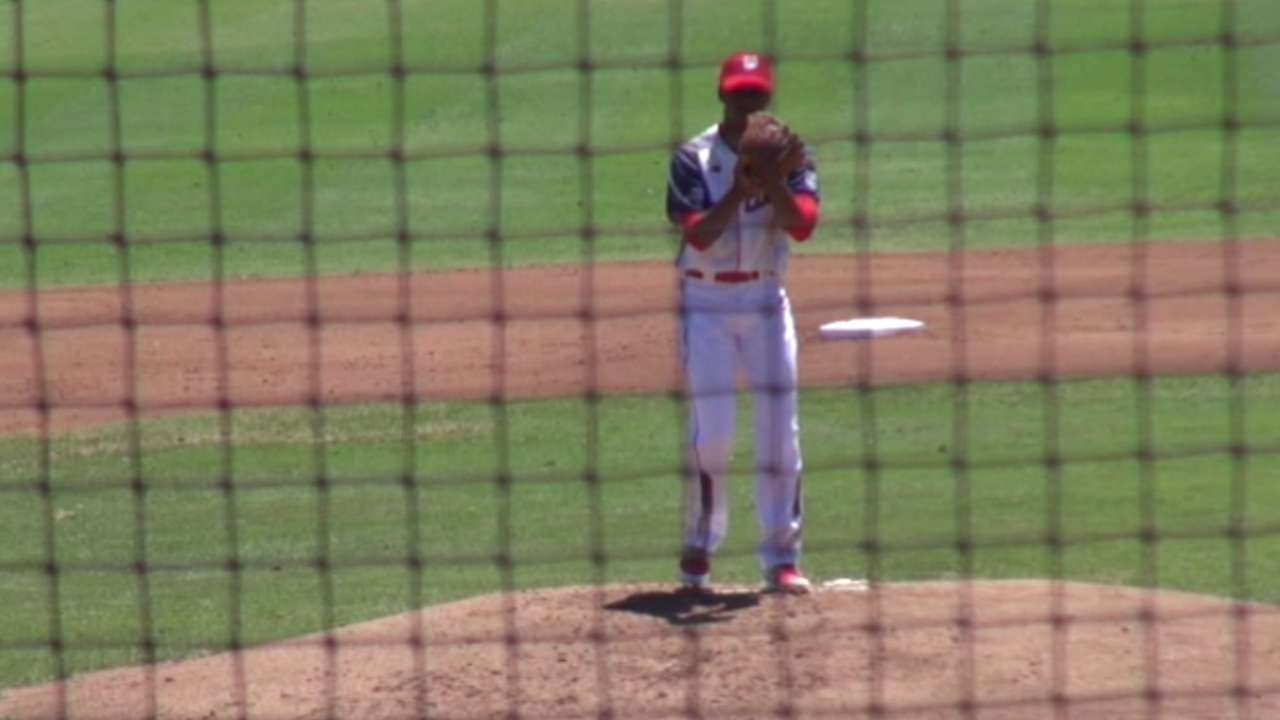 After landing Aiken, McKenzie and Hillman with their first three picks, the Indians shifted their focus to college position players -- middle infielders, specifically.
The club might have gone off the board a bit in the third round to get No. 21 prospect Mark Mathias -- who signed for $550,000 -- but the Cal Poly product lived up to the billing in his professional debut,batting .282/.382/.408 with 24 extra-base hits, 38 runs scored and nearly as many walks (35) as strikeouts (36) in 67 games for Class A Short-Season Mahoning Valley.
The 21-year-old second baseman's performance was particularly encouraging considering he underwent labrum surgery last offseason and was subsequently limited during the spring.
"He's battled all the way through it," said Grant about Mathias' shoulder injury. "And we really like the upside to the bat and the ability to control the strike zone, and the ability to play multiple positions for us."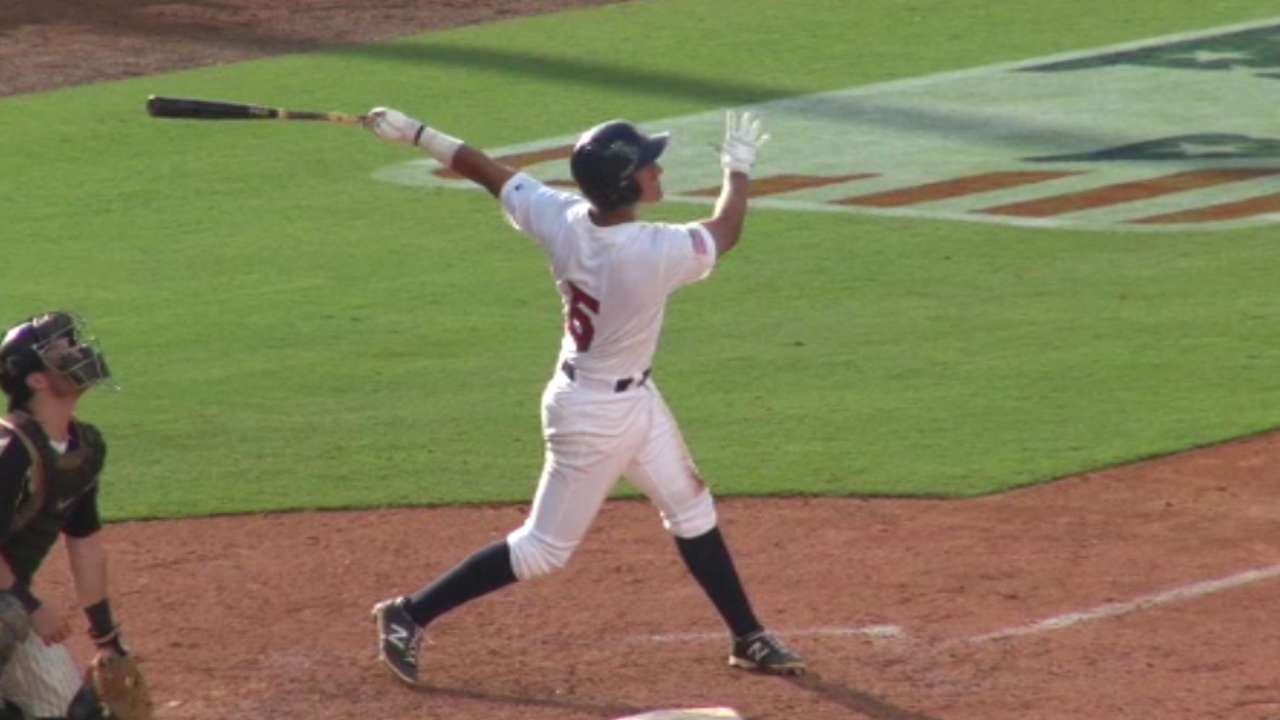 The Indians continued to add infield depth in the fourth round with Clemson shortstop Tyler Krieger, who, like Mathias, had his Draft stock affected by offseason labrum surgery.
The 21-year-old switch-hitter served as the Tigers' designated hitter for the most of the season, batting .339 with 41 RBI in 61 games. However, the Indians ultimately decided to delay Krieger's professional debut until 2016, allowing him to fully recover from the injury and prepare for his first season.
"Another bat and another guy with versatility," Grant said. "He can play short, play second, play third, move around. ... He was able to play all season and bounce back and forth. He can stay at short, but with him it's the bat. It's the offensive side with him, too."
Mike Rosenbaum is a reporter for MLB.com. This story was not subject to the approval of Major League Baseball or its clubs.