Free passes, 'one pitch' doom Rangers in Game 3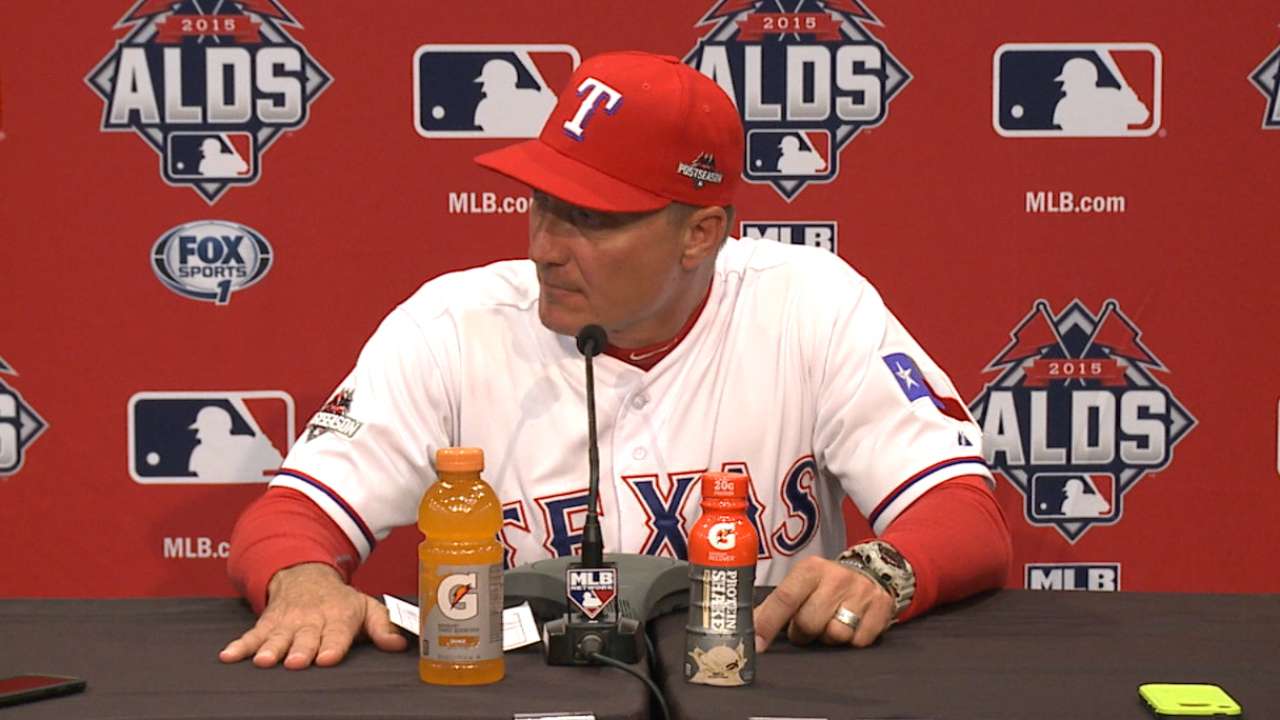 ARLINGTON -- Rangers skipper Jeff Banister wanted to make one thing clear: The Toronto Blue Jays are a very good team that's tough to beat, and if you make it a little easier for them to defeat you, they will.
Even though Texas hadn't seen that situation arise in the first two games of this American League Division Series, it saw it in Game 3, and as a result, dropped the series' first game in Globe Life Park, 5-1, on Sunday, while Toronto lived to see Monday's Game 4 (4 p.m. ET, FOX Sports 1/Sportsnet).
• Shop for Rangers postseason gear
The two innings that did in the Rangers, the fourth and sixth, were full of walked batters and one mistake pitch that resulted in one very loud three-run home run by Troy Tulowitzki. Those two frames told almost the entire story of the game, with the moral, written in oversized type, that you can't give an offensive club as talented and explosive as the Blue Jays any extra opportunities, especially this time of year.
To recap: In the fourth inning, with the Jays already leading, 1-0, and after a leadoff double by Josh Donaldson, Rangers starter Martin Perez got a Jose Bautista flyout that pushed Donaldson to third. Banister elected to intentionally walk slugger Edwin Encarnacion to pitch to the less-heralded Chris Colabello. Perez suddenly lost the strike zone and walked Colabello and Tulowitzki for another run.
In the sixth, Donaldson and Bautista strung together singles and the Jays had runners on the corners. Looking for a ground ball, Banister replaced Perez with young right-hander Chi Chi Gonzalez, who walked Encarnacion on 10 pitches. Colabello hit into a nifty, 3-2-3 double play, but Gonzalez left a changeup up in the zone and Tulowitzki whacked it over the fence. It was 5-0 and Globe Life Park had gone quiet.
"It was the walks that kind of led to some tough situations," Banister said. "We still had an opportunity down two runs. The margin of error in these games [is] so small that you've got to continue to execute pitches.
"We missed on one pitch tonight."
Despite all that, the Rangers did do some good things they could take into Monday. They limited damage, actually, by turning a double play in four consecutive innings: the third, fourth, fifth and sixth.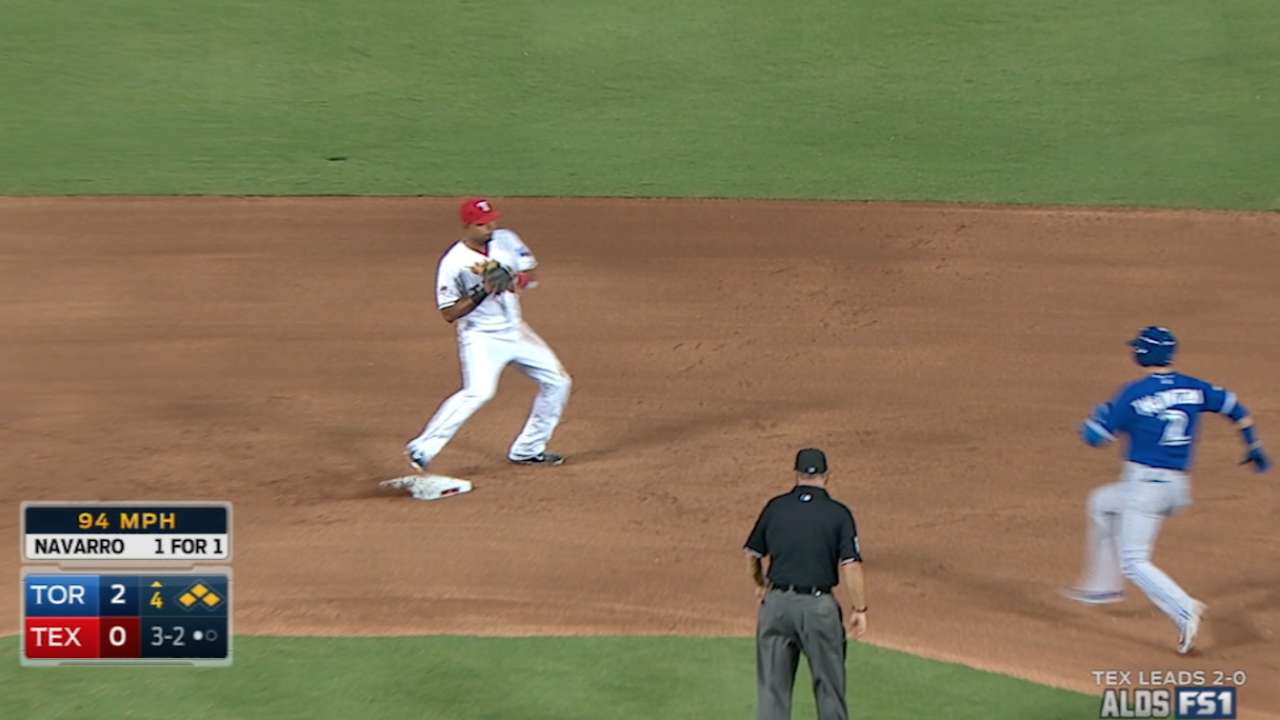 "Postseason baseball," said Jays catcher Dioner Navarro, who hit into the 4-6-3 twin-killing to end the fourth with the bases loaded.
"You play a great team, too. We got a couple of opportunities and we weren't able to finish them until Tulo hit that homer. We had bases loaded a couple of times and we hit into ground-ball double plays, but it's just part of the game.
"Bottom line, we got the win today, we got another huge game tomorrow and [we'll] play our [tails] off."
Banister promised much of the same from his charges.
"That's a quality ballclub in that other clubhouse," Banister said. "They know how to play. They know how to play very well. They have won a lot of baseball games this year. We knew that tonight would be a tough ballgame.
"We know that tomorrow's going to be a tough ballgame and we've got to come out and play well. We've got to continue to play well."
Doug Miller is a reporter for MLB.com. Follow him on Twitter @DougMillerMLB. This story was not subject to the approval of Major League Baseball or its clubs.