Oct. 11 Marco Estrada, Troy Tulowitzki postgame interview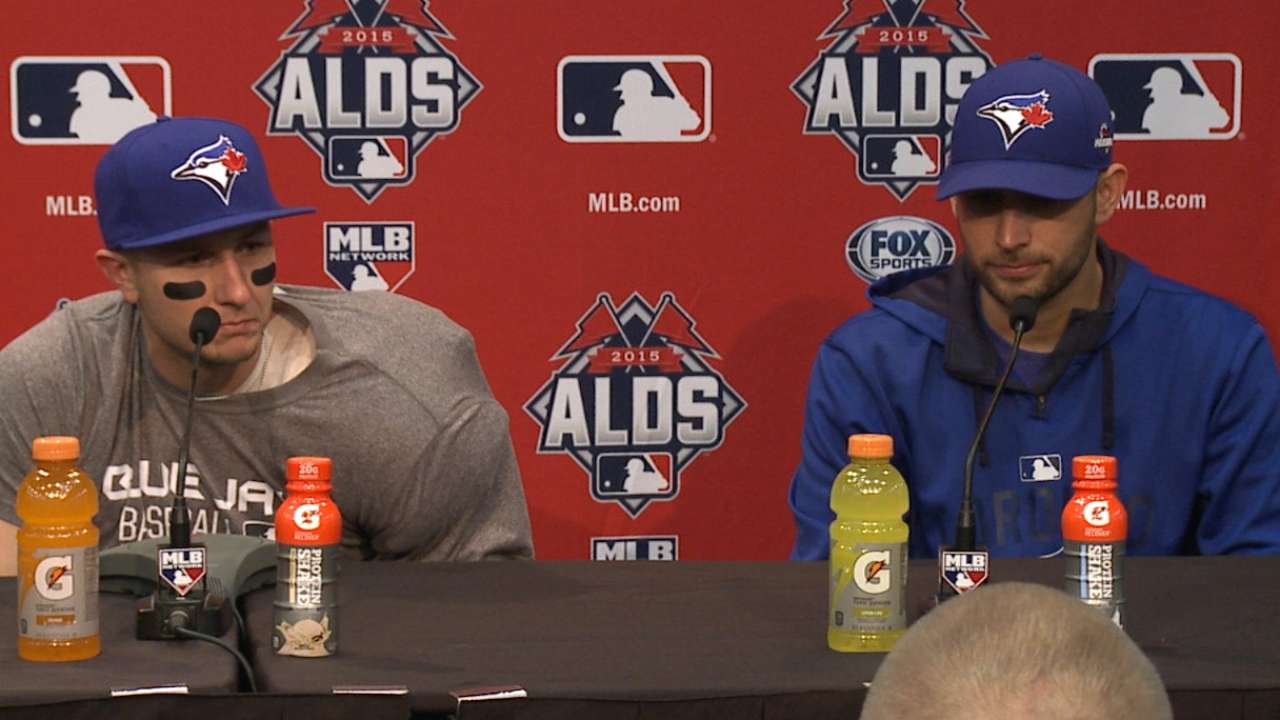 MODERATOR: Bring up Troy Tulowitzki. Okay, questions for Troy? We'll hold off one second. If you have a question for Troy or Marco, just let us know.

Q. This is for Troy. You obviously had the misfortune of not many at-bats coming into the playoffs because of the injury. Your last three were real good. Did something start to get locked in for you tonight at the plate?

TROY TULOWITZKI: No, not really. I felt like the first game I swung the bat well, just no results. It's only a matter of two games so you just stick with it. You know it will come around, and just keep on battling. I think that's what I've been doing all year and it paid off tonight.

Q. Marco, Navarro was talking about how much your curve and cutter have come along this year. How important are they in adding to the plus change-up and the fastball and making it a good mix?
MARCO ESTRADA: Curveball hasn't got any better, just I'm locating it a lot more than in the past. And obviously I just picked up a cutter and we've been using it quite a bit. I still do have to get a little better with it, have to locate it a little more. But, yeah, we used it quite a bit today. Even some four-seams were kind of cutting on me and it kind of worked out, but I have to get a little better with my cutters and keep doing what I'm doing with my curveball.

Q. Marco, congratulations on the win. This is your first Postseason start and there couldn't really have been more on the line than this one. How did you feel going into it?
MARCO ESTRADA: It felt great. I wasn't really thinking about the situation. Obviously I know we're down about two, or we were. I don't want to think about it, I just kept thinking, hey, the way you thought about pitching the entire year, why not keep doing the same thing, you know. Just don't think about being down 0-2, but you want to win. I want to win every single game and that's basically the mentality I took in.

Q. Troy, you guys had so many opportunities to score and they kept on turning double plays. When you got the big breakthrough there, what was kind of your feeling in the moment and what do you think it did for your team to get some breathing room?
TROY TULOWITZKI: I think it was definitely huge. I think in the moment I was definetely pumped up, got back to the dugout and everybody's obviously excited to put us up by five, I believe was a little breathing room. I think that's the goal, down 2-0. Coming into Texas was hopefully we can get on the board first and we did that tonight. It's kind of what they did to us in Toronto, so hopefully tomorrow we can do the same thing and get back to Toronto and see what Game 5 is.

Q. Marco, you've obviously been on a nice run for a long time now but one of the things you were talking about the last few starts was trying to improve how you began those ballgames. Did you do anything different leading in or what do you account that early success to?
MARCO ESTRADA: Yeah, I warmed up a little earlier today. We worked on it in the bullpen. I threw more pitches and I think I was just not only mentally prepared but physically just throwing more pitches, being a little more loose, it helped me out a lot. I think that first inning was kind of quick for the other guy so that helped me out, I was still warm. Went out there and felt great from the get-go.

Q. Troy, obviously you have that huge ice bag there. How much treatment are you still getting on that shoulder?
TROY TULOWITZKI: Yeah, well, you know, obviously I'm coming back early from the injury that I had. It's definitely not a hundred percent, I said that at the beginning of the series, but good enough to go, good enough to play and tons of treatment, to be honest with you. I could do it all day, but just go out there and play and see what happens.

Q. Troy, seems that you guys had pressure on the Rangers' pitchers the whole time. Can you describe maybe the difference in approach from the at-bats that you saw from yourself, your teammates today compared to the first two games?
TROY TULOWITZKI: I think we were more patient in those big situations. Something that we had talked about actually today was, I think because we can hit the long ball, and we can end the game with one swing, say, late in the game, that guys wanted to try to hit that home run. And today we put together good at-bats, walks, hitting the ball the other way, moving runners. We played just better baseball overall, so I think we learned from our mistakes, we corrected them and hats off to the guys in our clubhouse because the approach changed and we got a win because of it, and hopefully we can continue that these next two games.

Q. For Troy, please. Troy, the at-bat with the home run, are you looking change-up there?
TROY TULOWITZKI: No, I'm not looking change-up, I think I'm just trying to stay a big part of the field, stay short. Obviously he threw a change-up and I ended up pulling it. Got in a good count. I think that's something at my at-bats previously, it was pitchers' counts and it's a tough league when you're in a pitcher's count.

Q. Marco, you've been paired with Dioner Navarro for a while now and you've been getting good results. What specifically is it about that pairing that works so well for you?
MARCO ESTRADA: It's just different the way he calls the game. I've tried to keep up with him, and I've said this a million times, the guy just thinks unlike anybody else. Not to say anything bad -- or not bad, I'm sorry. Russ has been great also. When I had him, he was doing such a great job. He picked me up really quick, not ever having catching me before, he was calling great games for me. And then all of a sudden they switched me to Navarro, and I don't know, things just clicked a little quicker. Yeah, just trying to keep up with the guy, I try to follow him as much as I can. Like I said, if I hit the groove I'm going to be pretty successful with him back there.

MODERATOR: Thanks very much, guys. See you tomorrow.