Center stage: Statcast tracks Gomez, Pillar, Cain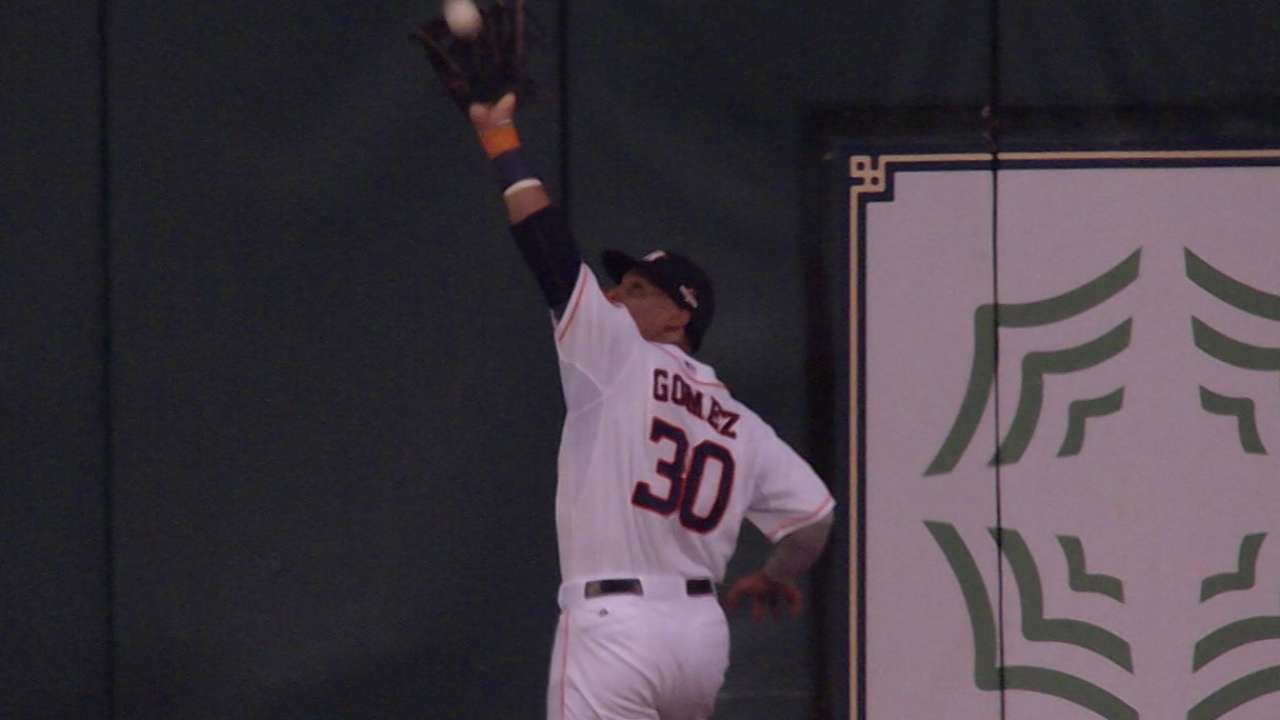 Sunday was a good day to be a center fielder.
Across two American League Division Series contests, three center fielders produced impressive plays, two with the glove and one with the bat. Statcast™ was there to track all three and provide a data-driven look at how they happened.
Gomez gets on his horse
The Astros held a 4-2 lead over the Royals in the top of the ninth inning when Kansas City's Alex Rios hammered a deep fly ball off closer Luke Gregerson. The drive, hit at 98.0 mph, seemed likely to produce extra bases and bring the potential tying run to the plate. But Houston center fielder Carlos Gomez raced toward the left-center gap, reaching a maximum speed of 19.5 mph as he covered 87 feet with a route efficiency of 94.3 percent. As Gomez crossed onto the warning track, he reached up and plucked the ball out of the air, just in front of the wall. Three batters later, the Astros had a victory and a 2-1 series lead.
Pillar takes on wall
With no score and one out in the bottom of the second inning, Texas' Elvis Andrus ripped a Marco Estrada pitch at 101.5 mph, driving it 392 feet to center field. Toronto's Kevin Pillar broke after it in 0.28 seconds and traversed 82 feet back on to the warning track, reaching up to make the grab just before slamming into the padded wall. He hung on to the ball for the second out, with Statcast™ measuring his route efficiency at 95.6 percent. The Rangers didn't score in the inning, and the Blue Jays took the lead for good in the top of the third, on their way to a 5-1 win that pulled them within 2-1 in the series.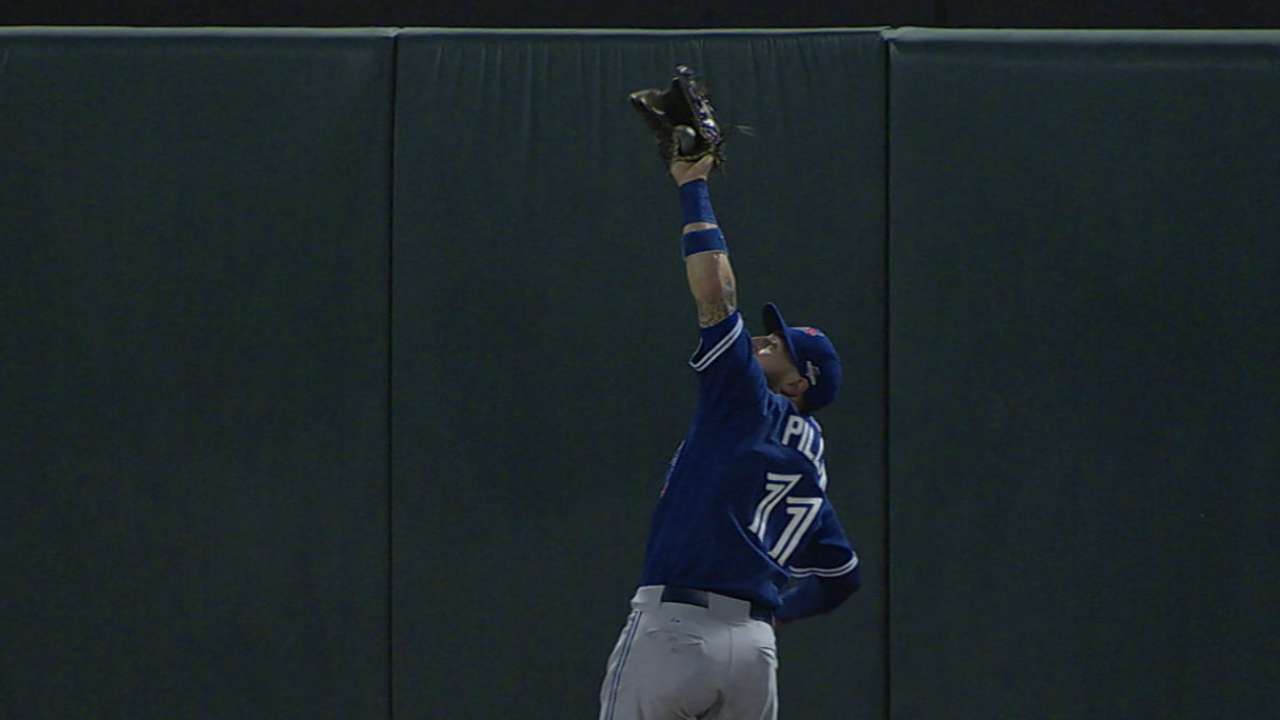 Cain puts Royals on the board
Though the Royals fell behind in their series on Sunday, they struck first. Lorenzo Cain led off the fourth inning against Astros left-hander Dallas Keuchel, with the teams locked in a scoreless tie. After getting in a 2-2 count, Cain fouled off five straight pitches before crushing a hanging breaking ball -- the 10th pitch of the at-bat -- at 104.2 mph. Cain's drive soared way over Minute Maid Park's left-field Crawford Boxes and out of view, with Statcast™ projecting it to land 423 feet away from home. Kansas City led, 1-0, on Cain's first homer in 18 career postseason games.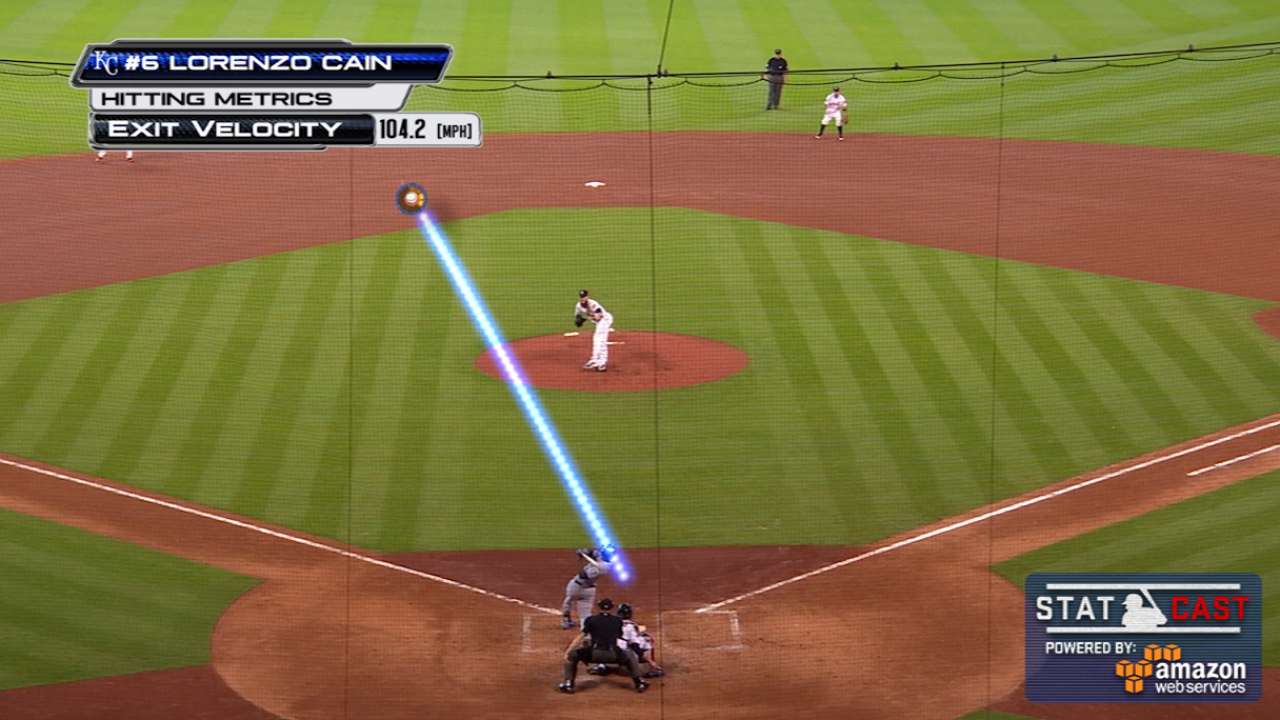 Andrew Simon is a reporter for MLB.com. Follow him on Twitter @AndrewSimonMLB. This story was not subject to the approval of Major League Baseball or its clubs.