MLB.com Columnist
Mike Bauman
KC on the brink, but not about to panic
Royals confident they can force decisive Game 5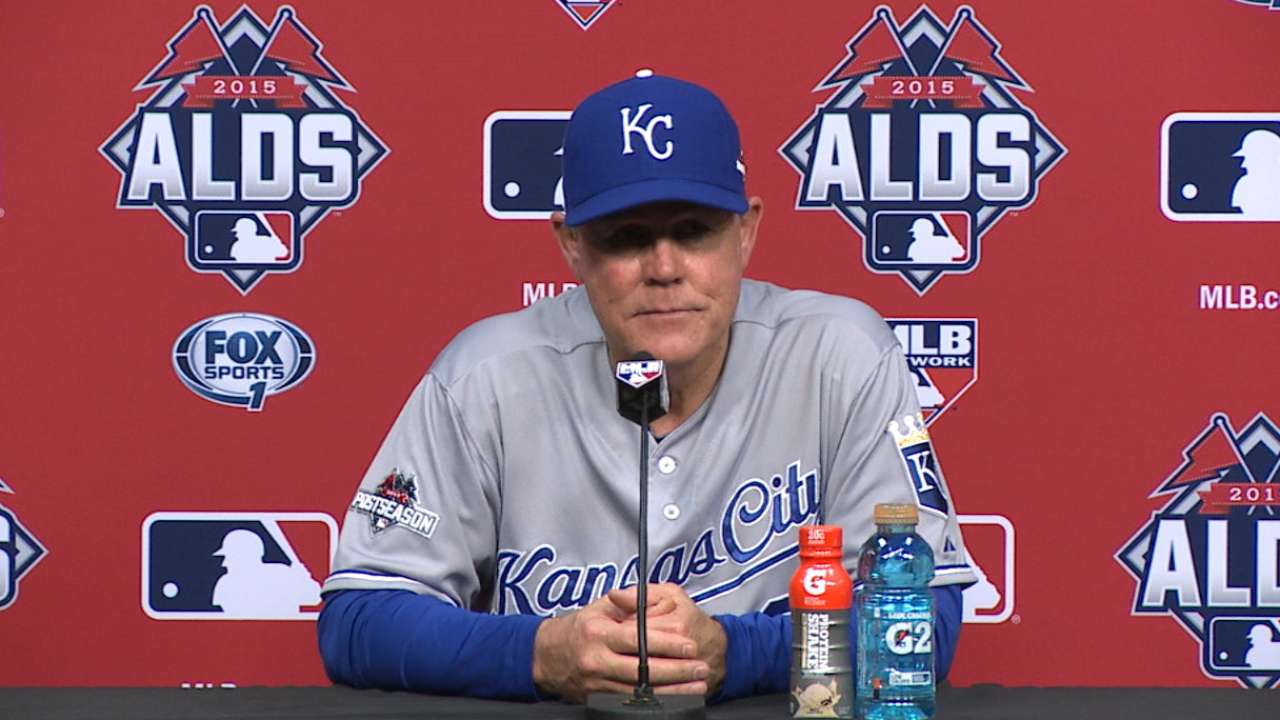 HOUSTON -- The Royals are at the brink of postseason elimination. Counting them out now might seem superficially easy. But it would also be seriously foolish.
The Astros took a 2-1 lead in the best-of-five American League Division Series on Sunday with a 4-2 victory over the Royals at Minute Maid Park. Houston can close out the series with a Game 4 win Monday (1 p.m. ET, Fox Sports 1).
• Shop for Royals postseason gear
It is difficult to say that the defending AL champions and the team with the best record in the league was not expected to win a given game. But that was the case Sunday, because Dallas Keuchel was pitching for the Astros and he was 15-0 with a 1.46 ERA in Minute Maid Park this season.
Now Keuchel is 16-0 with a 1.45 ERA at home, after giving up one run over seven innings against Kansas City. The Royals were not overwhelmed by Keuchel, but they were defeated by him. They put runners on in six of his seven innings, they managed five hits and three walks, but they left eight runners stranded while Keuchel was on the mound. Keuchel repeatedly made the pitches that he absolutely had to make.
In the end, this game said more about Keuchel than it did about Kansas City.
"He threw a great game," said Royals manager Ned Yost. "You've got to take your hat off to him. At times, with runners in scoring position, we probably swung at some balls that probably wouldn't have been called strikes, but that's what good movement does. That's what he does so well, is he changes speeds, he moves location. He moves it in, he moves it out; he speeds it up, he slows it down.
"I think he should be the [AL] Cy Young [Award] winner this year. He's been great. Had a phenomenal year."
Kansas City right fielder Alex Rios, asked if Keuchel became particularly tough with men on base, responded: "I thought he was tough the whole game."
Keuchel has put himself in truly exclusive company. The last AL pitcher to win 16 home games in one year, including the postseason, was Jack Morris (16-3) for the 1991 Twins. The last Major League pitcher to accomplish the feat was Randy Johnson (16-3) for the 2001 D-backs. Both of those teams won the World Series.
On the other side of the pitching matchup, Royals starter Edinson Volquez battled and took a 1-0 lead into the fifth, but the game turned when the bottom three hitters in the Astros' order reached him for two runs.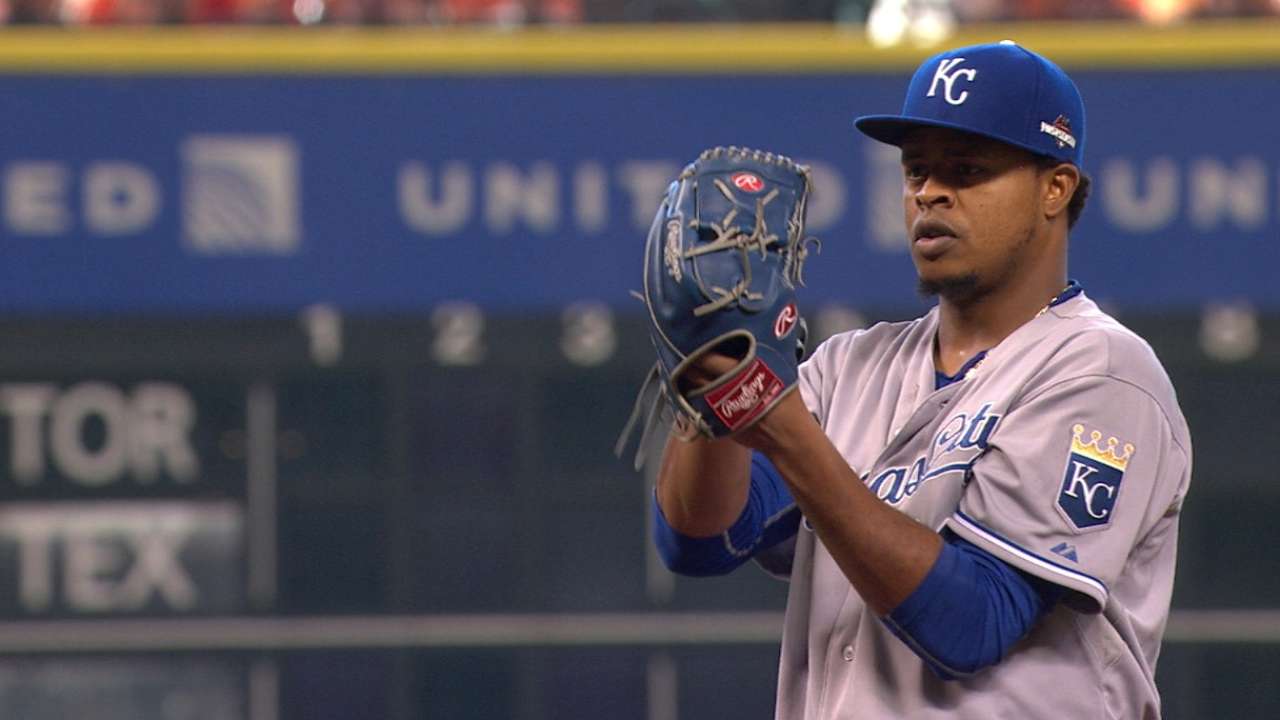 In Game 4, Kansas City will start 24-year-old flamethrower, Yordano Ventura, while Houston will counter with 22-year-old rookie Lance McCullers. This is a very large stage for any young pitcher, and this game could come down to which pitcher maintains his composure and his command.
Apart from that, don't expect any sense of desperation from the Royals, even if they are one loss from the end of their season. They have achieved too much to lose confidence in themselves at this point.
"It's a five-game series, we know that," Yost said. "We have to win two, they've got to win one. But we come out [Monday] and we win, then it's excitement back at The K [Kauffman Stadium] for Game 5. So, we're looking forward to that.
"You've got to go out and win. We know that. I don't think our mindset would have changed any if we won today. You got to go out and win [Monday]. So you just don't have much leeway now, but our guys I think are up to the task, and [Monday] will be an exciting day."
"We have to come back and win the next game," said catcher Salvador Perez. "The game today is over. We have to come back, play hard, see what happens."
"We always find ways to win games," said Rios. "Unfortunately, tonight we couldn't get it done. But we've done it throughout the season, the whole season. We always find ways to win. Even when we're behind, we find ways to win ballgames.
"I don't think we need to panic at this point. No matter what time the game is, we're going to be ready for it."
Mike Bauman is a national columnist for MLB.com. This story was not subject to the approval of Major League Baseball or its clubs.