3 keys for the Royals in Game 4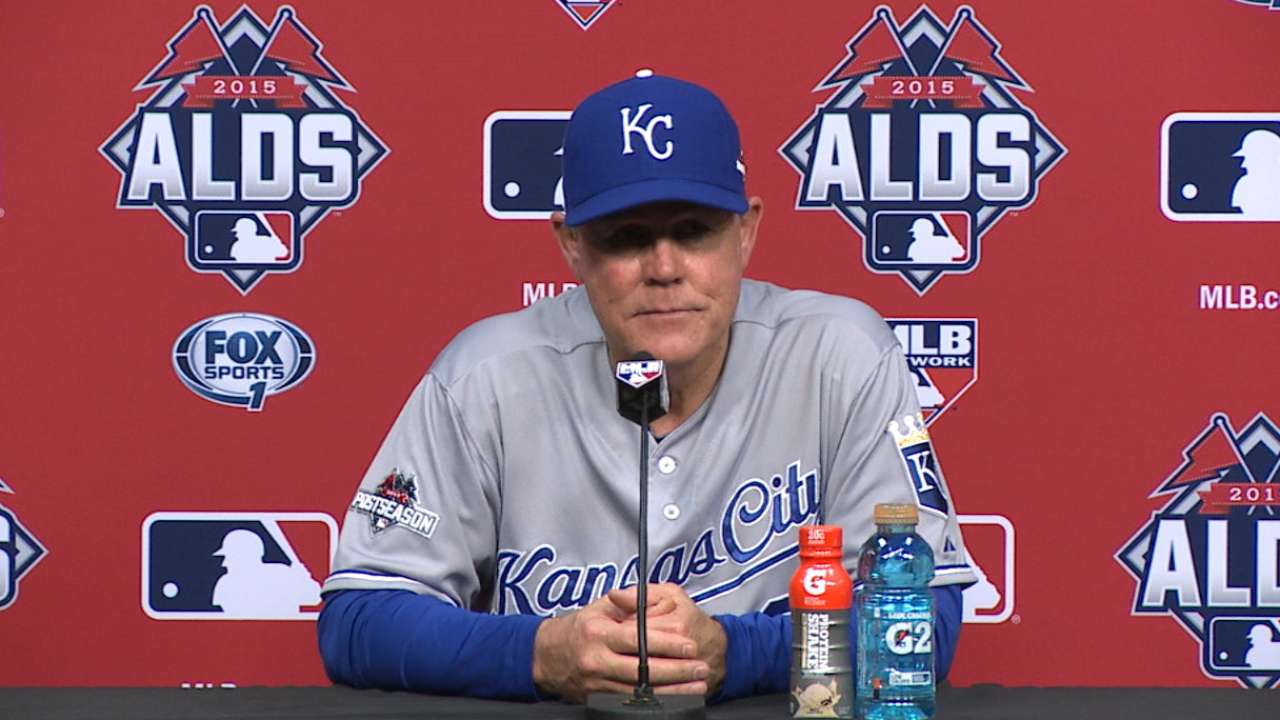 HOUSTON -- All the hard offseason work, the rigors of Spring Training and the grind of a 95-win regular season comes down to one game for the Royals.
On Monday at 1 p.m. ET (live on Fox Sports 1), Kansas City faces an elimination game in the American League Division Series. How can the Royals beat the Astros and push the series back to Kauffman Stadium?
Here are three keys for Kansas City:
• Shop for Royals postseason gear
1. A better Ventura
Right-hander Yordano Ventura was amped and confident he would perform well in Game 1. But he struggled with his command and gave up three runs in two innings before a 49-minute rain delay chased him for the night. The Royals never recovered in the series-opening loss.
Ventura has to be completely sharp in Game 4 on three days' rest because Houston is a team that's feeling it offensively. For the first two games, Colby Rasmus was on fire. On Sunday, it was Chris Carter with three hits, including a double and a homer. Who knows which Astros player will step up Monday?
The good news? Ventura has pitched under enormous pressure before. Kansas City was down 1-0 in the World Series last year and he pitched Game 2, keeping the Royals in it long enough for a rally and a win. And, of course, Ventura was there in Game 6 in an elimination game for seven shutout innings in a win over the Giants. The moment won't be too big for him.
• Short rest no issue for Yo with season on the line
2. Maintain approach
The Royals had a solid approach in Game 2, scattering the ball to the opposite field nine times out of 11 hits in a 5-4 win. Kansas City had a pretty good approach against Dallas Keuchel on Sunday as well. The Royals had Keuchel in trouble numerous times, but they missed the clutch hit that would have turned the game's fortunes around. Kansas City will have to keep that mindset of keeping the line moving against Houston starter Lance McCullers, and the Royals need to hope some big hits come their way.
• Astros eye clincher, while Royals out to stay alive
3. Don't panic
The Royals have faced elimination games before on the big stage -- in the AL Wild Card Game last year, as well as in Games 6 and 7 of the World Series. Even in the Game 7 loss, they were within 90 feet of tying the game in the ninth.
Translation: This team has confidence it can win Monday and Wednesday.
"Panic is not something we do," Lorenzo Cain said.
Jeffrey Flanagan is a reporter for MLB.com. Follow him on Twitter at @FlannyMLB. This story was not subject to the approval of Major League Baseball or its clubs.