Dickey grateful for postseason opportunity
Righty discusses meaning of pitching ALDS game in Texas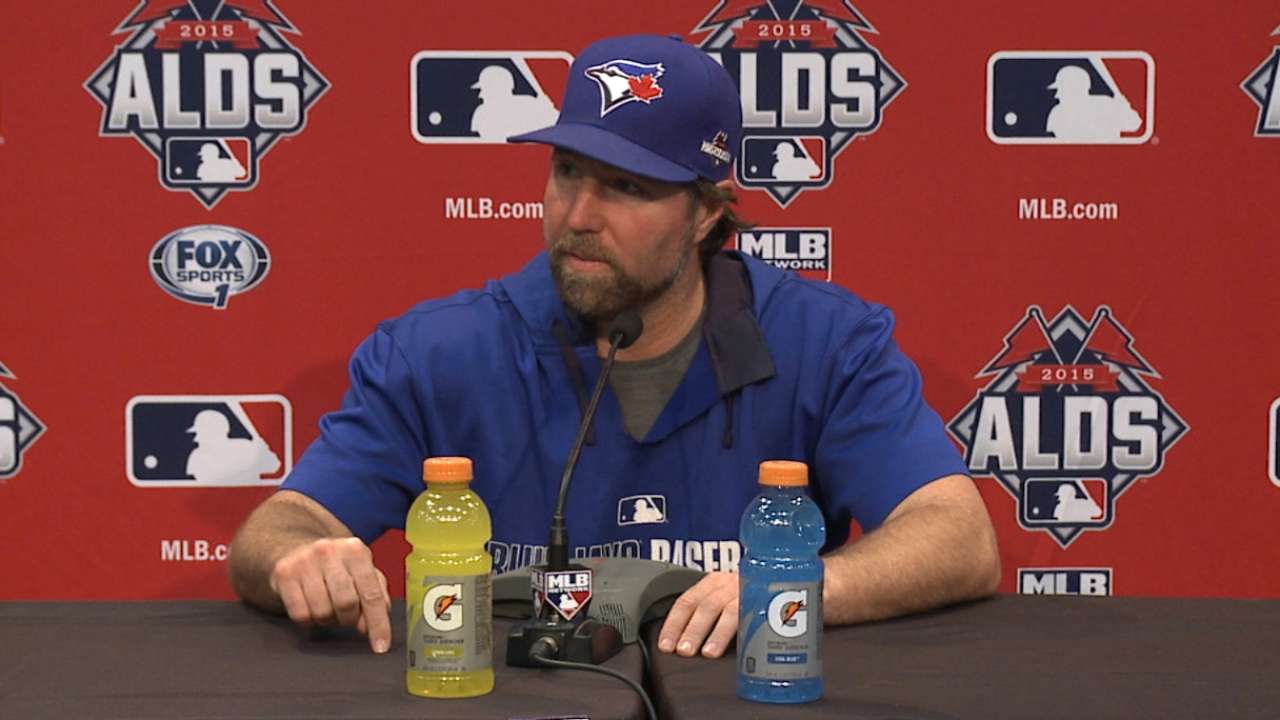 ARLINGTON -- R.A. Dickey got his start here nearly 15 years ago, a Rangers first-round pick. He got his knuckleball here a decade ago, thanks to former Rangers pitching coach Mark Connor and former Rangers knuckleballer Charlie Hough.
Over 15 seasons, he pitched his way out of the Majors, back in, and then to a Cy Young Award, an All-Star selection and a long-term contract. He could not pitch himself into the postseason. After the Blue Jays' 5-1 win in Game 3 on Sunday, he'll finally get his postseason chance.
Getting that shot on Monday in a Game 4 (4 p.m. ET, FOX Sports 1/Sportsnet) between the Rangers and Blue Jays in the best-of-five American League Division Series, back to his roots in Texas, had him smiling.
• Buy Blue Jays postseason gear
"It's special for sure," Dickey said on Sunday, "and that seems like such a cliché, but it's funny how it's come full circle for me personally, having learned the knuckleball here in 2005, and now potentially with a chance to take the series back to Toronto with a Game 4 start. It's poetic, is what it is for me. It's a neat narrative."
It also took a while. Among active pitchers, only Aaron Harang (387 appearances) and Felix Hernandez (334) have started in more regular-season games without a postseason appearance than Dickey (240), who turns 41 at the end of the month. When he takes the mound, he'll become just the fifth pitcher ever -- and the first starting pitcher -- to make his postseason debut in his 40s, according to research on baseball-reference.com. Doug Jones was the last, debuting for Cleveland in the 1998 ALDS at age 41.
When Dickey was traded to Toronto three years ago, he agreed to a two-year contract extension, even though he was a year away from free agency. He signed the deal hoping to get a chance to lead the Blue Jays to the postseason. He got there in the final guaranteed season of his contract. "It's what I had envisioned happening every year that I hoped I was going to be a Blue Jay," Dickey said, "but baseball's funny that way, right? It doesn't always work out the way you hope, but here we are, and we have an opportunity to do something really neat."
Now that he's here, he's tasked with helping keep Toronto in the postseason, down two games to one. In that respect, he faces the conundrum of the knuckleballer, trying to find the feel for a temperamental pitch in a situation where urgency is highest. Though manager John Gibbons opted to start Dickey instead of David Price on short rest, Gibbons made no secret of his ability to use Price or Game 2 starter Marcus Stroman out of the bullpen. Any flurry of hits off a floating knuckler could bring a quick hook.
The history of knuckleballers in the postseason, while not recent, backs up the unpredictability. Tim Wakefield nearly pitched the Pirates to the World Series in 1992, beating the Braves twice in the NLCS. He also kept the Red Sox alive in 2004 with three innings of scoreless relief in Game 5 of the ALCS. But he also was hit hard in Division Series appearances in five other seasons.
Dickey said he might begin his pregame warmups earlier to get a feel for the pitch, something non-knuckleballer Marco Estrada did in Game 3 before his win. Dickey also waited until the Blue Jays arrived in Texas to throw his side session during Saturday's workout.
Two factors suggest his knuckleball could be on. First, he was dominant in the second half with an 8-1 record and 2.80 ERA in 15 starts. His record on the road for the season was rough, going 2-8 with a 4.83 ERA, but he dominated down the stretch in hitter-friendly environments at Yankee Stadium and Fenway Park.
Second, though he didn't face the Rangers this year, he believes the conditions in Texas are good for a sharp knuckleball.
"The humidity is usually nice and it's usually warmer," Dickey said, "and those are two things that contribute to a moving knuckleball, one that reacts favourably as far as movement's concerned. That's what I rely on. I rely on late movement, and this place has traditionally been a pretty good place for that."
Jason Beck is a reporter for MLB.com. Read Beck's Blog, follow him on Twitter @beckjason and listen to his podcast. This story was not subject to the approval of Major League Baseball or its clubs.