'Tough sucker' Gomez rewards Hinch's faith
Center fielder delivers big RBI, key catch in Game 3 win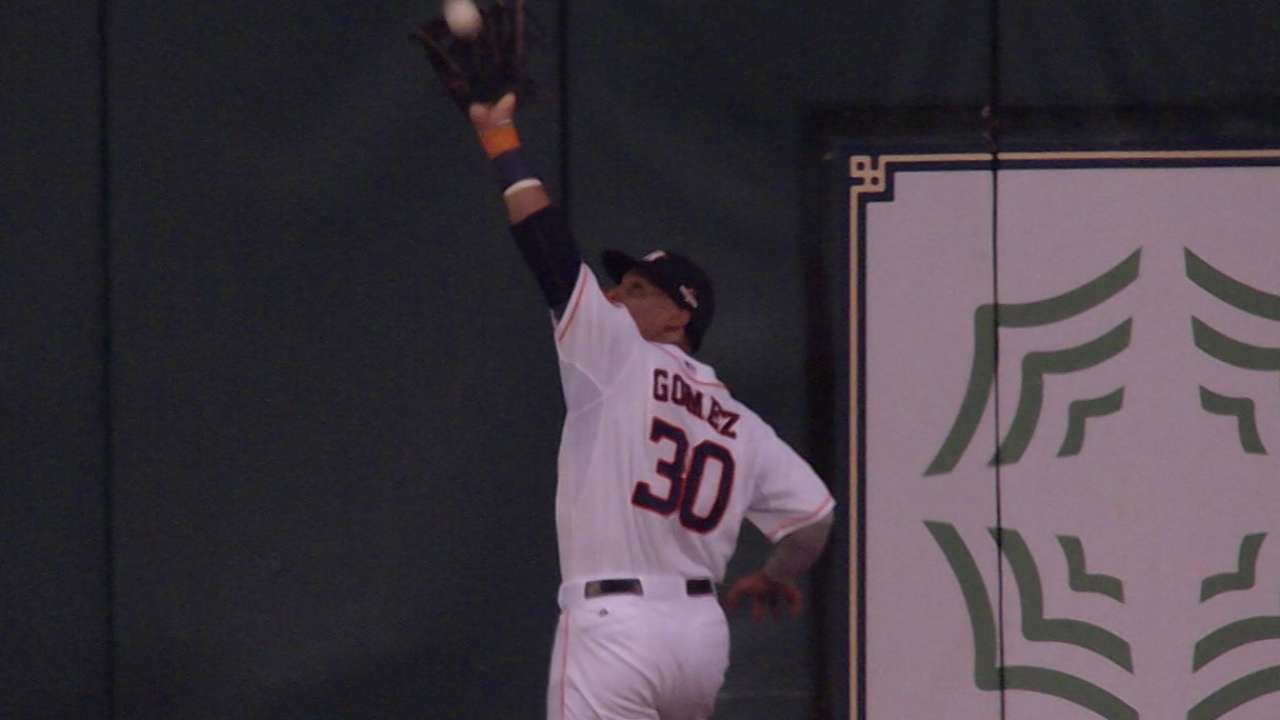 HOUSTON -- As Carlos Gomez described it, the pain is as if someone is attempting to pull his ribs from his body. Sharp, but not consistent, the pain from his intercostal strain comes in waves -- usually when he swings.
Gomez took one of his renowned hearty cuts at the first pitch he saw in Sunday's 4-2 Game 3 win over the Royals, whiffing on Edinson Volquez's 81 mph curveball. He laid down a bunt a pitch later, was ruled out after the ball hit him in fair territory, then struck out swinging on four pitches in his next at-bat.
• Shop for Astros postseason gear
Astros manager A.J. Hinch, cognizant his team's key non-waiver Trade Deadline acquisition wasn't at 100 percent, told Gomez he'd be coming out of the game after his second at-bat.
"I said, 'Nah ah. I'm a starter. I'm going to finish the game,'" Gomez said. "That's my manager and I respect him. It's not being a hero, but I know how I work with my body and I felt like I could handle it."
The flashy, fleet-footed outfielder handled it, lacing Volquez's first pitch up the middle for a sixth-inning RBI single that had Gomez celebrating before he even exited the box.
It was just Gomez's fourth career postseason RBI and the first that didn't come on a home run.
Gomez added a difficult running catch in the ninth inning to rob Alex Rios of a double, reaching far above his head and nearly banging into the center-field wall, though he said that catch didn't affect the injury that he had wrapped and iced as he spoke to reporters postgame.
"Running, playing catch and throwing, I feel more comfortable," Gomez said. "When I swing the bat is when I tighten my abdominals. It's a little bit tough there, but the good thing was the win we had today. ... I tried to keep my swing really short; tried to hit the ball to the other way with short swings."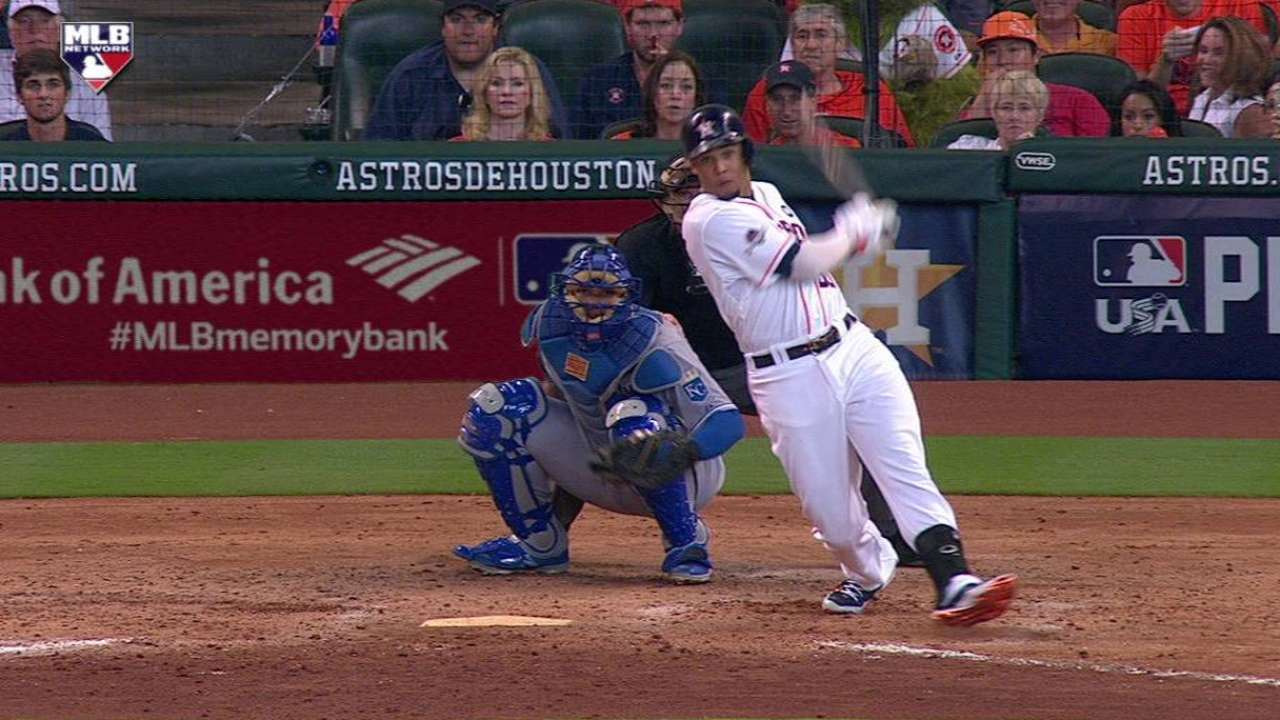 Gomez was confident of his status for Monday afternoon's Game 4 (1 p.m. ET on FOX Sports 1) -- when Houston could clinch its first trip to a League Championship Series since 2005 -- but he acknowledged he'd have to consider how Sunday's game took a toll on his injury.
"I think almost for sure I'll be in the lineup tomorrow," Gomez added quickly.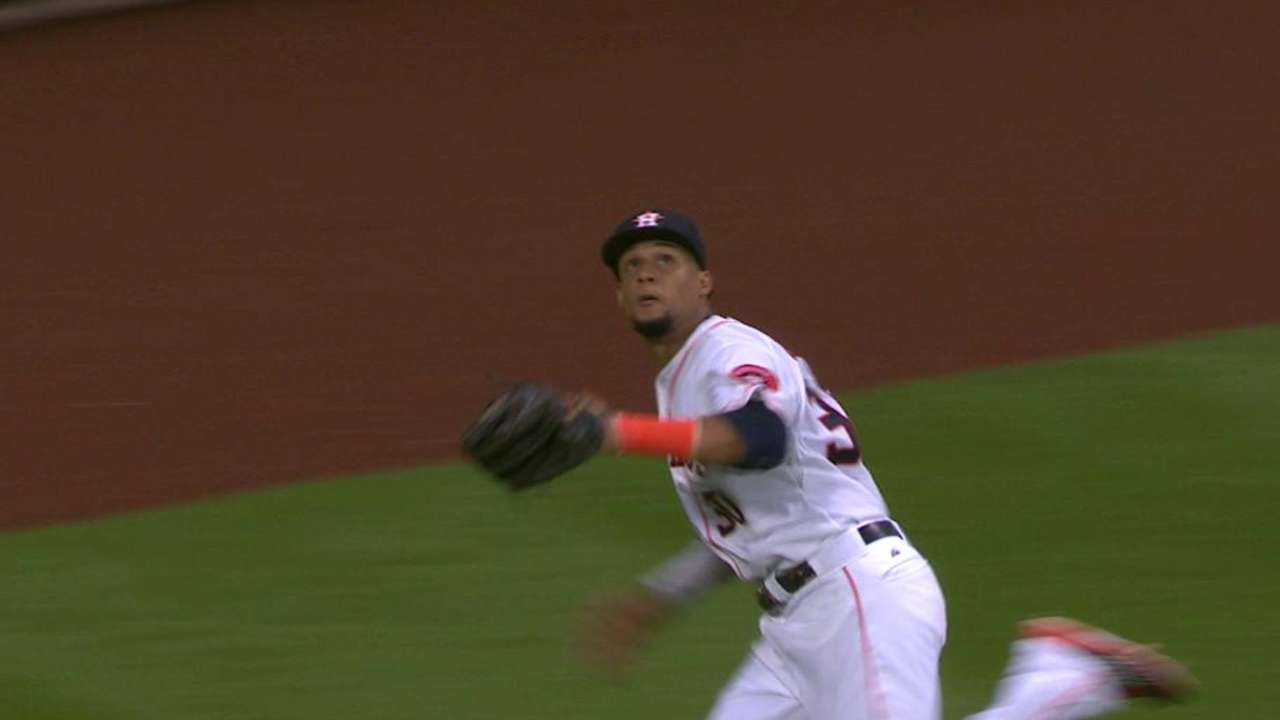 And if Gomez is in, it's safe to say Hinch won't try to remove him.
"Man, he has some kind of competitive spirit in him," Hinch said. "And he's a tough sucker, man. He is not an easy guy to take out of the lineup. He was really, really convicted on contributing. This guy wants to win, he impacts his teammates, his energy is infectious. ... I said this before -- biggest stage, biggest moment, this guy helps you win."
Chandler Rome is an associate reporter for MLB.com. This story was not subject to the approval of Major League Baseball or its clubs.