Cruising early, Volquez finds trouble in 5th, 6th
Righty fans eight for Royals, but outdueled by Astros ace Keuchel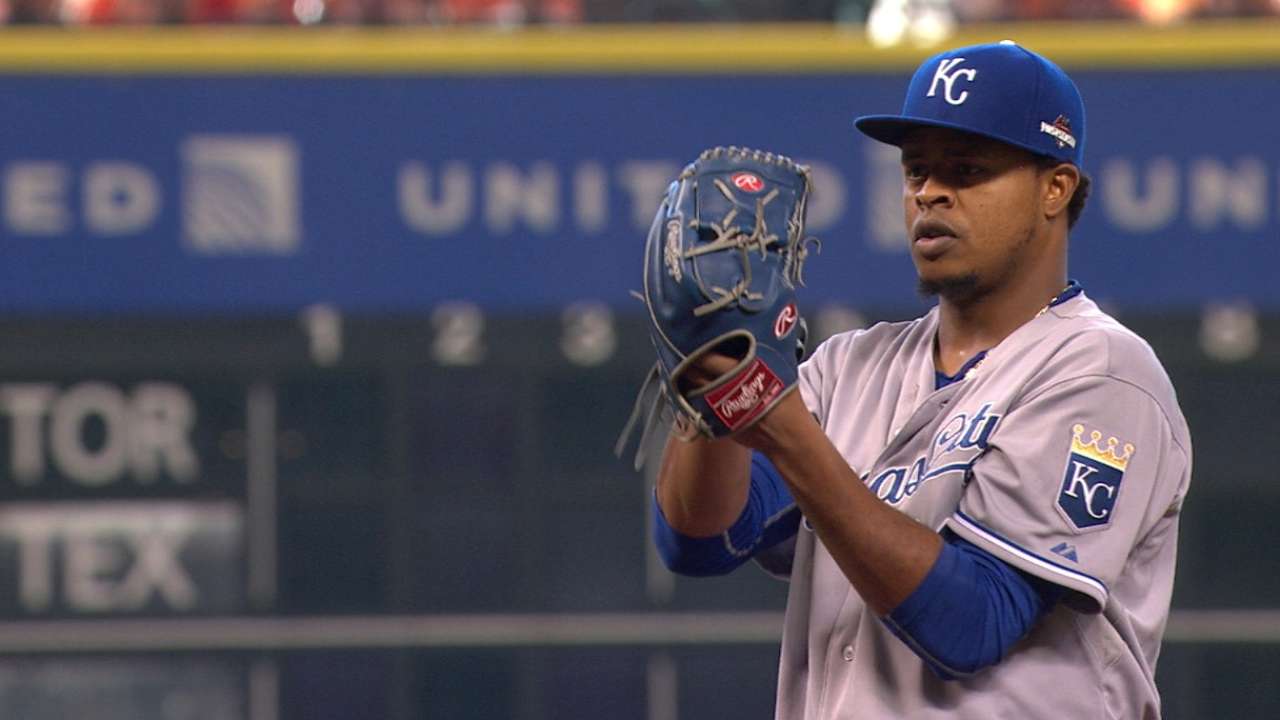 HOUSTON -- Royals right-hander Edinson Volquez cruised through four innings on Sunday, keeping pace with Astros ace Dallas Keuchel in Game 3 of the American League Division Series, a 4-2 loss for Kansas City.
Volquez had allowed just one hit with six strikeouts to that point, and Chris Carter had been thrown out on that one hit by left fielder Alex Gordon as he tried to stretch a single into a double in the third.
• Shop for Royals postseason gear
But things began to unravel in the fifth. Volquez walked Luis Valbuena with one out, then Carter drilled a double down the left-field line. Jason Castro followed with a two-run single that put the Astros up for good, and the Royals now trail, 2-1, in the five-game series.
"It's tough," Volquez said. "I thought I pitched pretty good, especially against Keuchel. But he's a bulldog and a competitor. He threw 124 pitches through the seventh. So it was tough."
Volquez said that during the Castro at-bat, catcher Salvador Perez initially called for an inside fastball with a 1-2 count, but he shook him off because he had thrown that pitch to Castro in his previous two at-bats.
"I just made a mistake," Volquez said. "I shook off the pitch and decided to go with a changeup, and he hit back up the middle."
After the two-run fifth, Volquez went back out for the sixth and promptly gave up a first-pitch double to George Springer to the gap in left-center. Lorenzo Cain nearly made a spectacular diving catch, but the ball came out of his glove as he hit the ground. Carlos Correa followed with a groundout before Kansas City opted to intentionally walk Colby Rasmus. Volquez responded by striking out Evan Gattis but then surrendered another first-pitch hit -- this one an RBI single by Carlos Gomez on a 96-mph offering -- and his day was done.
"With Gomez, it was a good pitch," Volquez said. "It was down and in. But he was able to drive the ball to center field. There's nothing I can do about that."
Manager Ned Yost kept Volquez in against Gomez because he had pitched so well to that point.
"A lot of times, you get in those situations, and if he's struggling or he's fighting, his command or pitch count's up, or he's had some really intense innings, you might get into a situation where you'll make a change there," Yost said. "But I thought Eddie was throwing the ball great. I thought he was superb today."
So although Volquez couldn't outduel Keuchel, who gave up one run over seven innings, it was still the best postseason performance of his 11-year career, as he had struggled in his two previous outings in the playoffs.
Volquez is hopeful he'll have another chance this postseason, as he's confident that the Royals can bounce back despite facing elimination on Monday at 1 p.m. ET on FOX Sports 1.
"We're still positive right now," Volquez said. "Our confidence is pretty high. We're coming back tomorrow, and we're going to win the game."
Rhett Bollinger is a reporter for MLB.com. Read his blog, Bollinger Beat, follow him on Twitter @RhettBollinger and listen to his podcast. This story was not subject to the approval of Major League Baseball or its clubs.