Oct. 11 A.J. Hinch postgame interview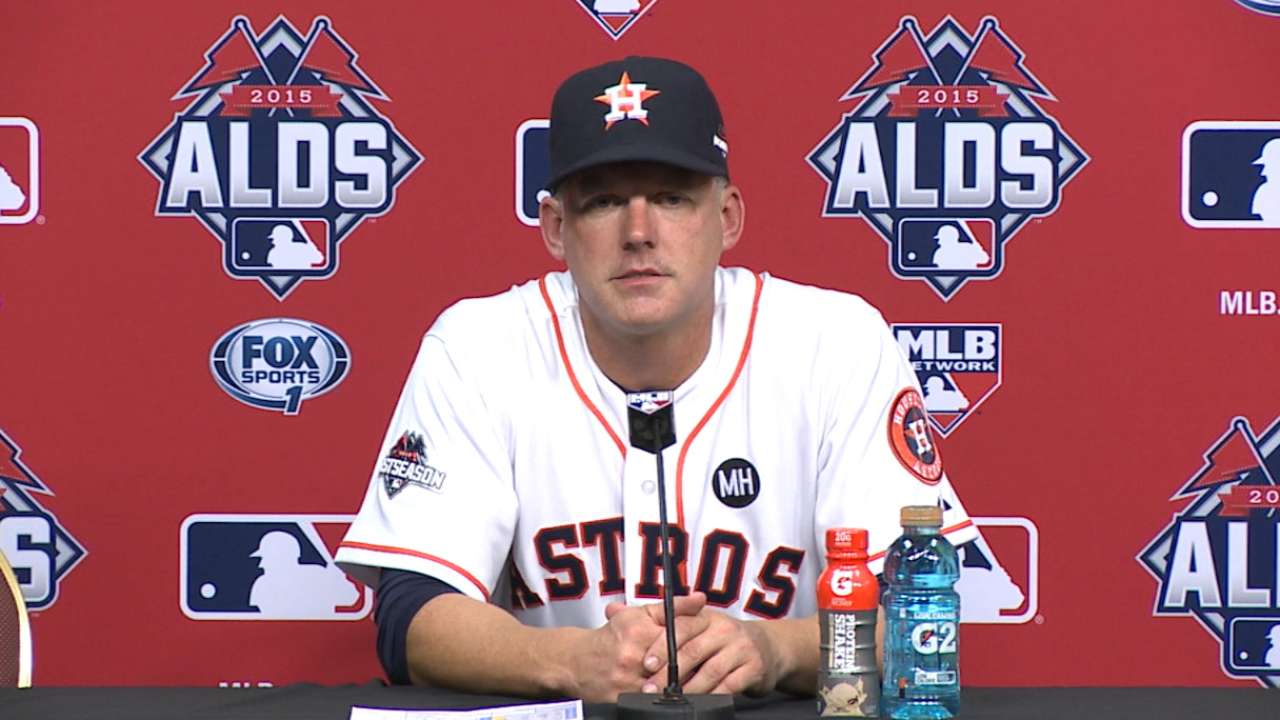 THE MODERATOR: We'll take questions for A.J.

Q. Obviously Castro struggled since he came off the DL. How big was that moment for him to come through and get that hit?
A.J. HINCH: It's a big one for our team, big one for him. This guy's a former All-Star and he's a good player and he has been gutting it out less than a hundred percent.

So I think for him to come up big with the bat, obviously we know what he's doing behind the plate, how he's controlling our pitching staff. Obviously as a catcher, that's your number one priority, but for him to come up big, give us the lead there after getting those two guys on, obviously a big lift to our dugout and to him personally. Very proud of him.

Q. I think every fan in Houston media wanted Chris Carter gone in July and August, and you and Jeff have always stood by him. What's it like to see him do this, not just September but October now, and just his belief in himself and the organization's belief in him?
A.J. HINCH: He's hung in all year. It hasn't been an easy year for him. It's still been a relatively productive year for him. This guy's continued to hit homers and maintained his composure.

I think some of his stoic behavior throws some people off that maybe he's not internalizing it enough. But behind the seasons we get to see it and to see him come up big in the biggest moments is really gratifying because we know how much work he's put in, we know how much he cares. We know the impact. I've sat in his seat and talked about how he can change the game.

And he's doing it, and he's doing it on a big stage in big moments. And arguably even the last week of the season had the biggest swing of the year in Seattle.

So, he's -- it doesn't surprise us that he has that kind of impact. I think for him to hang in there mentally and go through the struggles that he did and come out, as hot as he's been in the playoffs, is awesome.

Q. Given the at-bats Cain had against Keuchel in the game and where Keuchel was relative to the pitch count, how difficult of a decision was that for you?
A.J. HINCH: Yeah, it's the at-bat of the game and it's one of their best guys against our best guy. It's never easy when you go out to the mound and take the ball out of his hand. And the reality, at the end of the day, I want the ball in Dallas Keuchel's hand. And I know the matchup's not perfect, I know he's tiring, I know the homer early in the game, I had made the decision the previous at-bat to walk him. We got a lefty on deck, I've got two really hot relievers.

But the ball in Dallas Keuchel's hand brings an awful lot of confidence to a lot of people. Including me. And he came up with some excellent pitches, again, against a guy that handles left-handed pitching often.

Q. Carlos Gomez came up with the huge hit after having trouble staying in the lineup and not really looking a hundred percent while in the lineup. What does that hit mean to him and where is he at going forward?
A.J. HINCH: I considered taking him out of the game. He didn't look comfortable in his at-bats. And but, man, he has some kind of competitive spirit in him. And he's a tough sucker, man. He is not an easy guy to take out of the lineup. He was really, really convicted on contributing. This guy wants to win, he impacts his teammates, his energy is infectious. And for him to have that, that kind of at-bat, he's seen Volquez quite a bit in the past, and obviously didn't look very good the first couple at-bats.

But I said this before, biggest stage, biggest moment, this guy helps you win. And not only that, we just sort of glossed over the center fielder. That running catch in center in the ninth changes the whole complexion of that inning as well. So, he contributed all the way around.

Q. The four-out save from Gregerson hasn't been done this year. Is that a product of where you're at with your bullpen at this point, you have to change things up?
A.J. HINCH: Not so much the bullpen but just where we are in the season. I've watched the Royals come back a few times on us, and including 48 hours ago. So, I know they're hovering with quality at-bats coming. And we saw it in the ninth, that these guys don't quit, they don't give away at-bats, they're tough to punch out. We punched out a couple guys today, but they're hard to strike out. They're hard to get out.

So, at that juncture of the game, Tony Sipp did a great job of getting his two outs, he did have the walk, and so with Perez there, I just want my best right-handed reliever in the game, and that's Luke Gregerson.

So he came in and got his outs. And I was glad he did it in only four pitches, because it's not something he's accustomed to. But this time of year roles and when you're going to come into the game, and these guys are ready for the phone to ring at any time.

Q. The at-bats the second and third time through the lineup against Volquez, how pleased were you with your offense there?
A.J. HINCH: Volquez was really good. I was pleased with the adjustment we made. Really the bottom of our order started it. Carter gets the double. Carter earlier in the game hits the single off the fence, then Gordon makes a nice play. Castro with the big single.

I thought the bottom of our order really sparked the sort of rebirth of our offense during the game. So I think he's a tough pitcher. He had his good fastball going. He was dropping a couple breaking balls. His changeup is good.

But certainly the good version of Edinson Volquez is really hard to decide how to attack him. If you get too aggressive, he can bait you with secondary pitches. If you lay back and he gets ahead of you, he's really hard to hit with two strikes.

So being able to hang in there until we could capitalize on a couple of mistakes and even the pitches that he threw that we did capitalize on were pretty good pitches. They weren't overly hung or they weren't necessarily hitters' pitches. We did a good job of battling through some difficult times.

Q. In the best interest of this team, it seemed like having Carter and Castro, these aren't stars, they aren't $20 million players, but that's been you guys all season, where you don't have to rely on somebody and often it's the lesser-known guys who step up and carry you guys.
A.J. HINCH: Yeah, sometimes, you know -- these guys are going to be known a little bit more if we can continue this on this type of stage. So I said before, man, we have a really resilient group, and Carter and Castro represent that. We have got good players and we got a good team, and I've often kind of downplayed a little bit of how good that we feel like we can be or how good that these guys are coming up in the moments.

And to watch guys flourish in some high pressure, high intense -- only game on today, until later, and those coming out parties for a club is good. Especially a young club like us. And we don't care about how old you are, we don't care about your experience level, we don't care what you've done in the past. We care about what you're going to do tonight. And we had a lot of guys step up tonight.

THE MODERATOR: Thank you. We'll let the players get in here.