MLB.com Columnist
Alyson Footer
Carter comes alive at right moment for Astros
First baseman helps Houston win with three hits; only blunder comes with Gordon's perfect throw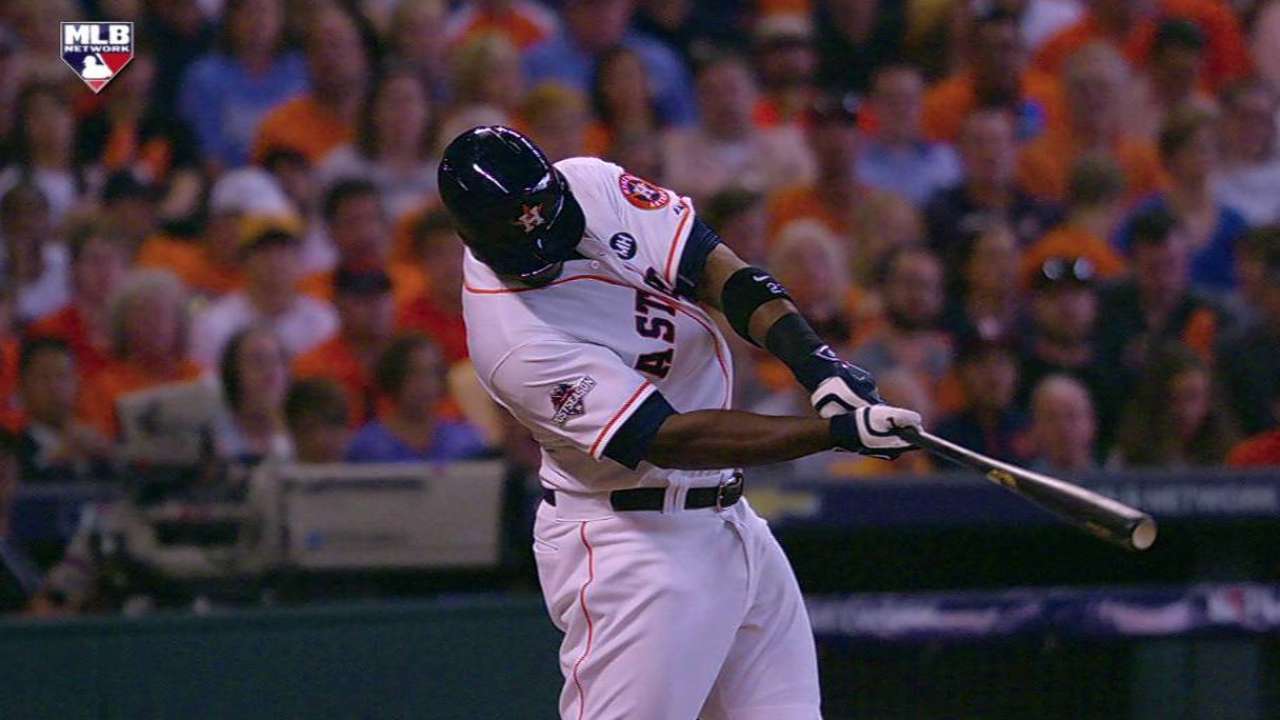 HOUSTON -- Give this to Chris Carter -- his timing is impeccable.
Carter, whose early and midseason (and, for a spell, late-season) struggles have made him a regular punching bag for ear-splitting sports talk radio hosts and scores of impatient fans, had arguably his best performance of the year on Sunday. And not because he fell a triple shy of the cycle, or because this was his first three-hit game of 2015.
No, this was Carter's best performance because it could not have come at a better time. His hits turned into runs and those runs translated to a win -- a big 4-2 win that gave the Astros a 2-1 advantage over the Royals in the best-of-five division series. Houston needs only one more to advance to the American League Championship Series.
• Shop for Astros postseason gear
"He's hung in all year," Astros manager A.J. Hinch said. "It hasn't been an easy year for him. It's still been a relatively productive year for him. This guy's continued to hit homers and maintained his composure."
Carter, who during the final week of the regular season hit a key home run in Seattle that kept the Astros in line for the second AL Wild Card, carried an offense during Game 3 that looked overmatched by starter Edinson Volquez early on.
With Kansas City ahead, 1-0 in the fifth, Carter doubled to left, advancing Luis Valbuena to third. That set the stage for Jason Castro's base hit up the middle, driving in both baserunners to give Houston a 2-1 lead.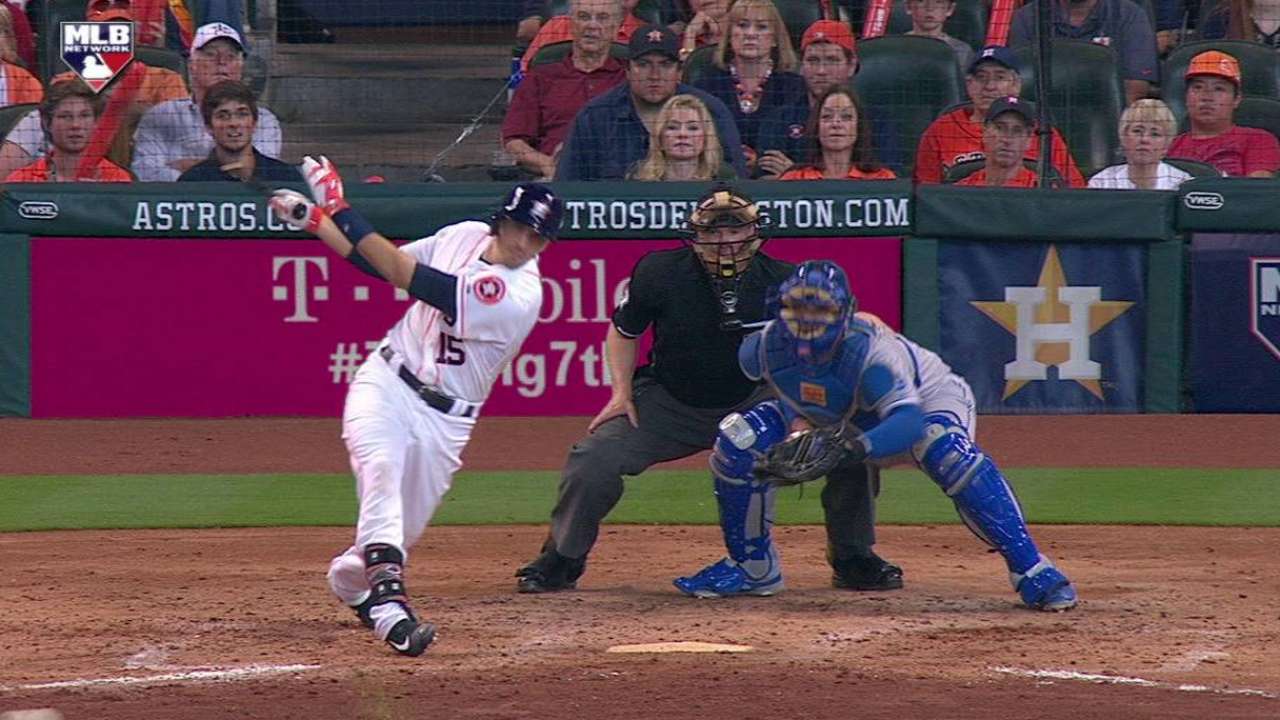 Carter followed that with a solo homer in the seventh that gave the Astros a three-run cushion to work with as Dallas Keuchel wrapped up his outing and handed the final two frames over to the bullpen.
Carter's only blunder arrived in the third, when he tried to stretch a single off the left field wall into a double. Carter appeared to hesitate while rounding first and was out by quite a bit when Alex Gordon made a perfect throw to second.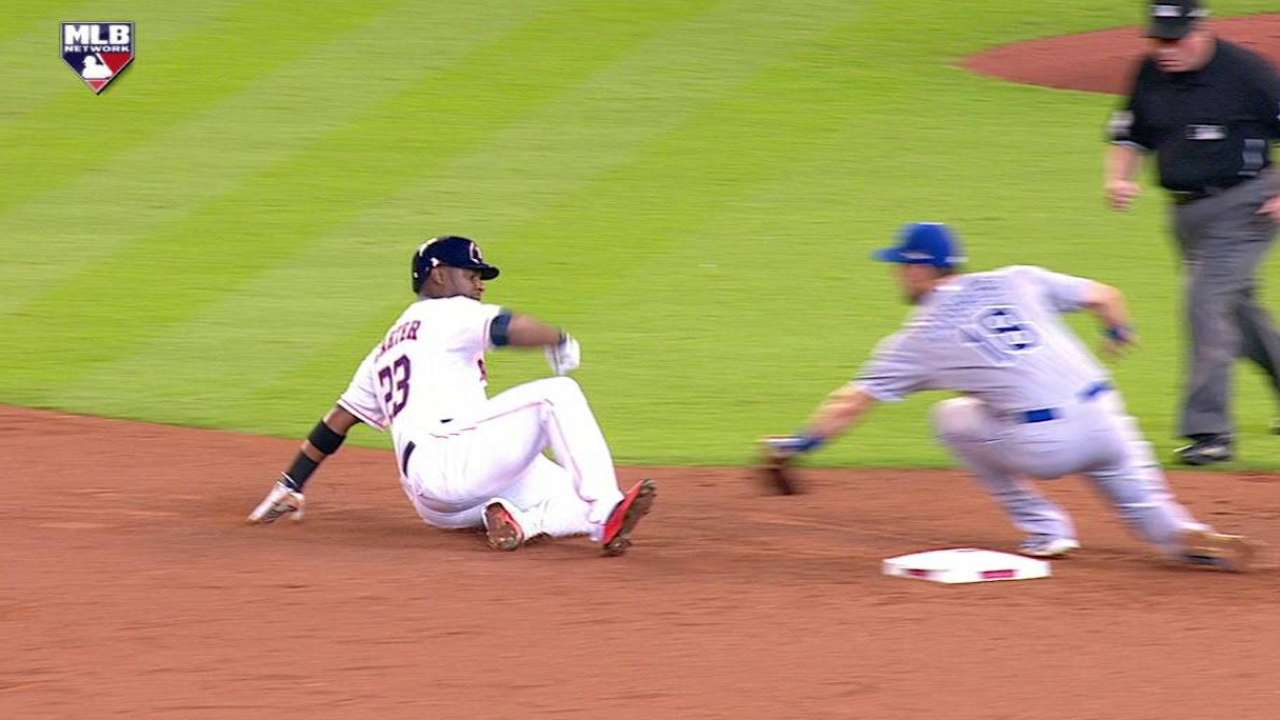 "I was just trying to get a good bounce off the wall, and it didn't really bounce, so I had to charge at it," Gordon said. "Then it's just kind of, 'Chuck it as hard as you can.' I mean, you don't really just chuck it, because you practice that play in batting practice every day. You have an idea where it's going, and I was fortunate enough to get him."
A soft-spoken man of few words, Carter kept it simple when asked about his emotions of making grand contributions in such a crucial game.
"After struggling so much this year and just having the success I've been having in the last couple weeks, it's been nice to contribute and help us win games," he said.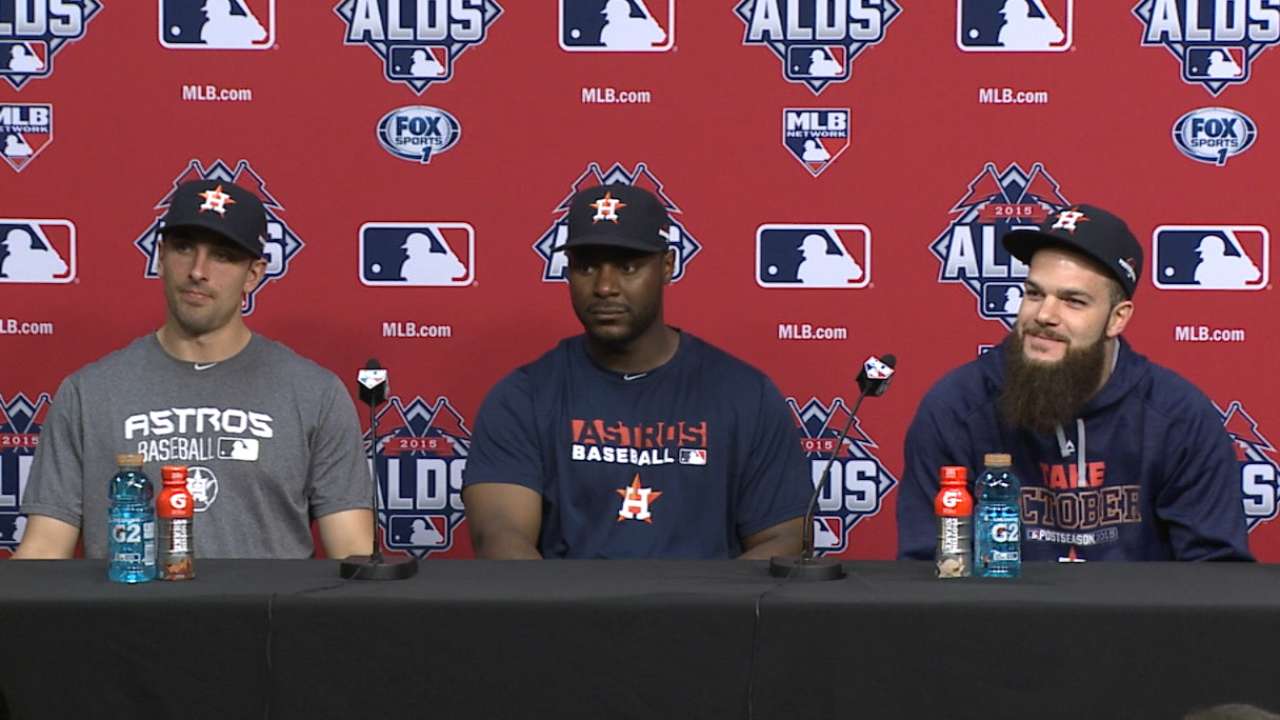 Carter's struggles were as much a part of Houston's narrative this year as the team's successes. While displaying bursts of power throughout the season, his overall numbers were not good. Carter hit below .200 in four of the first five months of the season, which affected his playing time as the team entered the stretch run.
But in September, things got better for the first baseman. In 14 games, Carter batted .344, hit six home runs, drove in 10 and had an OPS of 1.401.
If Carter is just now hitting his stride, he picked a good time to do it.
"He's swinging the bat," Jose Altuve said. "I love the guy. He played really good defense, he swung the bat today, he got important hits. Hopefully he's going to be in the lineup tomorrow."
A .455 postseason average -- a small sample, yes, but still impressive -- practically ensures that Carter will be.
"It doesn't surprise us that he has that kind of impact," Hinch said. "I think for him to hang in there mentally and go through the struggles that he did and come out, as hot as he's been in the playoffs, is awesome."
Alyson Footer is a national correspondent for MLB.com. Follow her on Twitter @alysonfooter. This story was not subject to the approval of Major League Baseball or its clubs.