Oct. 11 Ned Yost postgame interview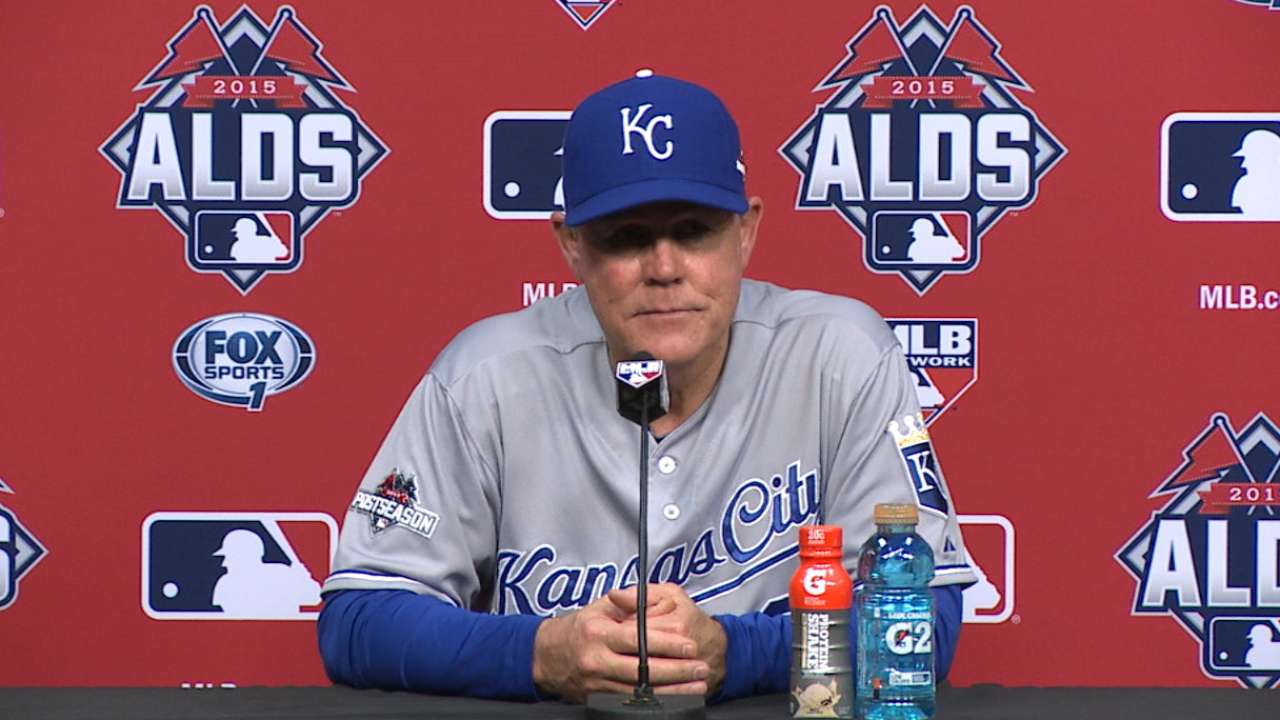 THE MODERATOR: First question, please.

Q. You had to feel like there were a lot of opportunities to break through against Keuchel. How tough is it to not capitalize when you get those opportunities?
NED YOST: When you get to this type of scenario and you don't capitalize, you get what happens today. They did. Volquez threw unbelievably good, and both pitches that they capitalized on with runners in scoring position were actually great pitches.

A lot of times you get in there and say, man, he made a mistake. No. That was a good changeup down and a good two-seamer down and in. Both pitches were great pitches, but they found ways to put the ball in the outfield grass.

Q. Yordano has been through this before. How much of an advantage is it for him to say he's been there and done that?
NED YOST: Yeah, you got to go out and win. We know that. I don't think our mindset would have changed any if we won today. You got to go out and win tomorrow. So, you just don't have much leeway now, but our guys I think are up to the task, and tomorrow will be an exciting day.

Q. In October there's always going to be big hitters and big hits, and Chris Carter for them has struggled a lot of the year, but what's it like to see someone come out and one hit away from a cycle and that huge home run?
NED YOST: He had a great day today. He had a single that he tried to turn into a double, and Gordy's great arm threw him out. And then the big double for them to take the lead with Castro, great piece of hitting there to hit the ball up the middle, changeup kind of down and away, and then the home run.

But Danny got a pitch up a bit, and he just drove it into the seats.

Q. Volquez against Gomez, is that just because where his pitch count was and how he had dominated Gomez in the --
NED YOST: Absolutely, he's been throwing the ball great to that point. I mean, a lot of times you get in those situations and if he's struggling or he's fighting, his command or pitch count's up, or he's had some really intense innings, you might get into a situation where you'll make a change there. But I thought Eddie was throwing the ball great. I thought he was superb today.

Q. Keuchel finished with great numbers and threw a lot of pitches, but your approach to him seemed to be pretty solid, get base runners and --
NED YOST: Yeah, he threw a great game. You got to take your hat off to him. At times with runners in scoring position we probably swung at some balls that probably wouldn't have been called strikes, but that's what good movement does. That's what he does so well is he changes speeds, he moves location, he moves it in, he moves it out, he speeds it up, he slows it down. I think he should be the Cy Young winner this year. He's been great. Had a phenomenal year.

Q. You spoke yesterday about the confidence factor your club had. These would seem to be difficult situations, but with your group you can overcome that.
NED YOST: No, I mean, yeah, it's a five-game series, we know that. We have got to win two, they got to win one. But we come out tomorrow and we win, then it's excitement back at the K for Game 5. So, we're looking forward to that.

Q. What's the mood in the dugout in the ninth inning?
NED YOST: Fired up, man. They felt like they were going to come back and get it. There's still a lot of energy, a lot of rooting going on, Gordy hit the big homer then Rios scorched the ball to the wall, and we just felt -- the thing about these guys is they don't give up. They don't quit. It doesn't matter if you're down three in the ninth inning, boom, now you're down two and the guys keep battling.

So, it's a good group to be around in that respect because you don't want guys to say, okay, well, we'll come and get them tomorrow in the ninth inning. You want guys fighting through to the last out.

THE MODERATOR: All right. Thank you very much. Thanks for coming in.

NED YOST: Thank you.