MLB.com Columnist
Anthony Castrovince
Harvey, Mets need to keep composure in Game 3
Club should respond to Utley's slide by taking care of business on the field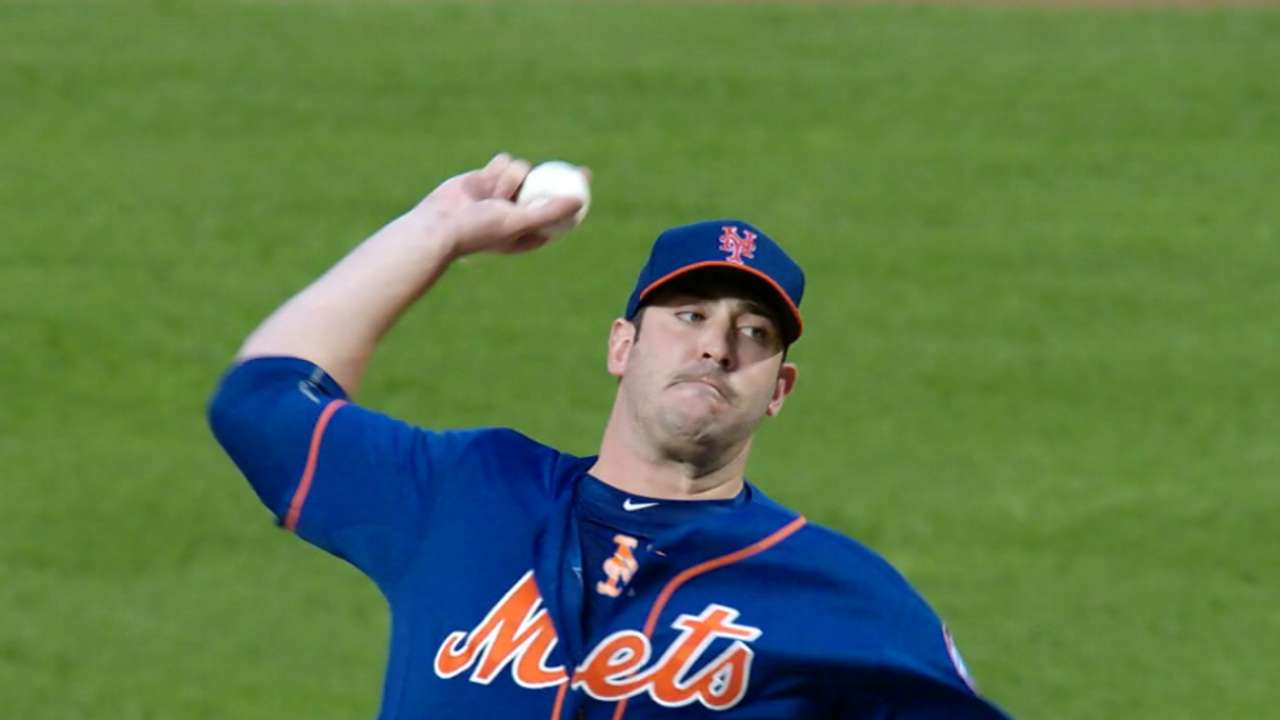 NEW YORK -- The anger had not dissipated over the course of a cross-country flight. Nor should it. The Mets lost an important player on a dirty play. No suspension of Chase Utley and no amount of national discourse over potential rule changes on takeout slides was going to change that.
So the question now is not whether Utley's actions in Game 2 of the National League Division Series are going to inspire a heightened level of intensity from the New York nine in Game 3 on Monday night at 8:30 p.m. ET on TBS at Citi Field, but whether the Mets' emotions will work for them or against them.
• Shop for Mets postseason gear
Ruben Tejada's fractured right fibula will be a make-or-break moment for these Mets -- the break that breaks them or the galvanizing force that unites them all the more.
"We don't need any more motivation," manager Terry Collins said here Sunday, "but that certainly gives us some extra motivation going into [Monday] night."
Just as starting pitchers supposedly dictate momentum, so, too, can they set a team's temperature. That all eyes will be on Matt Harvey in this outing was the assumption all along. Harvey Days always come with a hype all their own.
But what happened Saturday night adds an added layer of intricacy to the occasion:
Will Harvey respond in the overt and visceral manner we're all too accustomed to seeing on baseball's stage -- i.e. a fastball with a side of ribs to one of the Dodgers' dynamos?
Or with MLB having handled the Utley discipline, does Harvey merely let his performance do the talking, hoping the outrage he and his mates are feeling can be channeled into an overpowering outing?
"I think the most important thing is going out and doing my job and doing what's best for the team," Harvey said. "For me, in my mind, that's going out and pitching a long game and being out there as long as I can, and you know, keeping zeros on the board. ... But as far as sticking up for your teammates, I think being out there and doing what's right is exactly what I'm going to do."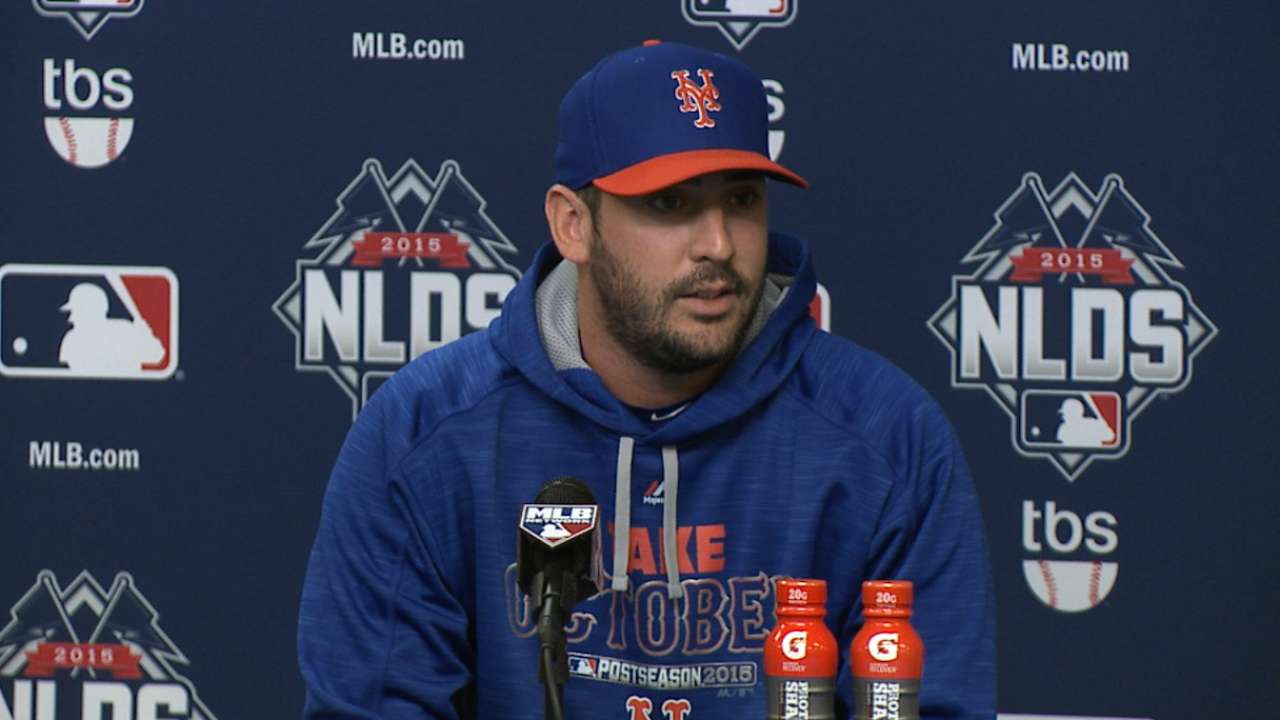 Read that however you want, as "doing what's right" comes with different definitions for different individuals. But right now, the only correct answer for Harvey and the Mets, ultimately, is to keep their composure and to turn their heightened emotion into heightened awareness.
Sometimes, of course, this is easier said than done.
And the other obvious element to come out of all this is that Wilmer Flores has to make the plays that come his way. There's a good chance the Mets add middle-infield prospect Matt Reynolds to their roster in advance of Monday's game. But while Reynolds could become a partial answer to a trivia question (for now, the A's Mark Kiger is the only player in the modern era to make his Major League debut in the postseason), that's obviously just backup shortstop support.
This is a moment bigger for Flores than anything we saw around the non-waiver Trade Deadline, and his readiness for this moment -- after a 5-for-25 finish to the regular season that involved a back issue and the loss of 10 pounds due to strep throat -- is an open question.
Tejada had gotten the starting nod over Flores in Games 1 and 2 because it gave the Mets the hotter bat and the better defensive alignment. What they need now is for Flores to breathe as easy as he began to do in the wake of the infamous non-trade to Milwaukee.
"He said he's been feeling a lot better [after the strep throat issue], feels like he's ready to go, so we're hoping that when he goes out there [Monday] night, that he's the player we know he can be," Collins said. "But you know, has he put all the weight back on? No, not really. But as long as he's got some energy, that's all that matters because he didn't have it for a while."
October has a way of scripting some incredible storylines, and a big hit or a game-changing defensive play from Flores would qualify as captivating, given everything he went through in late July and late September.
All we know for sure, for now, is that this so-called notion of "winning baseball" espoused by Utley has irrevocably altered the course of this best-of-five set. The Dodgers could use Saturday's strange seventh inning as a springboard to the NL Championship Series, or Utley very well might have made the mistake of poking the bear.
Harvey -- more than Flores, and more than any other Met -- will determine the answer.
"We need Matt Harvey to step up and pitch the kind of game we know he's capable of pitching," Collins said. "Because when we made this decision to pitch him [in Game 3], which we did a long time ago, we felt this was the pivotal game of this series. And it's turned out to be that."
Harvey made it clear he wanted the ball in October. He's got the ball, he's got a ballclub behind him that feels rightly aggrieved, and he's got a national audience looking on to see how the Mets' anger impacts their outcome.
Anthony Castrovince is a reporter for MLB.com. Read his columns and follow him on Twitter at @Castrovince. This story was not subject to the approval of Major League Baseball or its clubs.