Navarro gets start for Blue Jays; Beltre out
Toronto tabs catcher with Estrada on mound; Alberto at third for Rangers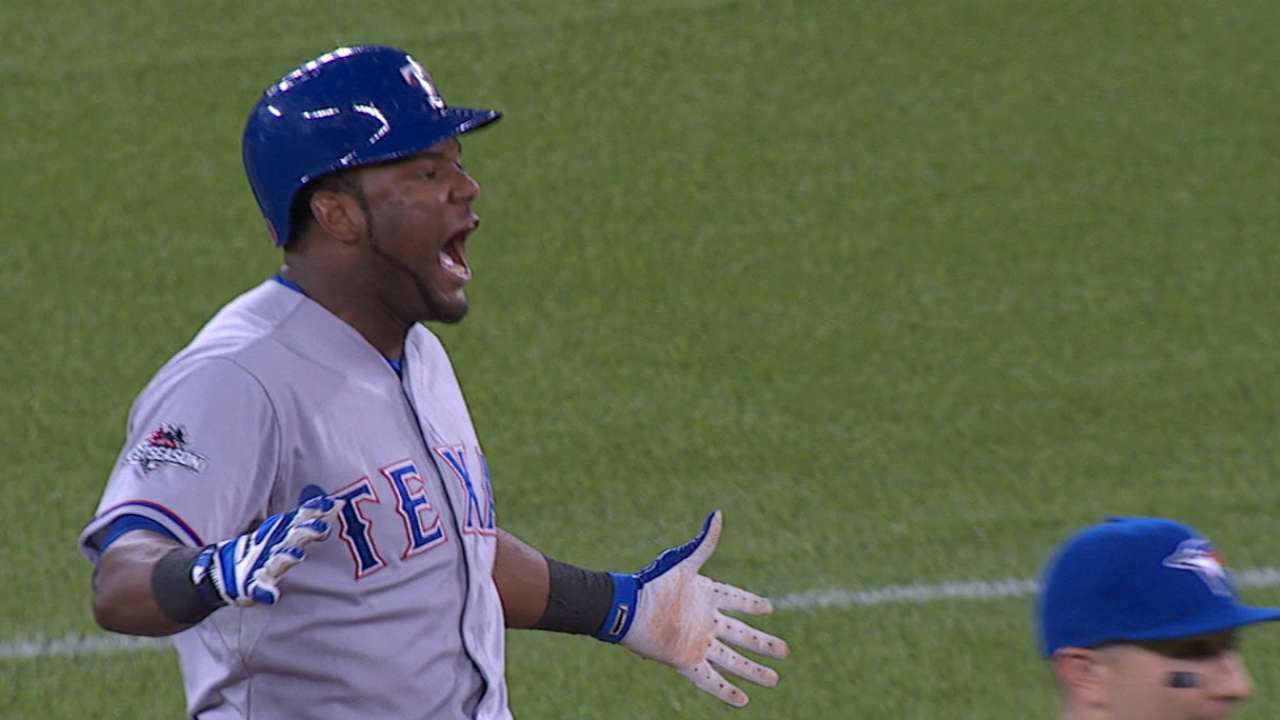 ARLINGTON -- The lineups for Game 3 of the American League Division Series between the Rangers and Blue Jays at Globe Life Park have been announced.
The game is scheduled to begin at 8 p.m. ET on FS1/Sportsnet.
Navarro gets his first start
The Blue Jays are sticking to their usual modus operandi from the regular season that saw them win the AL East with the second-best record in the league. Their lineup for Sunday evening's Game 3 was a relatively normal look against a left-handed starter (Texas' Martin Perez) with a few slight adjustments.
The main difference from the first two games is the presence of catcher Dioner Navarro in the lineup and behind the plate. Navarro, who was slated to hit seventh, normally gets the call when right-hander Marco Estrada is the starting pitcher, and that was the case Sunday.
Otherwise, the Blue Jays will have left-handed-hitting left fielder Ben Revere in the leadoff spot, as usual, and Revere will be followed by the right-handed onslaught of third baseman Josh Donaldson, right fielder Jose Bautista and designated hitter Edwin Encarnacion.
In one slight twist, first baseman Chris Colabello will move up in the order to hit fifth while shortstop Troy Tulowitzki, who's still not 100 percent after coming back from a crack in his shoulder blade and is 0-for-10 in the series, was moved down to sixth.
"Well, he's not getting a lot of hits, but nobody in the middle of our lineup is getting a lot of hits," Toronto manager John Gibbons said of Tulowitzki. "Whether that changes tonight, we'll find out. Tulo's really not doing anything different than anybody else in our lineup, really."
The rest of that lineup will feature center fielder Kevin Pillar hitting eighth and second baseman Ryan Goins batting ninth.
BLUE JAYS LINEUP
1. Ben Revere, LF
2. Josh Donaldson, 3B
3. Jose Bautista, RF
4. Edwin Encarnacion, DH
5. Chris Colabello, 1B
6. Troy Tulowitzki, SS
7. Dioner Navarro, C
8. Kevin Pillar, CF
9. Ryan Goins, 2B
Marco Estrada, P
Beltre still out
The Rangers entered Game 3 with a 2-0 lead in the series, but they were still without the services of one of their key offensive and defensive players and team leaders in third baseman Adrian Beltre. Beltre was taken out of Game 1 after suffering a lower back strain and still hasn't returned.
"Right now, he's doing much better, continues to improve," Rangers manager Jeff Banister said before Sunday's game. "He's moving around a lot better, and where he's at in baseball activity, I mean, we haven't even really gotten that far yet."
With Beltre out, it'll be Hanser Alberto's responsibility to hold down third base once again, as he did in Game 2, when he stroked what turned out to be the game-winning hit in the 14th inning. He'll bat ninth.
Ahead of him against righty Estrada will be leadoff man and center fielder Delino DeShields, right fielder Shin-Soo Choo hitting second, Prince Fielder batting third from the designated hitter slot, left-handed-hitting Mitch Moreland batting cleanup and playing first base, and shortstop Elvis Andrus in the five-hole.
Left fielder Josh Hamilton will be looking to snap an 0-for-30 postseason slump in the sixth spot in the lineup, and young second baseman Rougned Odor will bat seventh. Catcher Robinson Chirinos and Alberto round out the Rangers' order.
RANGERS LINEUP
1. Delino DeShields, CF
2. Shin-Soo Choo, RF
3. Prince Fielder, DH
4. Mitch Moreland, 1B
5. Elvis Andrus, SS
6. Josh Hamilton, LF
7. Rougned Odor, 2B
8. Robinson Chirinos, C
9. Hanser Alberto, 3B
Martin Perez, P
Doug Miller is a reporter for MLB.com. Follow him on Twitter @DougMillerMLB. This story was not subject to the approval of Major League Baseball or its clubs.