Not to be overlooked, Cards' rookies contributing
Grichuk, Piscotty, Pham have each gone deep in NLDS vs. Cubs
CHICAGO -- Much has been made about the Cubs' squadron of talented rookies making the postseason debuts -- Kris Bryant, Kyle Schwarber, Jorge Soler and more. Meanwhile, Cardinals rookies have factored big through two games of the National League Division Series.
Randal Grichuk, Stephen Piscotty and Tommy Pham have each hit home runs. Grichuk and Pham went deep as pinch-hitters. Of course, for those who have been around the 100-win Cardinals, this is nothing new. While St. Louis was the best team in baseball all year, it was also one of the clubs most beat up by injuries.
• Shop for Cardinals postseason gear
And that's where the rookies came in.
"You know, we're OK with being under the radar," Cardinals manager Mike Matheny said of the lack of focus on his rookies. "It has to happen, and as many guys as we had go down at different times this season, there was going to be opportunities. And we saw a number of players step up and do some things on some pretty big stages to prove to themselves that they belong here and to prove to the baseball world."
When primary slugger and left fielder Matt Holliday went on the disabled list for the first time with a right quad injury, the 24-year-old Grichuk emerged as a huge contributor. First playing left field, and then center field after Holliday returned, he batted .293 with 13 homers over the next 56 games before a right elbow injury put him on the DL on Aug. 17.
Piscotty, 24, was the Cardinals' top prospect when he was called up for the first time on July 21. When Holliday went down for a second time, he manned left field and batted .305/.359/.494 with seven home runs.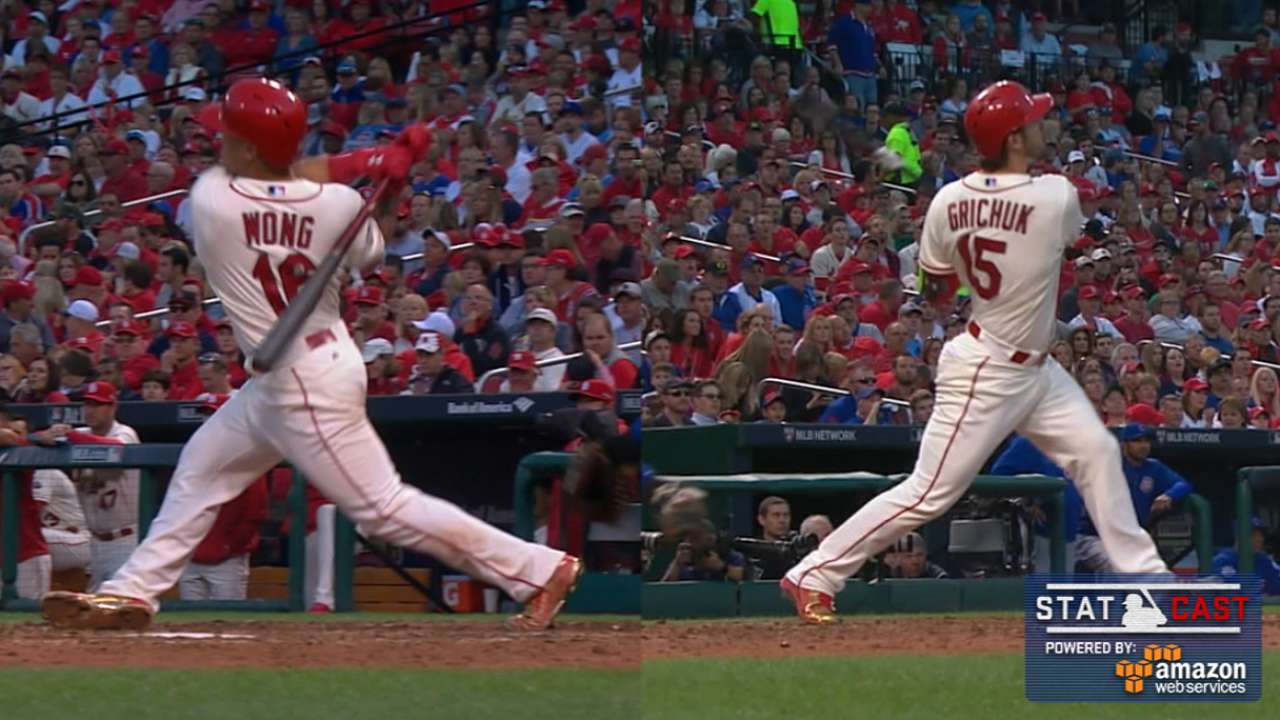 Pham, a 27-year-old and 10-year veteran of the Minor Leagues, had multiple callups this season, but a September that helped put him on the postseason roster. Over the final month, Pham batted .303/.356/.606 with four homers, three triples, two doubles and 13 RBIs.
Pitcher Tyler Lyons split the season between Triple-A Memphis and the Majors but made eight big league starts and nine relief appearances. Lyons pitched seven scoreless innings against the Pirates on Sept. 30 -- his first start in nearly a month -- in the game that clinched the NL Central division for the Cardinals.
Middle infielder Greg Garcia also had multiple callups and proved to be an important bench piece. Garcia led the Cardinals with a .391 average as a pinch-hitter (9-for-26).
"We've all talked about how it's a nice team to come up to as a young guy and a rookie without a lot of experience," Garcia said. "Because we don't feel like we have to come up here and try to carry the team. There are so many good players in this clubhouse, that we just have to do a small part and try to contribute any way we can. We're a small piece to the big puzzle. With all the veterans we have here, it makes it easier for us to feel comfortable."
Garcia's first big league homer came as a pinch-hitter, and it was against the Cubs on June 26 at Wrigley Field. His game-tying eighth-inning shot off Pedro Strop sent the game to extra innings before St. Louis earned the win.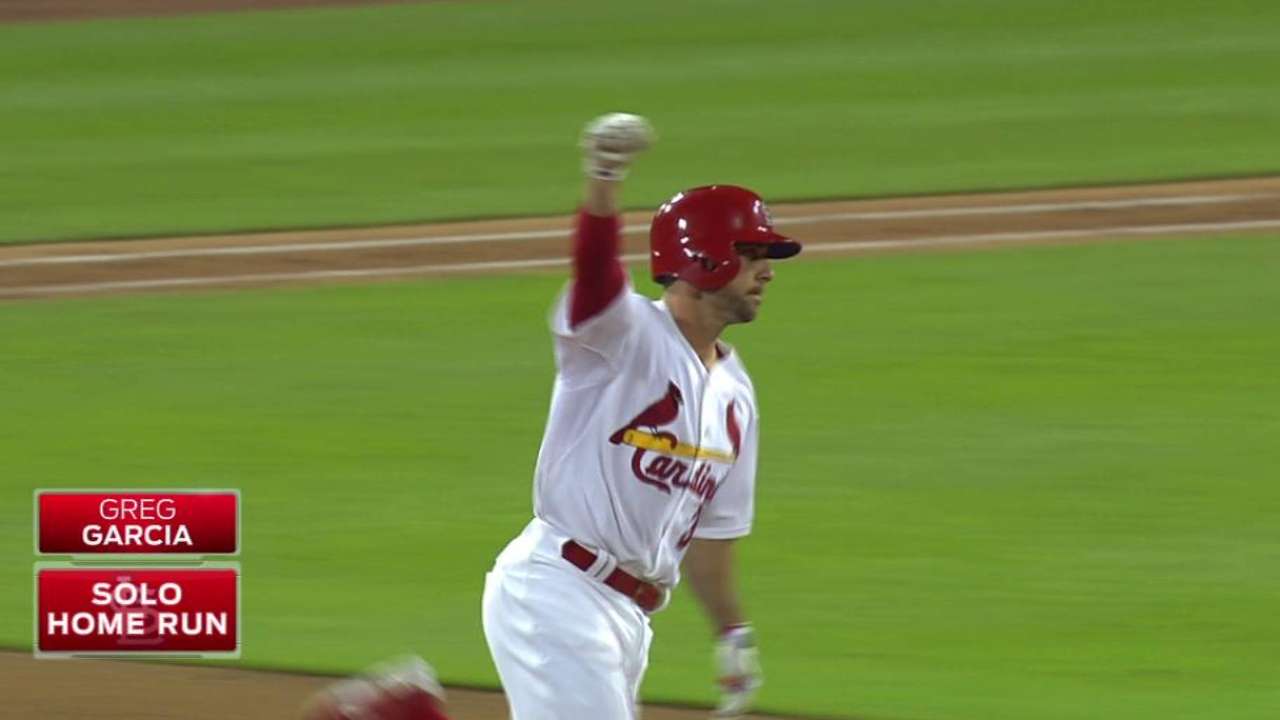 "You see a lot of guys that you played with have success at this level -- Kolten Wong, Seth Maness, Kevin Siegrist. When those guys have done well, it gives us confidence that we can too," Garcia said.
The contributions haven't stopped in October. When Pham and Piscotty went deep in the eighth inning of Game 1, it turned a 1-0 lead to 4-0 and iced the game.
"We were very well prepared," said Piscotty, who is 3-for-8 while also having a double and two runs scored in the NLDS. "Our Minor League system, I definitely credit them a lot for getting us in this type of playing condition. A lot of us have watched the Cardinals for years. We know what's all about and we want to be a part of it. There's that extra motivation not only to make it up here, but also contribute."
Mark Sheldon is a reporter for MLB.com. Read his blog, Mark My Word, follow him on Twitter @m_sheldon and Facebook and listen to his podcast. This story was not subject to the approval of Major League Baseball or its clubs.