Keuchel's valiant performance inspires Astros
Ace shakes off homer, fires season-high 124 pitches in 7 IP to improve to 16-0 at home this year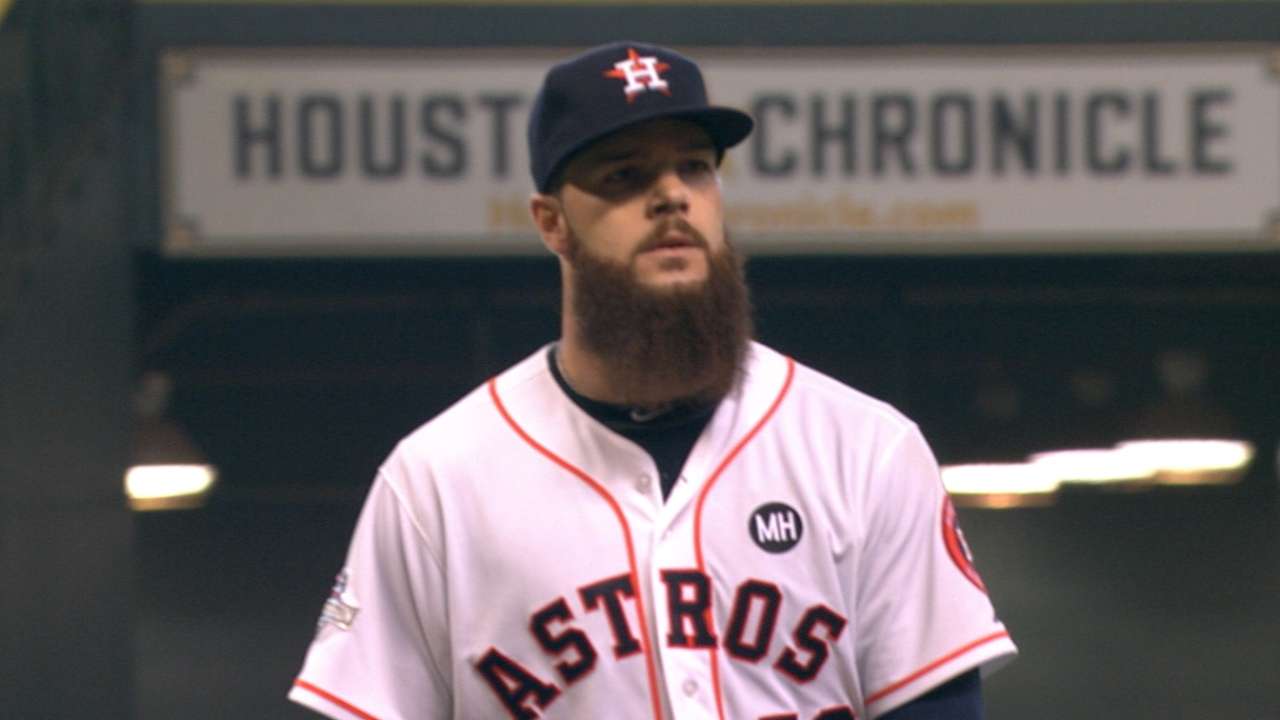 HOUSTON -- Dallas Keuchel took center stage, his stage, and promptly dazzled. The bearded one came as advertised in his first postseason act at home, with a gritty performance and an outcome that was seemingly to be expected at the mere sight of his presence.
For seven innings of a pivotal 4-2 victory over the Royals, which gave the Astros a 2-1 lead in this best-of-five American League Division Series, Keuchel was a marvel.
• Shop for Astros postseason gear
So, too, is his record at Minute Maid Park this year: 16-0.
That Keuchel was even on the mound for the seventh, let alone the last out of the inning, speaks volumes of Houston's steadfast belief in his ability to carry the club. The southpaw sat at 103 pitches when he entered the seventh, having thrown at least 16 in each of his previous four frames -- including 33 in the fourth, when Lorenzo Cain homered to deep left field on the 10th pitch, a 2-2 slider, of a riveting at-bat.
Cain, intentionally walked in his next at-bat to set up an inning-ending strikeout of Eric Hosmer and strand two runners in the fifth, returned to the plate in the seventh with Alex Rios on third base and his club down, 3-1. It would have been reasonable, and more than understandable, for Keuchel -- at 118 pitches -- to be pulled in favor of a fresh arm.
But manager A.J. Hinch stuck with his ace, even after thinking of the reasons he shouldn't.
"I know the matchup's not perfect, I know he's tiring, I know the homer early in the game, and I had made the decision the previous at-bat to walk him," Hinch said. "We got a lefty on deck, I've got two really hot relievers."
But then there was this.
"It's the at-bat of the game, and it's one of their best guys against our best guy," Hinch continued. "It's never easy when you go out to the mound and take the ball out of his hand. And the reality, at the end of the day, I want the ball in Dallas Keuchel's hand."
Keuchel didn't say a word to Hinch during the mound visit, telling reporters after the game, "He probably knew I was going to bite his head off."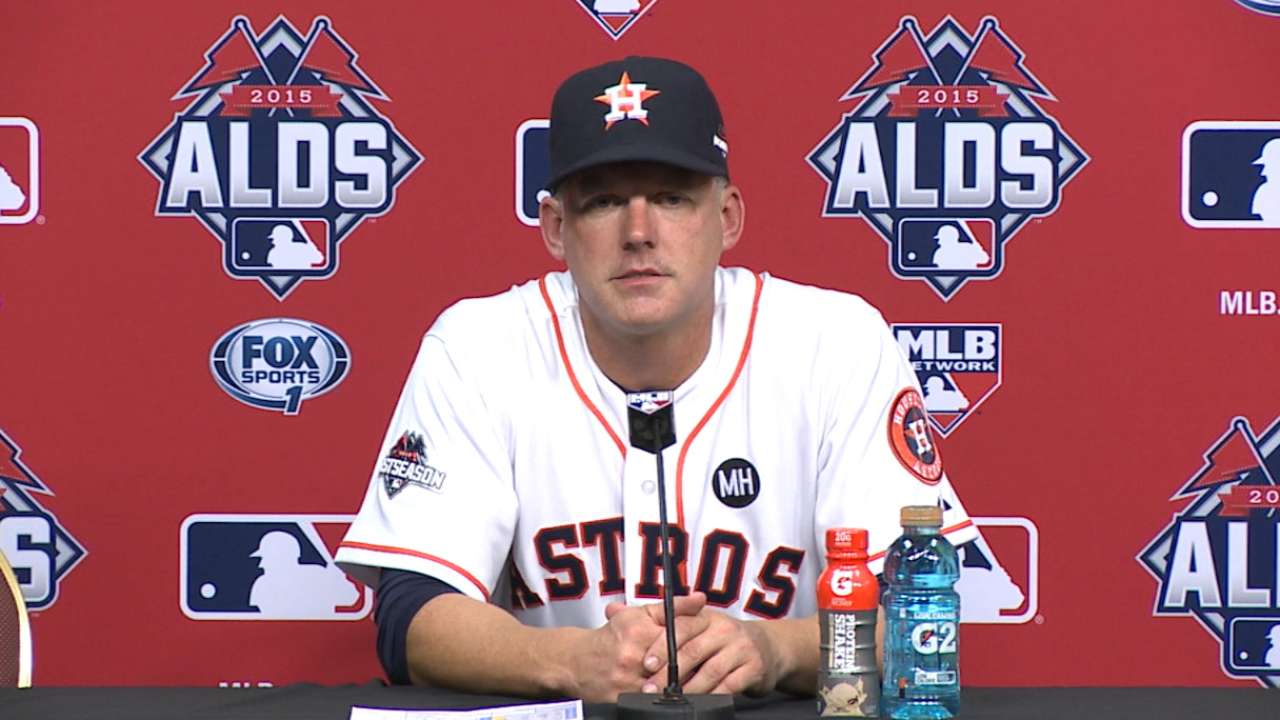 Cain, who routinely handles lefties with ease, took the first two offerings from Keuchel for balls before fouling off the next pitch, a changeup. Keuchel came back with the same pitch again, and Cain swung through it. An ensuing changeup was deemed a ball, bringing the count full, and that's when Keuchel delivered a 90-mph fastball for his 124th and final pitch. Cain flailed at it, and a sellout crowd -- witnessing its first postseason game in a decade -- went wild.
"Dallas never quits," Astros closer Luke Gregerson said. "That's a guy that just hit a home run off him. A.J. goes out there, goes right back into the dugout. He's been doing this kind of stuff all year with that clichéd bulldog mentality that everyone uses. But it's true. He just knows how to get it done."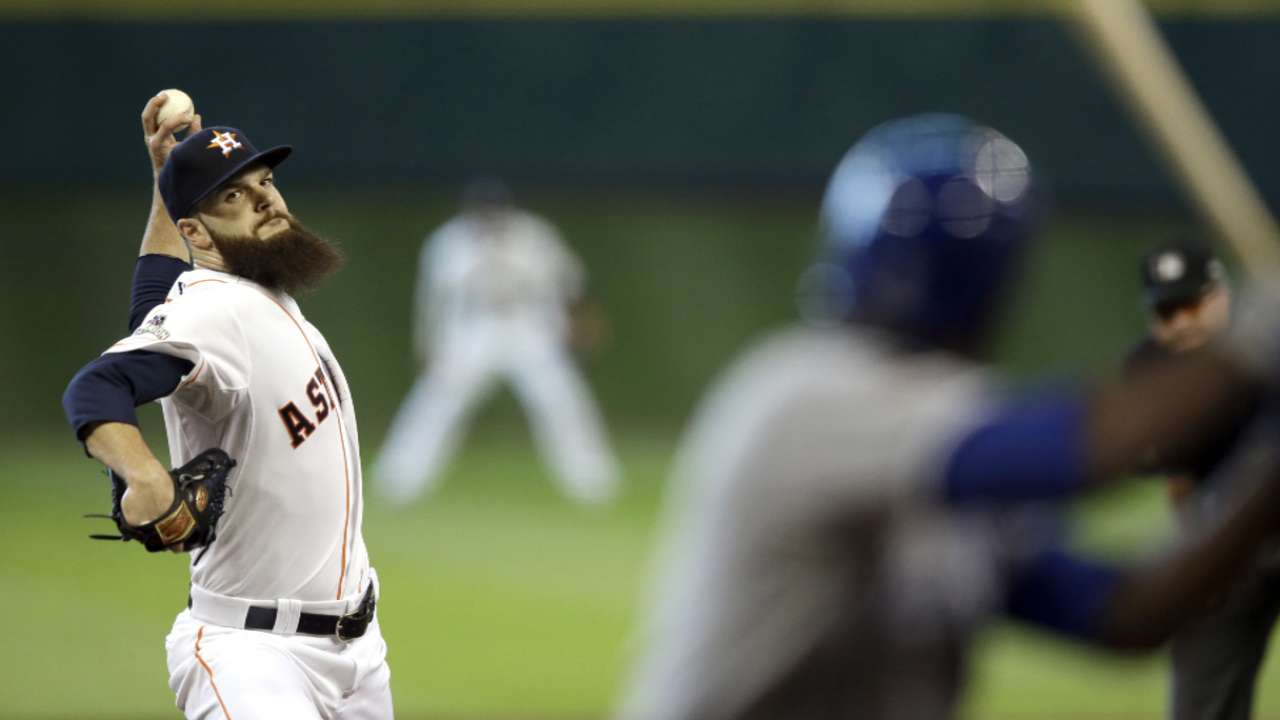 And with poise and self-assurance to boot. The 124 pitches marked a season high for Keuchel, who had not thrown as many in a single start since totaling 128, a career high, against the Angels on May 20, 2014.
"Well, it's the playoffs, so it doesn't matter, the pitch count," Keuchel said. "You can throw that out the door. I made a mistake pitch in [Cain's] second at-bat, and I really wanted to face their best hitter. I felt like I have earned that right. And A.J. thought so as well. And that's the best feeling is that their best hitter's up, against myself, and that's what ... that's what I live for."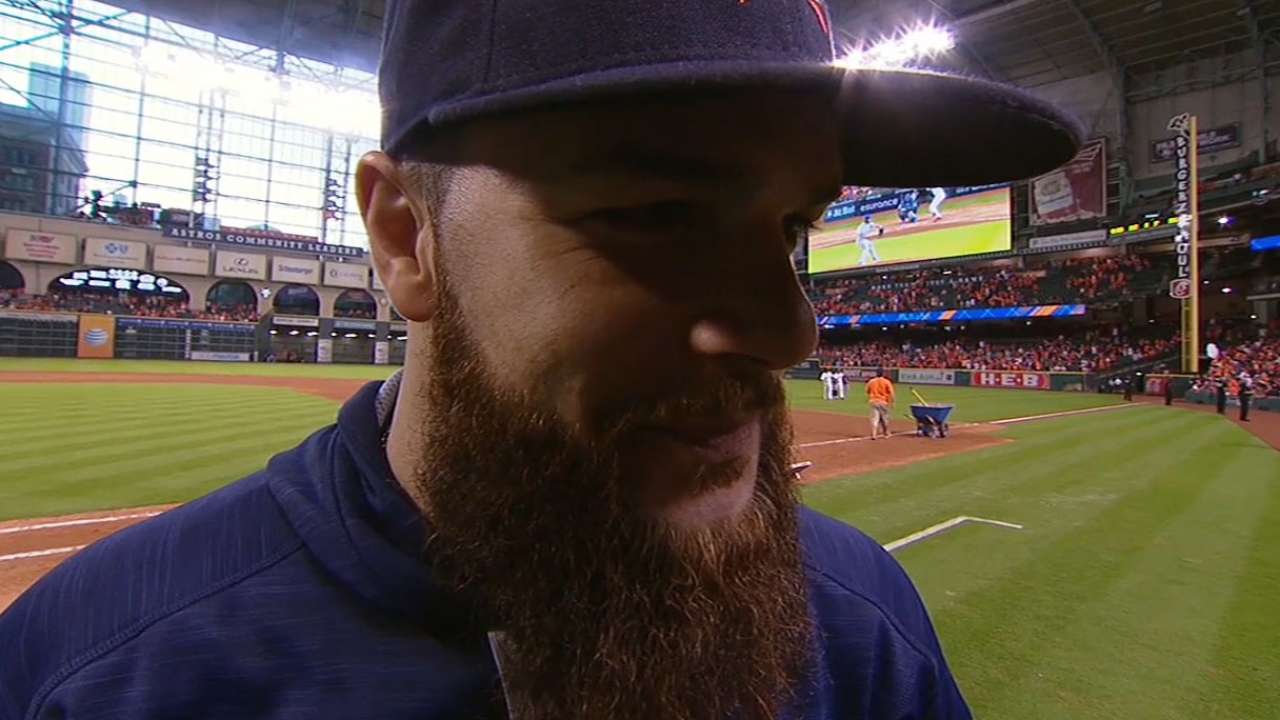 The All-Star southpaw ended each of his last three innings with a strikeout and stranded a runner in scoring position in each of his final four. Besides Cain's home run, Keuchel yielded just four hits, striking out seven and issuing two unintentional walks.
Keuchel's ERA at home this year is hardly visible, at 1.45.
"He threw a great game," Royals manager Ned Yost said. "At times with runners in scoring position, we probably swung at some balls that probably wouldn't have been called strikes, but that's what good movement does. That's what he does so well is he changes speeds, he moves location. He moves it in, he moves it out; he speeds it up, he slows it down. I think he should be the Cy Young winner this year. He's been great. Had a phenomenal year."
Jane Lee is a reporter for MLB.com. This story was not subject to the approval of Major League Baseball or its clubs.