Turner excited to start for Dodgers at Citi Field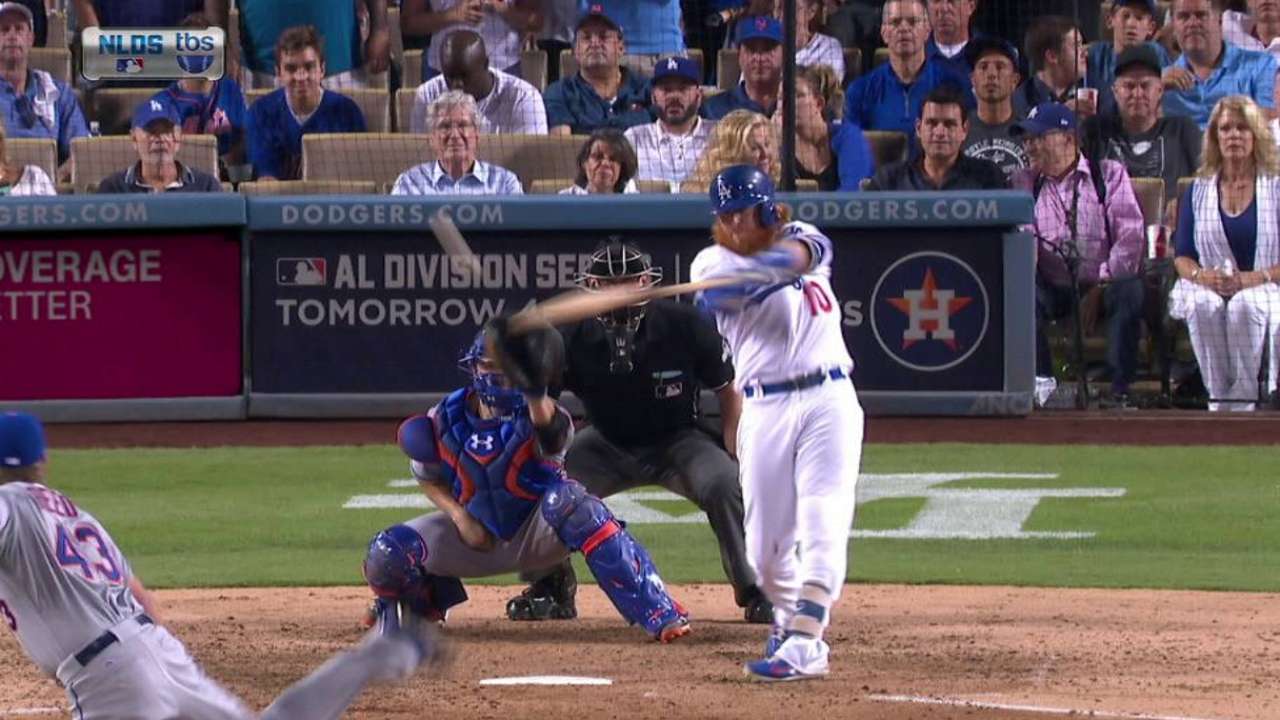 NEW YORK -- Justin Turner will arrive at the culmination of a longtime goal Monday when he appears in Citi Field's inaugural postseason game, though he took a major detour in his route.
On Monday, Turner will play in Game 3 of the National League Division Series at 8:30 p.m. ET on TBS.
For much of Turner's seven-year career, he was expected to be present when the New York Mets reached the finish line on their road to glory. He spent 2010-13 with the Mets, occupying a utility role, but proving handy while batting .265 during his New York tenure.
When Turner takes his anticipated post at third base in Monday's Game 3, he'll perform for the Los Angeles Dodgers, who signed him as a free agent before the 2014 season. No grudges, just business. Turner expressed appreciation for being part of this significant Citi Field event.
"Should be pretty electric," said Turner, who's batting a team-high .500 (4-for-8) with three doubles in the Division Series. "First playoff game ever in Citi Field. When I was a Met, that was always in the back of our mind, having a playoff game. I'm pretty excited to be a part of it, though I'm on the other side."
Switching sides to the Dodgers represented a fresh opportunity for Turner, who has become a regular. But he sincerely appreciated the Mets' role in his development.
"The main thing was experience, being around a lot of veteran guys when I was there," said Turner, 30. "When I first came up, it was [Jose] Reyes and [Carlos] Beltran, and obviously David [Wright] was there the whole time. You just try to be a sponge, and hang around them and learn as much as you can from them."
Turner was particularly attentive whenever Wright, the seven-time All-Star third baseman, was around.
"David had a big influence on my career as far he's the ultimate professional," Turner said. "He's there every day for you guys [reporters] to grill him. He prepares every single day, [though] his routine that he goes through is getting lengthier and lengthier as his career's going on, with his injuries. I think the amazing thing about him is he's there, and he does it every single day."
It shows that Turner has applied what he learned as a Met. After batting .340 as a semi-regular (322 plate appearances) last year, Turner hit .294 in 126 games this season while establishing career highs with 16 home runs and 60 RBIs. Turner proved to be among the Dodgers' best hitters in the clutch, hittiing .322 with runners in scoring position.
Turner also augmented manager Don Mattingly's personnel flexibility by starting at least once at every infield spot and moving around the batting order. Turner batted second on nine occasions, third 38 times, fourth in 28 games and fifth 19 times.
"I know people make a big deal out if it, but it's really ordinary for us," Mattingly said.
Chris Haft is a reporter for MLB.com. This story was not subject to the approval of Major League Baseball or its clubs.