Young studs: Cubs rookies making history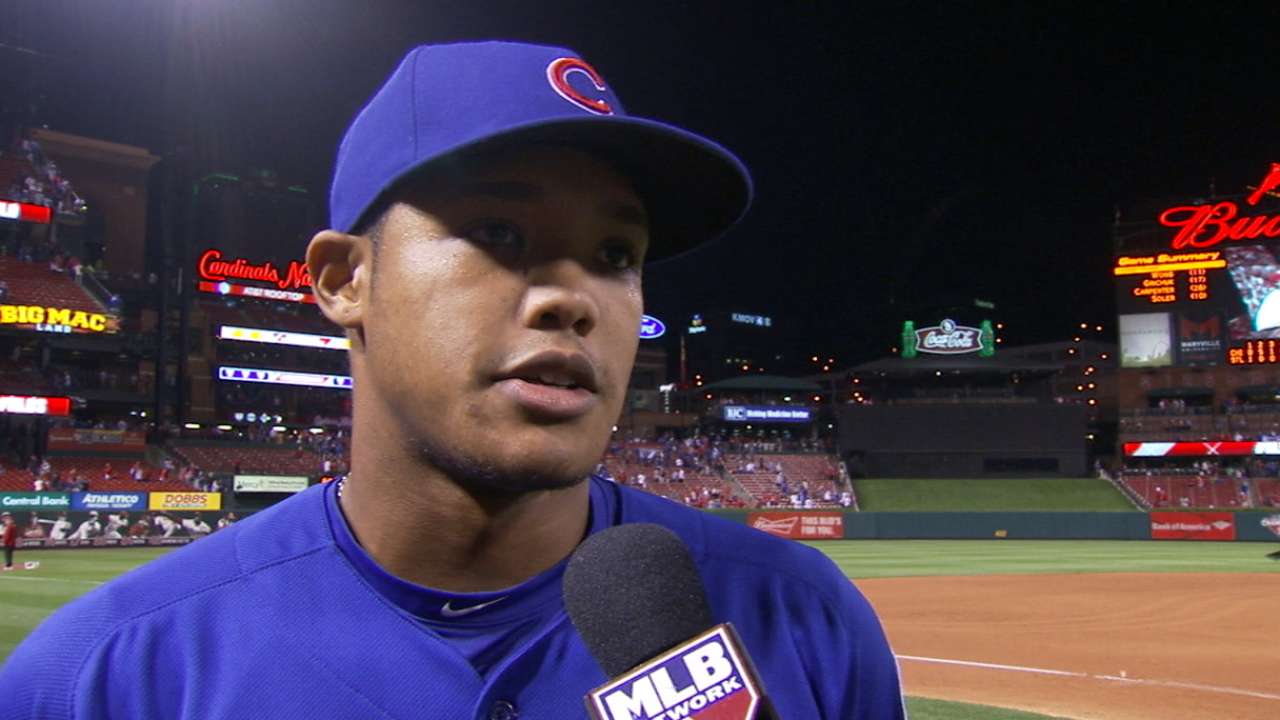 CHICAGO -- It's hardly a surprise to hear how the Cubs' rookie hitters impressed beyond all expectations this season. But has anyone ever considered that what they've done might be historic?
"Yeah," catcher David Ross replied simply, without missing a beat.
Ross is right, and the numbers back it up. According to FanGraphs, the Cubs' rookie position players were worth 11.3 Wins Above Replacement this season, the fourth-highest total in the last 100 years.
Since 1915, only three teams in the Majors have received a bigger boost from their first-year hitters: the 1969 Pirates (13.3 WAR, with four players contributing more than two), the 1924 Pirates (11.9 WAR) and the 1950 Indians (11.5 WAR, including 6.9 from Al Rosen).
In fact, only one team since 1982 can claim a rookie crop that produced a double-digit WAR total: the 2012 Angels, for whom Mike Trout produced 10.3 of their 10.5 rookie position player WAR.
No wonder Ross had such a quick answer.
"I've already gotten like three things signed. I've got to order all these shirts and jerseys," he said. "I'm going to be sitting at home in about 10 years and these guys are going to be putting up Hall of Fame numbers. I'm serious."
Third baseman Kris Bryant, the likely National League Rookie of the Year, has led the way with 6.5 WAR. He's followed by shortstop Addison Russell (2.9 WAR) and slugging rookie Kyle Schwarber (1.9 WAR).
Outfielder Jorge Soler, who hit 10 homers and drove in 47 runs, was worth just 0.1 WAR overall this season but could be every bit as much of an impact player for years to come.
The Cubs' youngsters have already contributed in their first postseason experience, too.
Schwarber is 4-for-7 in three playoff games and homered in the Cubs' NL Wild Card Game victory over the Pirates. Soler doubled and went deep in Game 2 of the NLDS against the Cardinals. Russell and Bryant have been spectacular defensively.
"The talent level in this room is through the roof, and there's more coming," Ross said. "Everybody around here knows that, and you've got a guy [Manager Joe Maddon] that is a great leader for a young group. This is a special place to be."
More than any of the numbers thrown their way, that thought is what excites the Cubs' youngsters. They've been excellent this season -- historically so, as it turns out -- and they're just getting started.
"I think we're going to have a lot of guys that leave a pretty good legacy of being a Cub behind. That's really cool to see," Russell said. "To start things and then to be able to progress with this team over the years is going to be cool."
Adam Berry is a reporter for MLB.com. Follow him on Twitter at @adamdberry. This story was not subject to the approval of Major League Baseball or its clubs.