Castro busts slump with game-changing hit
Astros catcher's first postseason knock comes in the form of a go-ahead two-run single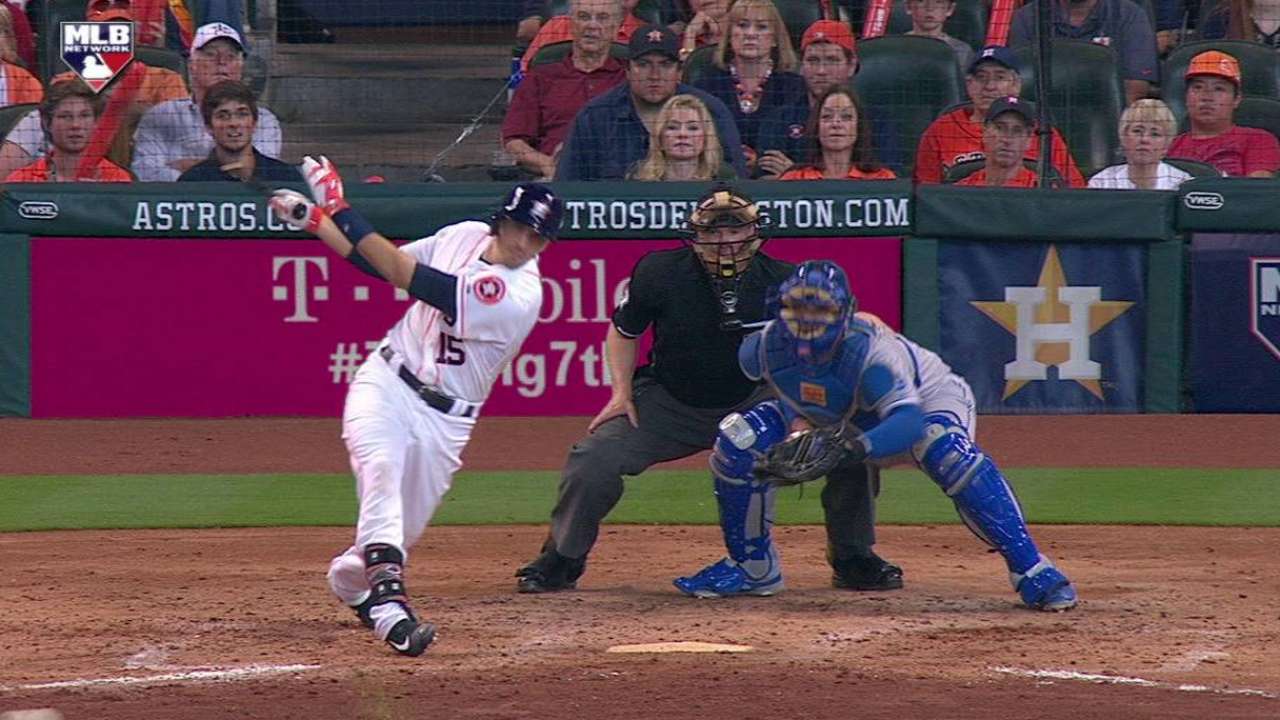 HOUSTON -- Jason Castro's value to the Astros rests largely in his abilities behind the plate. This much has been evident by his continual presence in the lineup despite a prolonged offensive slump.
But with one swing of the bat Sunday, Castro tweaked the narrative, responding with the biggest hit in Houston's biggest game of the season. The catcher's two-run single up the middle in the fifth off Royals starter Edinson Volquez, who had posted zeros in his first four innings, gave the Astros a lead they wouldn't relinquish in a 4-2 victory in Game 3 of the American League Division Series.
• Shop for Astros postseason gear
Houston now leads the best-of-five ALDS, 2-1.
The longest-tenured Astros player, Castro has been playing through a right quad strain that took him out of commission for nearly three weeks, beginning in late August. He was 6-for-49 with 24 strikeouts since his Sept. 17 return -- including the postseason -- before he snuck one past Volquez into the outfield for his first career postseason hit.
"It's a big one for our team, big one for him," Houston manager A.J. Hinch said. "This guy's a former All-Star, and he's a good player, and he has been gutting it out less than a hundred percent.
"Obviously, we know what he's doing behind the plate, how he's controlling our pitching staff. Obviously, as a catcher, that's your No. 1 priority. But for him to come up big, give us the lead there after getting those two guys on, obviously a big lift to our dugout and to him personally. Very proud of him."
Luis Valbuena got things going with a one-out walk in the inning, and Chris Carter followed with a first-pitch double to put runners on second and third for Castro, the No. 9 hitter who snatched away Kansas City's lead to set up batterymate Dallas Keuchel's 16th win of the year at Minute Maid Park.
• Keuchel's valiant performance inspires Astros
"It was nice," Castro said. "Valbuena and Carter kind of set the stage and made that situation possible. But I was just trying to get a pitch out over [the plate] just to put something in play in the middle of the field, just to get at least one run in. And, fortunately, it got through, and we got both.
"Good time to get my first hit in the postseason. That's for sure."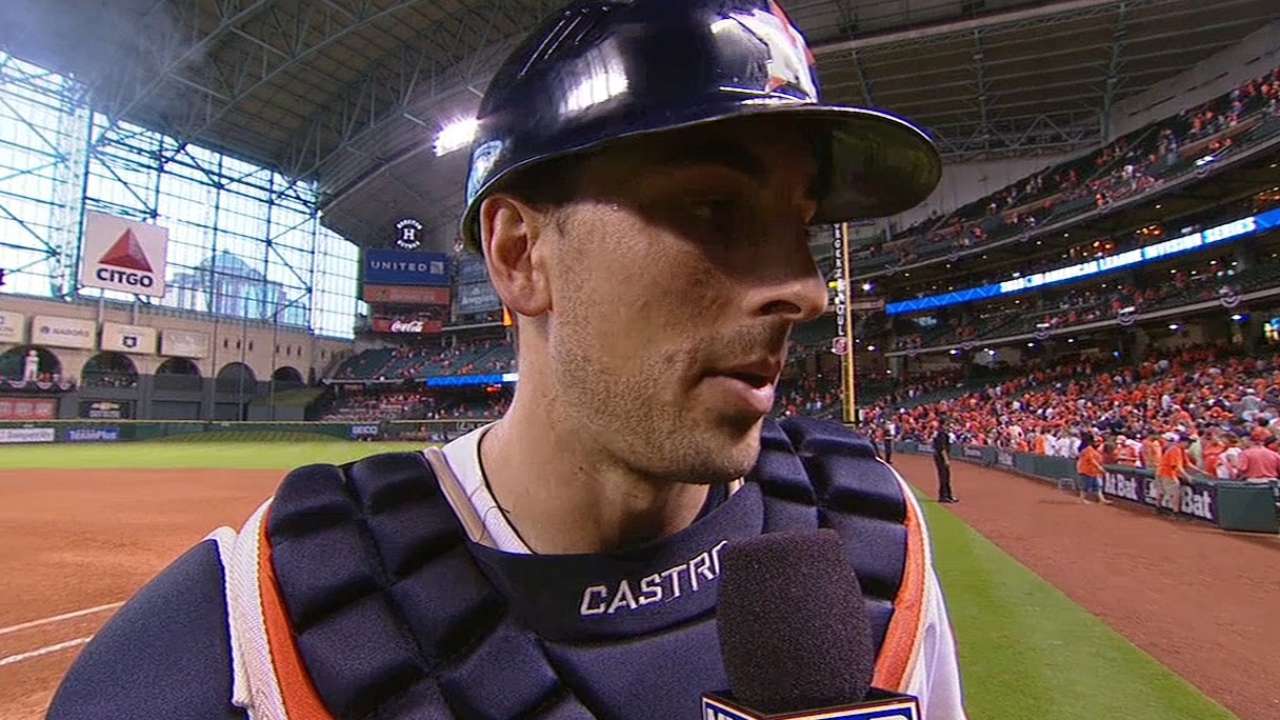 A first-round Draft pick by the Astros in 2008, Castro has steadily improved as a catcher -- and it was in that role he also contributed to Sunday's critical victory, albeit quietly. Just ask reliever Tony Sipp, who chimed in with two outs in the eighth.
"He did a lot of things that people probably don't realize, a lot of borderline pitches that could go either way in our favor," Sipp said. "I know he did one for me in particular, the first pitch of the [Mike] Moustakas at-bat, which is probably the biggest pitch in any at-bat."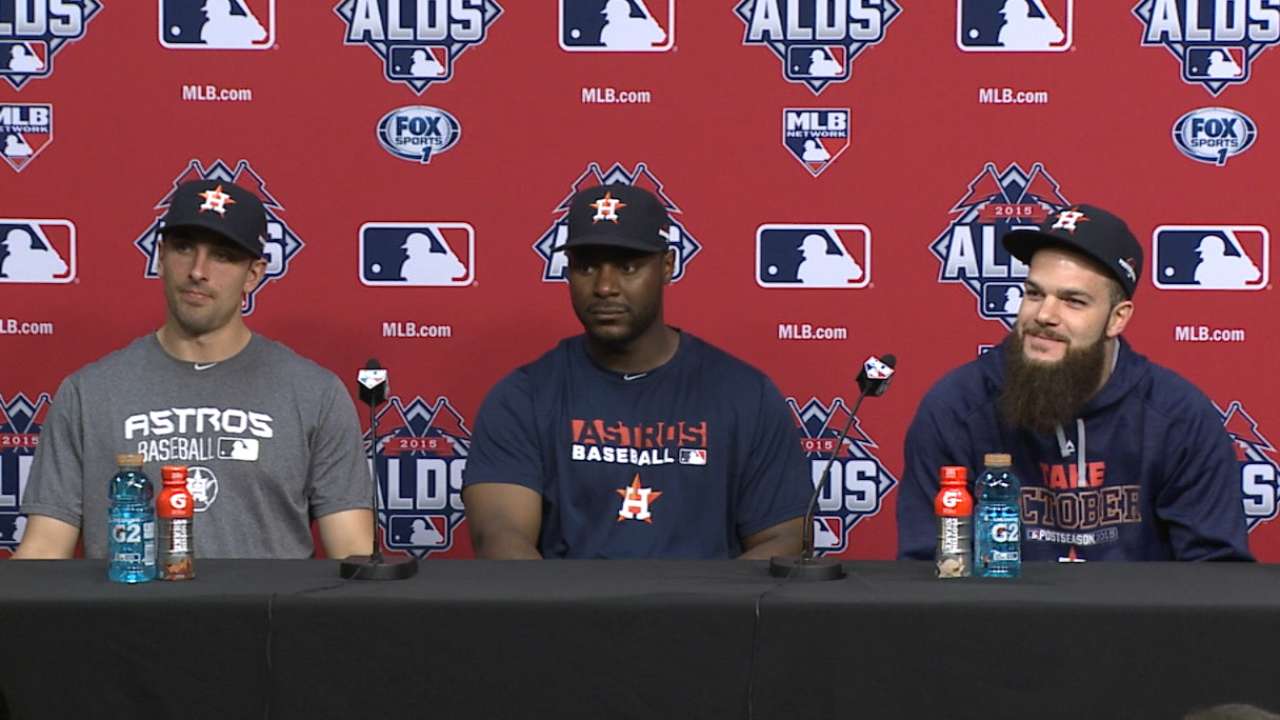 Castro's framing of the pitch was significant in the resulting call, the first strike in an at-bat that ended in a strikeout for the second out of the frame.
Then there were the blocked balls that Castro handled with ease, including one Keuchel bounced with a runner on third in the seventh.
"That's the direct impact of trusting a catcher back there," Sipp said. "Can't really say enough about the small things he does back there, as well as the things that you can see."
Jane Lee is a reporter for MLB.com. This story was not subject to the approval of Major League Baseball or its clubs.