Notable players overlap in Cubs-Cards rivalry
ST. LOUIS -- The Cardinals and Cubs are a unique rivalry that's been forged by the proximity of their cities, shaped by its longevity and enhanced by the frequency they've met as part of the same division.
Busch Stadium and Wrigley Field are separated by the length of Illinois -- about 300 miles. The Cardinals and Cubs have met 2,344 times in the regular season and through Sunday, just the last two games of the postseason to add a new wrinkle to the 123-year-old rivalry. The National League Division Series may be even at 1, but Chicago holds the lifetime edge with a 1,197-1,147 record.
For all those games, and all those years, only 309 players have played for both the Cardinals and Cubs -- including 150 pitchers.
The names run from A (Ted Abernathy) to Z (Todd Zeile). There are a few Hall of Famers that have worked on both sides of the fence -- including Cardinals greats Dizzy Dean and Rogers Hornsby. There have been great names too -- like Hall of Famer Rabbit Maranville and Pickles Dillhoefer.
"They're actually pretty similar -- the history and tradition of both places and the atmosphere that's around the ballpark," said John Mabry, a former Cardinals and Cubs player and current St. Louis hitting coach. "It's generations of families and fans that watch the game -- fathers and grandfathers. It's cool. It's baseball in the Midwest and pretty fun to watch."
In the area that counts the most -- championships -- is where the Cubs fall short. The Cardinals have been to the postseason 28 times -- including 12 of the past 16 seasons -- and have won 11 World Series. The Cubs haven't won a World Series since 1908, haven't been to a World Series since '45 and have reached the postseason only six times since then. Until 2015, their last postseason experience was '08.
• Gear up for Cubs' postseason
"It did kind of feel like you played second fiddle to St. Louis when I was with the Cubs because of the bad history the Cubs had," Hall of Fame reliever Dennis Eckersley said. "When I was with St. Louis, there was a feeling that we were supposed to win."
A turn-of-the-20th-century player named Cupid Childs spent time with both clubs, but the arrows fired between the teams haven't always been loving. Managers such as Dusty Baker and Tony La Russa had some fierce exchanges in the previous decade, there was a nasty 1974 brawl sparked by Ted Simmons and Bill Madlock and just last month, Cubs manager Joe Maddon (who grew up a Cardinals fan), voiced displeasure over a beanball exchange in the heat of a pennant race.
• Gear up for Cardinals' postseason
Here is a look at some of the memorable players that have donned both Cardinals red and Cubs blue.
Lou Brock
A Cardinals great from 1964-79 and Hall of Famer, Brock spent his first four seasons as a Cub. Part of a five-player deal that sent Ernie Broglio back to Chicago, his trade to St. Louis still causes some Cubs fans to facepalm. Brock became a six-time All-Star and was on the '67 World Series-winning club.
"That was the greatest deal made at the Deadline," Jerome Holtzman, MLB's official historian, told ESPN.com. "It was one of the worst trades in the history of the Cubs."
• Arrieta's trade could be reverse of Brock's
Ryan Theriot
Not one of the greats, but Theriot was a popular Cubs infielder from 2005-10 and part of their previous two postseason appearances. Before the '11 season, when he signed as a free agent with the Cardinals, he lost his goodwill with many Chicago fans when he said, "Now I'm on the right side of the rivalry." Theriot also won a World Series with the Cardinals in his lone season there.
Bruce Sutter
Another Hall of Famer, Sutter amassed 300 saves in a 12-season career from 1976-88. The first five years were spent with the Cubs, but he was traded to St. Louis before the '81 season for Leon Durham and was on the '82 World Series-winning team. He also led the league with 45 saves in '84. Sutter was considered one of the pioneers of the split-fingered fastball.
Lee Smith
A great closer whose 478 career saves were once the Major League record, Smith started out with the Cubs from 1980-87 and remains their all-time leader with 180 saves. From '90-93, Smith was a Cardinal, and his 47 saves in '91 was a single-season club record until this season, when Trevor Rosenthal saved 48 games. Smith was also the Cardinals' all-time save leader with 161 until the record was broken in 2006.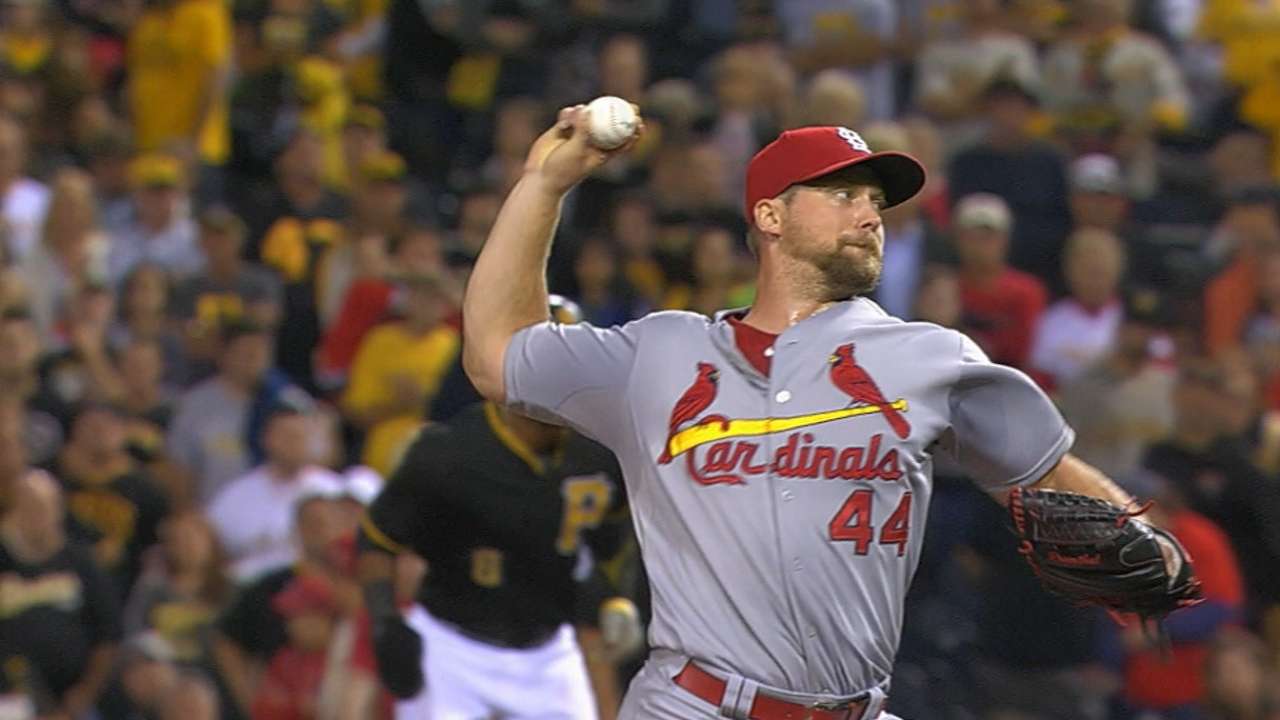 Mark Grudzielanek
Known for being a gritty infielder during his 15-year career, Grudzielanek was part of the Cubs' 2003 team that came oh-so-painfully close to reaching the World Series. He batted .312 in his two seasons in Chicago and .294 for the '05 Cardinals that reached the NL Championship Series.
Dennis Eckersley
Eckersley was known primarily as a great A's closer, and he is a member of the Hall of Fame. But he was a starter for the Cubs from 1984-86, his last years ever in a rotation. A May '84 trade from the Red Sox helped Chicago win its first division title, and he pitched 201 innings in '86. Following his tenure in Oakland, he followed La Russa to St. Louis in a '96 trade and was part of that year's postseason run. Eckersley didn't feel the rivalry between the Cubs and Cardinals was too intense.
"I didn't really sense it that much," Eckersley told MLB.com before broadcasting Game 2 of the NLDS on TBS. "When I was with the Cubs, we won in 1984 and everything was great. But it wasn't before. And the Cardinals won after that in '85. It's a friendly rivalry. It's not really bitter like the Yankees and Red Sox. That's probably because they haven't played these big games in the playoffs. I think that's the difference."
Carlos Villanueva
A middle reliever for the Cardinals this season, Villanueva spent the previous two years a starter and reliever for the Cubs.
"They are different fan bases," Villanueva said. "In Chicago, they are more passionate I would say, with the yelling and screaming and letting you know. Here [in St. Louis], they'll let you know when they're upset in a more subtle way. But if it was all the same, it would be boring. You adjust to both places. If I'm in the stands paying good money to see a game and somebody deserves to get booed and yelled at, I'd probably do the same thing."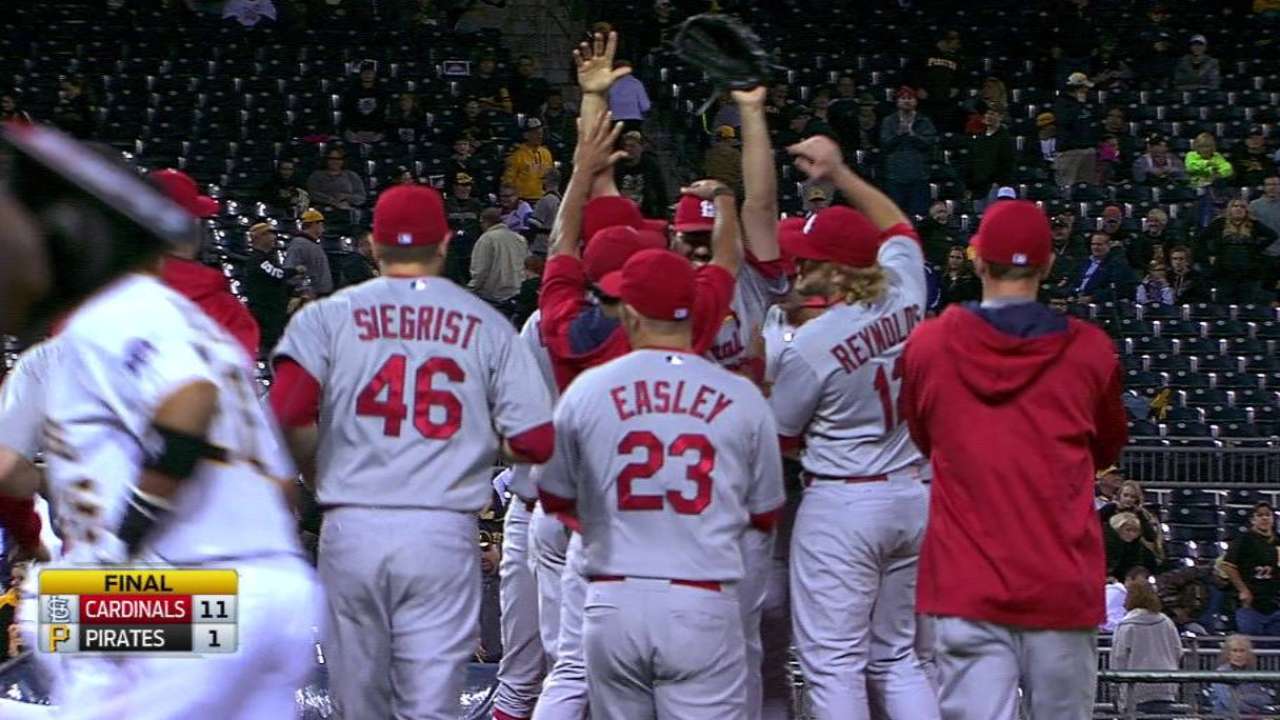 Jason Motte
A Cubs reliever after a successful stint as the Cardinals' closer, Motte is not on the NLDS roster for Chicago after battling a shoulder injury down the stretch. As the rivalry intensified again last month, it so happened that his Chicago Cornhole Challenge for charity happened at Wrigley Field following a game between the two teams. For a while, both sides were together in harmony.
"From a Cubs-Cards perspective, I guess it's big," Motte said just before the start of the NLDS of the teams clashing in the postseason for the first time. "From a player's perspective, for me, I want to win this series because that's the team we're playing."
Perhaps the most famous Cards-Cubs crossover of all was not a player.
Harry Caray
The legendary broadcaster began his career calling Cardinals games for 25 years from 1945-69. After stints with the A's and White Sox, Caray became beloved after arriving to call Cubs games in 1981. Long after his death in 1998, his tradition of singing "Take Me Out To The Ballgame" remains a staple.
Mark Sheldon is a reporter for MLB.com. Read his blog, Mark My Word, follow him on Twitter @m_sheldon and Facebook and listen to his podcast. This story was not subject to the approval of Major League Baseball or its clubs.