Maddon an adept tactician with the media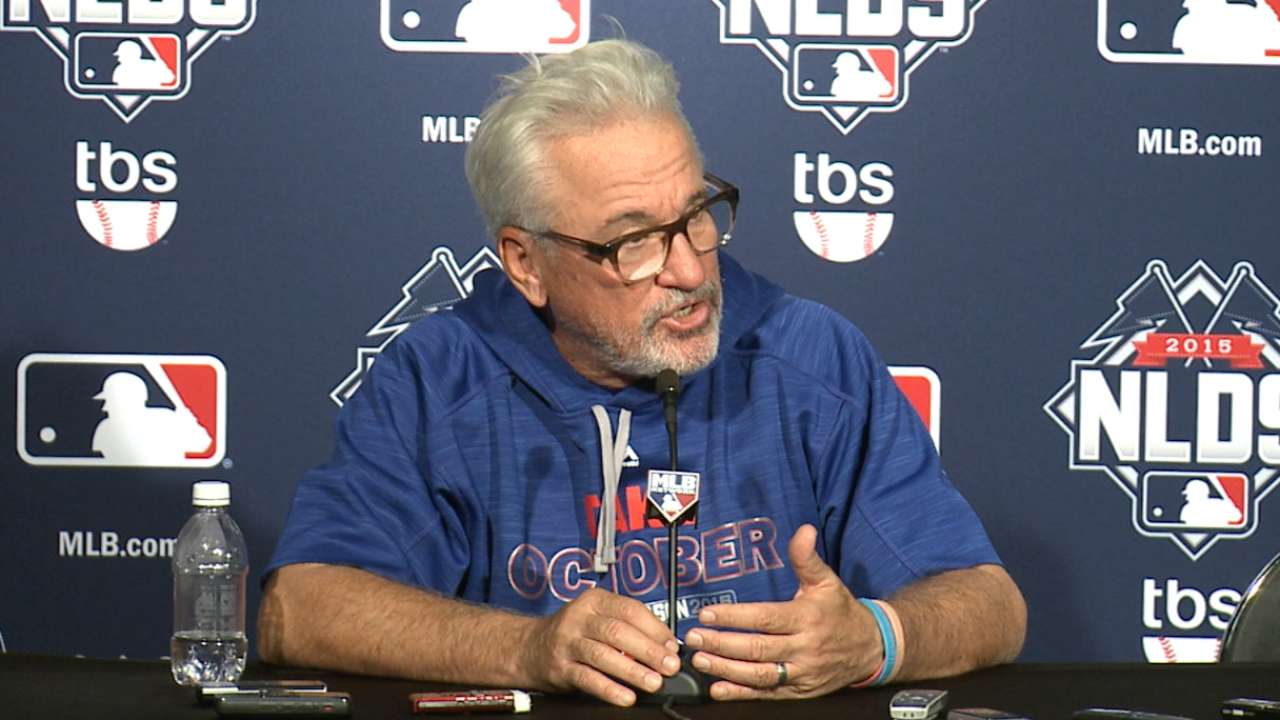 CHICAGO -- Cubs manager Joe Maddon walked out of the visitors' clubhouse at Busch Stadium early Saturday afternoon, weaving through the bowels of the ballpark in his Cubs-blue hooded sweatshirt. He had just left behind his players, but he stepped into the Cardinals' news conference room with those 25 men on his mind.
At that point, the Cubs were down, 1-0, in the National League Division Series against the Cardinals. Some players, coaches or managers might have tightened up. Not Maddon. Coming across as calm and casual as ever, he wanted to let everyone know he wasn't hitting the panic button.
Maddon has never been big on team meetings. He speaks with his players one-on-one, getting to know the person behind the player. But since taking over as manager of the Devil Rays in 2006, Maddon has discovered that he essentially sets the tone for his club twice every day of the season.
"This is a team meeting right now," Maddon told the media before the Cubs won Game 2 on Saturday evening. "We're conducting a team meeting for my entire group right now."
The Cubs have held three team meetings this season: before Opening Day, at the All-Star break and just before the postseason began. First baseman Anthony Rizzo thought they might have been in store for a fourth in New York, but it turned out Maddon had just invited a magician to perform in the Cubs' clubhouse.
And, really, why bother with the formality of a team meeting? If he wants to send a message to his team -- or perhaps to the entire Cubs' fan base -- Maddon is adept at doing so through the media before and after games.
"Every manager or coach, the way this is set up these days, has the opportunity on a daily basis to conduct a team meeting," Maddon said. "Because I know [the players] listen or hear or read everything that is said and done."
Rizzo, for instance, doesn't read much on Twitter but said he frequently peruses the stories on cubs.com. Catcher David Ross gets his news updates through social media every day.
"Twitter's my newspaper. It's how I read in the morning. I wake up and see what's going on in the world or the sports world," Ross said. "You'll see his quotes and stuff. You see where he's at."
Shortstop Addison Russell prefers to "stay away from the printing press," but he often seeks out video of Maddon's interviews. Occasionally, Russell will listen for questions that he had for Maddon about his in-game strategy, curious to hear the answer.
"I think it's a good thing, because we get a feel for Joe, too," Russell said, "Just listening to him talk and hearing his thought process is very cool."
Maddon is uncommonly thoughtful, articulate and creative when dealing with reporters. He also knows how to send a message.
When the Cubs thought the Cardinals were intentionally throwing at Rizzo last month, Maddon made it clear his team wouldn't be pushed around, as he often did with the Rays when they were trying to push back against the Red Sox and Yankees.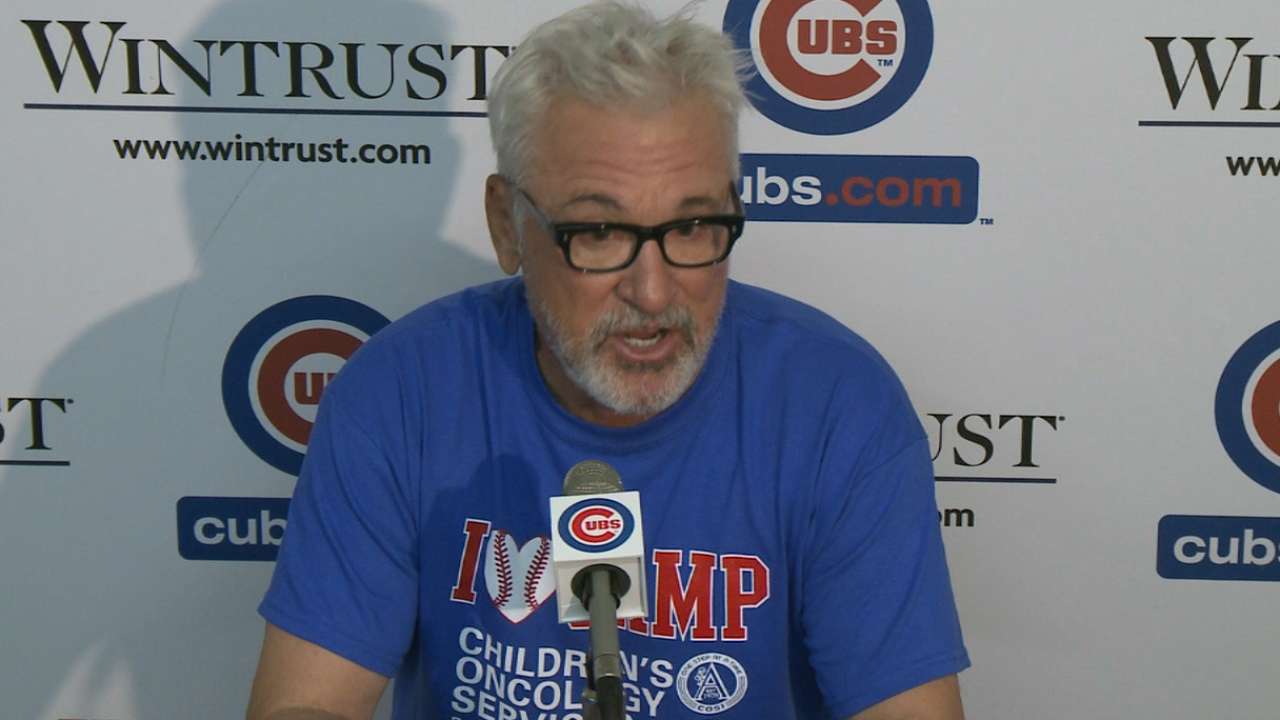 "I think he's been sending messages since Spring Training. He's been gaining trust and sending messages since Spring Training," Ross said. "That's what he does a really good job of, communicating through the media or to us personally.
"You get a sense of his calm or where he's at and what his take on the team is. It's always nice to know where your manager stands on the team."
But Maddon isn't totally an open book with a microphone in front of him. If he needs to talk to a particular player, Maddon will call him into the manager's office and address the issue one-on-one.
When the Cubs benched Starlin Castro in early August, for example, Maddon met with Castro and clearly explained the situation to the 25-year-old infielder before informing reporters of the decision.
That kind of honest communication goes a long way inside a baseball clubhouse -- even if the players are listening to Maddon's daily press briefings.
"He does a really good job of communicating that way. And then if he has to get the point across in the media, he will," Ross said. "He goes about things the right way."
Adam Berry is a reporter for MLB.com. Follow him on Twitter at @adamdberry. This story was not subject to the approval of Major League Baseball or its clubs.