Hernandez learned love of game in PR from dad, Posadas
Stomping Grounds: Dodgers rookie son of coach, player and godson of Jorge Sr.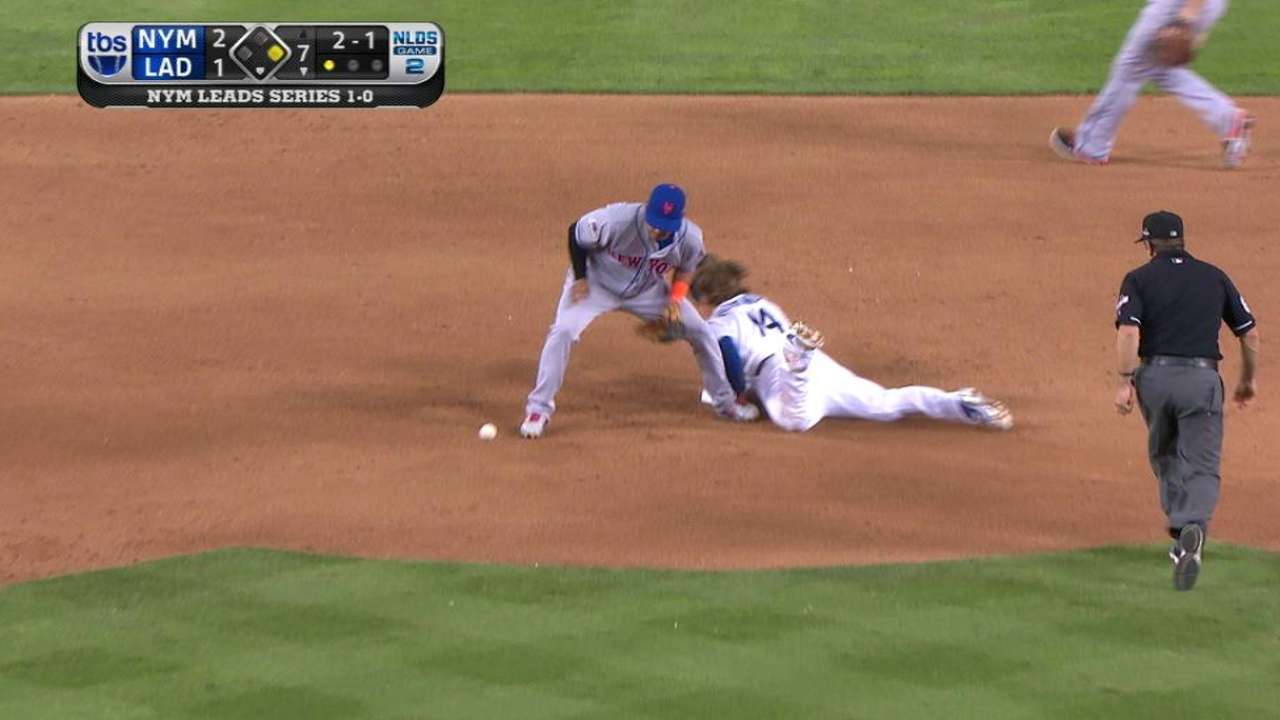 NEW YORK -- He's a lifelong resident of Puerto Rico and plays in Los Angeles, but Enrique Hernandez grew up a Yankees fan.
"Jorge Posada's dad is my godfather," said the Dodgers 24-year-old utility man, who stole his first Major League base and scored the tying run in Saturday night's controversial 5-2 win over the Mets in Game 2 of the National League Division Series.
"I grew up a Yankee fan my whole life, watching his career up close. He was one of those guys, just like me, he didn't have any talent at all growing up and went to college and became Jorge Posada."
Hernandez's father, Enrique Sr., and Posada's father, Jorge Sr., were best friends growing up.
"They were always together and, of course, my dad always wanted to be a player. Jorge [Sr.] went to college and was drafted; my dad didn't go to college and wasn't drafted. But my dad saw Jorge's dad as his second dad, so he thought it would be perfect if he was my godfather."
The Hernandez Family still lives in Toa Baja, 15 minutes outside of the capitol of San Juan, where Enrique Sr. "lost a lot of jobs making sure I would get to my games," Hernandez said of his father, who doubled as a scout and coach while his mom ran a boutique. Now a key piece of the Dodgers' postseason roster, Kiké grew up an undersized athlete with a singular focus, overcoming one obstacle after another, beginning with the weather.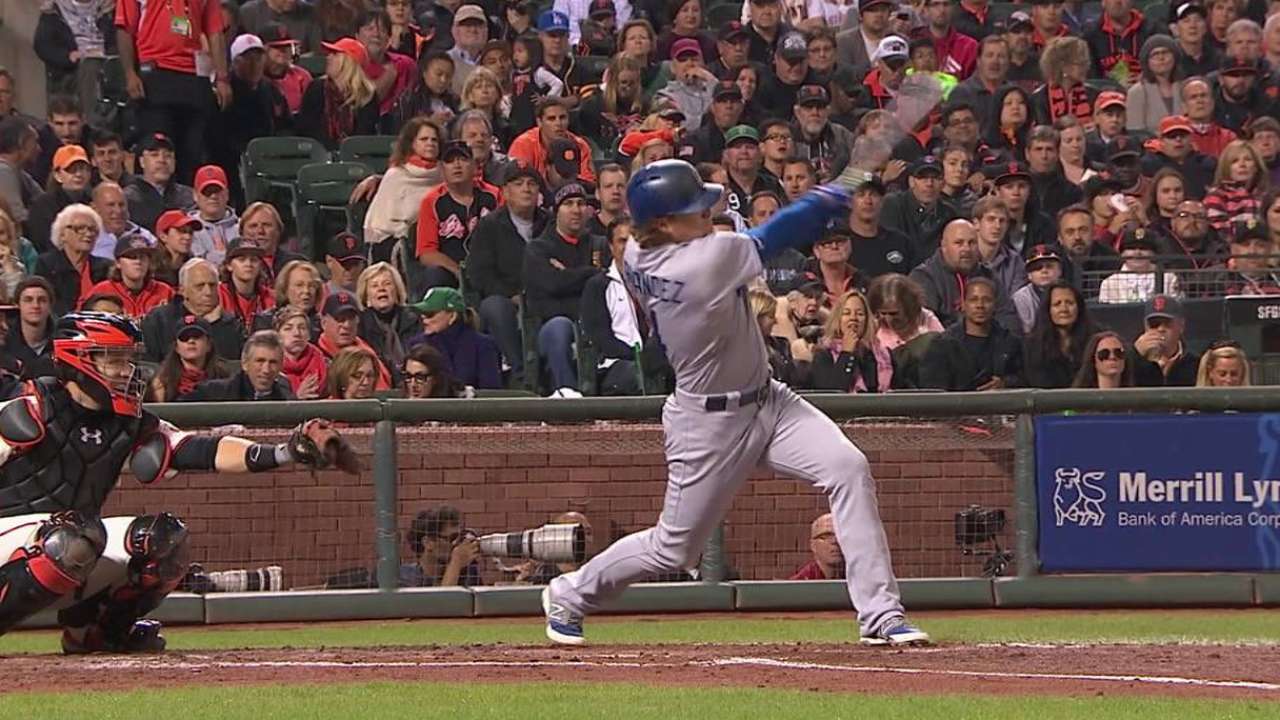 "I don't remember it, but when I was 4, my dad took me to a baseball camp," Hernandez said, "and that lasted one day, because I told him I didn't ever want to come back because the sun was too hot.
"After that, I was 6 and my dad was playing in the semi-pro league they have over there called Double-A, and he was going through practice and I told him I wanted to play baseball. He took me and put me to play on two teams at the same time. Once I started playing baseball, I fell in love with the game and that's all I did. All I watched on television was baseball. I couldn't go anywhere without a ball. I was literally throwing a ball around my entire childhood."
And not just playing catch with the other kids. Because his father played semi-pro and coached winter ball, his son was exposed to a higher level of ball at a younger age than most of his peers.
"I was probably 8 years old when they first let me shag," Kiké recalled. "I would be out there with Alex Cora, Alex Rios, Ramon Vasquez, Aaron Rowand, Hector Ortiz, Luis Lopez. I was just trying to soak in the information and learn as much as I could. I would fight to go to shortstop, but they didn't want me to get hurt. I would try to emulate the players I saw on TV. I was always quiet, observing. I was just a little kid watching the big leaguers. I remember Rowand being impressed with a little Puerto Rican kid speaking such good English."
For his age, Hernandez's baseball skills were advanced, but not so much his size, presenting his next obstacle to a professional baseball career.
"Like most kids, you always dream of it, and I always thought I could do it, but when I became a teenager, as the other kids were developing, I lagged behind," he said. "I was really short and really skinny, a lot smaller than everybody else. Going into my junior year of high school, I was like 5-7, but I could always hit and play defense. Had a good arm, but I couldn't grow. So I had no pop and I couldn't run.
"Luckily, I grew my senior year four inches. I was 5-11, but I was still only 160 pounds. But the bat started coming alive a little bit. I developed a really good arm, good hands, got a little bit faster as I got a little stronger, and it was good enough that scouts saw something in me to draft me in the sixth round. My life was my house to school to baseball practice to my house. I didn't go to parties or stuff normal high school kids do. Just baseball."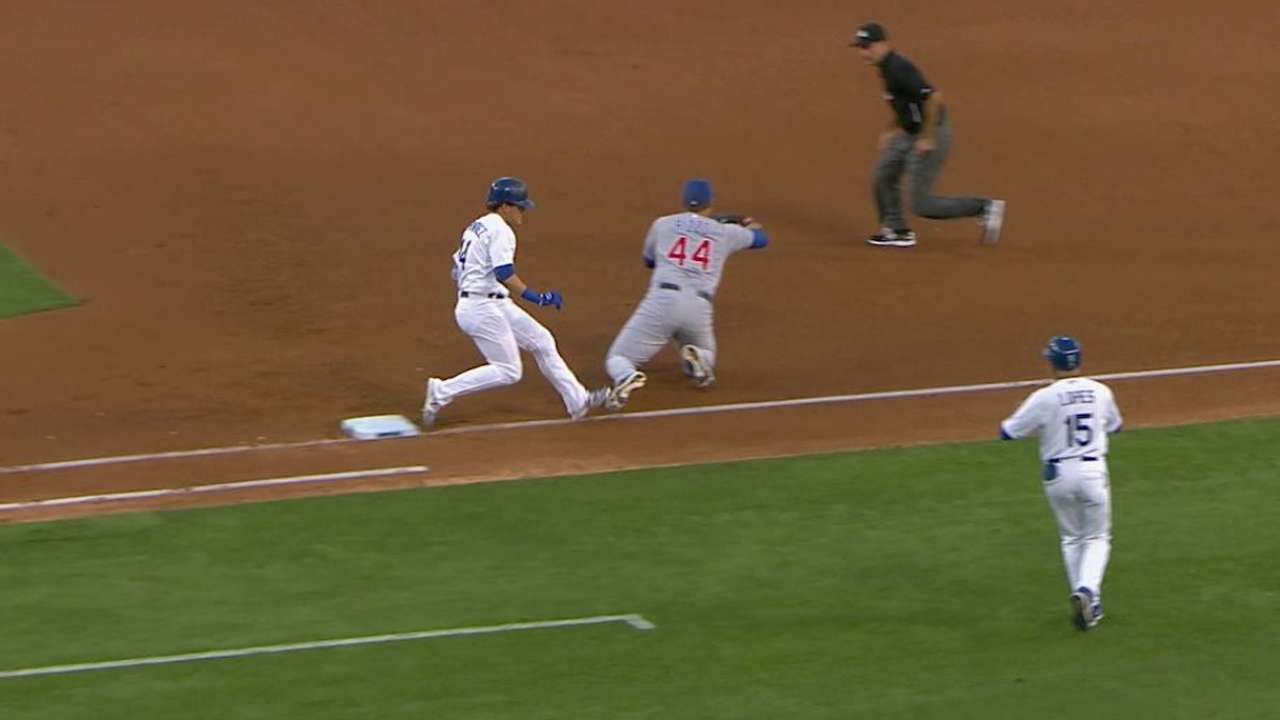 Hernandez attended the American Military Academy High School, but Puerto Rico does not have developed high school programs. Instead, the higher level athletes play in travel leagues, where Kiké got the exposure leading the Astros to Draft him.
After five years in the Astros' farm system and a cameo big league debut, Hernandez was traded on July 31, 2014, to the Marlins in the Jarred Cosart deal, then moved to the Dodgers last December in the seven-player Dee Gordon trade. The Dodgers wanted him for the versatility he showed this year, starting at three infield and three outfield positions including center field, where he started in Game 2 of the NLDS.
Older brother to two sisters, Hernandez said his competitiveness developed in foot races with his father and baseball skill tests against his younger cousin, Jonathan. They both traveled to Los Angeles for the first two games of the postseason.
"I don't think I'd be here without my dad," Hernandez said. "He took me to practice, threw BP and ran with me. He could beat me until I was 13. I remember him not letting me win, he'd make fun of me, built a competitive aspect as I always tried to beat my dad, even though he was an adult and I was a kid."
Ken Gurnick is a reporter for MLB.com. This story was not subject to the approval of Major League Baseball or its clubs.