Andrus continues hunt for ring back home
Veteran shortstop ready to face Blue Jays in Texas after falling short in two World Series with Rangers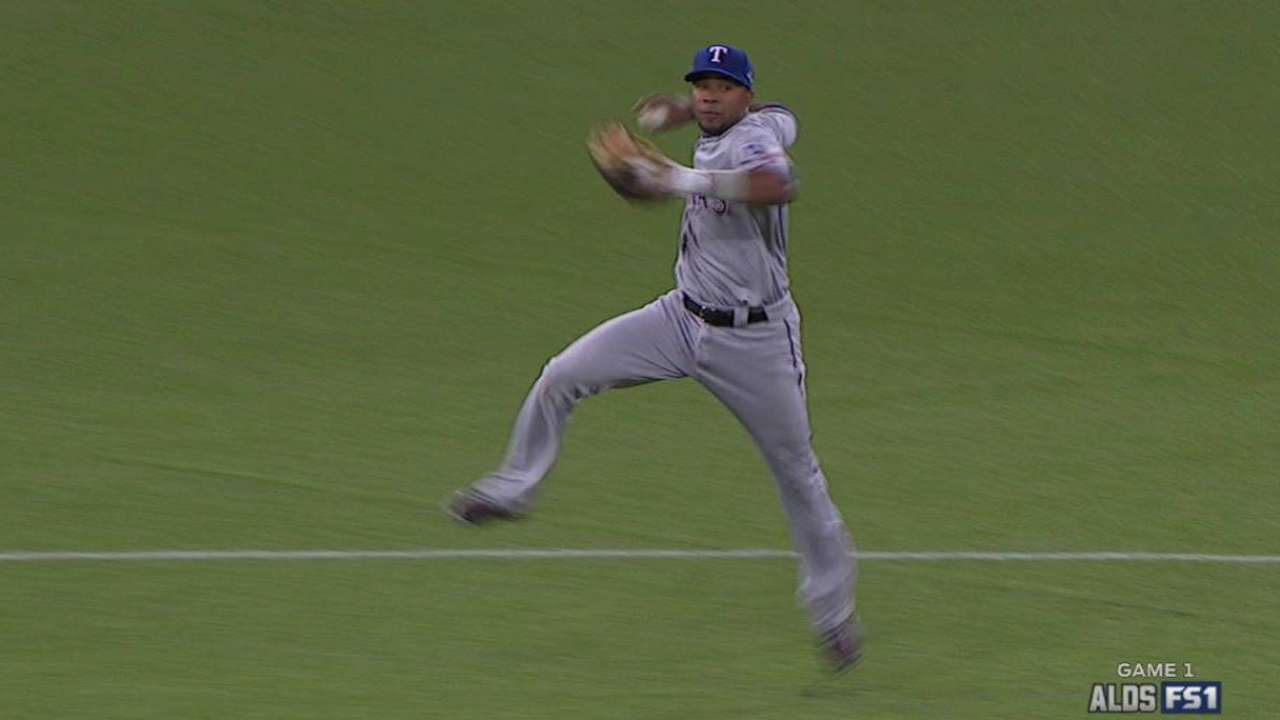 ARLINGTON -- Elvis Andrus was once the kid who came up from the Minor Leagues and learned from the great Omar Vizquel because he would one day replace him.
Now he's the veteran Rangers shortstop who has played in two World Series without getting a ring but is back in the postseason looking to claim that elusive piece of jewelry once and for all.
Andrus held court in a media session prior to Game 3 (tonight at 8 p.m., FS1/Sportsnet) as the Rangers' American League Division Series shifted to Texas' Globe Life Park. He couldn't help but appreciate that his team won Games 1 and 2 over the heavily favored Blue Jays in a packed Rogers Centre in Toronto and was one home victory from sweeping the best-of-five series. He also has been around long enough to know that his team won't be able to relax.
• Shop Rangers postseason gear
In fact, Andrus was quick to cite the 2010 ALDS against the Rays, when the Rangers won two in Tropicana Field, then came to Arlington and lost two at home before winning once more on the road to advance.
"And [there's] time to get Toronto get back on us and win the next two," Andrus said. "I think you have to have the same mentality, you have to treat it like the first game of the postseason. That way you can stay alert and you can stay ready and on our toes, pitch by pitch.
"I think it's a lot different right now coming back the way we played, especially the last week, two weeks at home. Having all our fans back tonight is going to be huge for us. Everybody's feeling good, everybody's relaxing and that's what we want right now."
Andrus has been steady at shortstop, even on the tricky artificial turf of Rogers Centre, but he hasn't gotten hot at the plate yet. He entered Game 3 with a .100 (1-for-10) average in the series. Even so, Andrus said this October experience is a lot different than his previous forays on this stage.
"I think the more you play, the more to think about it, but at the same time you have to go out there and try not to act like a rookie," Andrus said. "Try and just play hard and see what's going to happen in the future. Sometimes when you think too much, you stop playing and that's not the case, but I feel good.
"We're in a better shape right now as a team, especially coming back two games up. We have the opportunity to close it tonight, and I know tonight's going to be special."
Doug Miller is a reporter for MLB.com. Follow him on Twitter @DougMillerMLB. This story was not subject to the approval of Major League Baseball or its clubs.