Price warms up in 'pen but doesn't appear
Blue Jays consider using lefty in relief with ALDS life on the line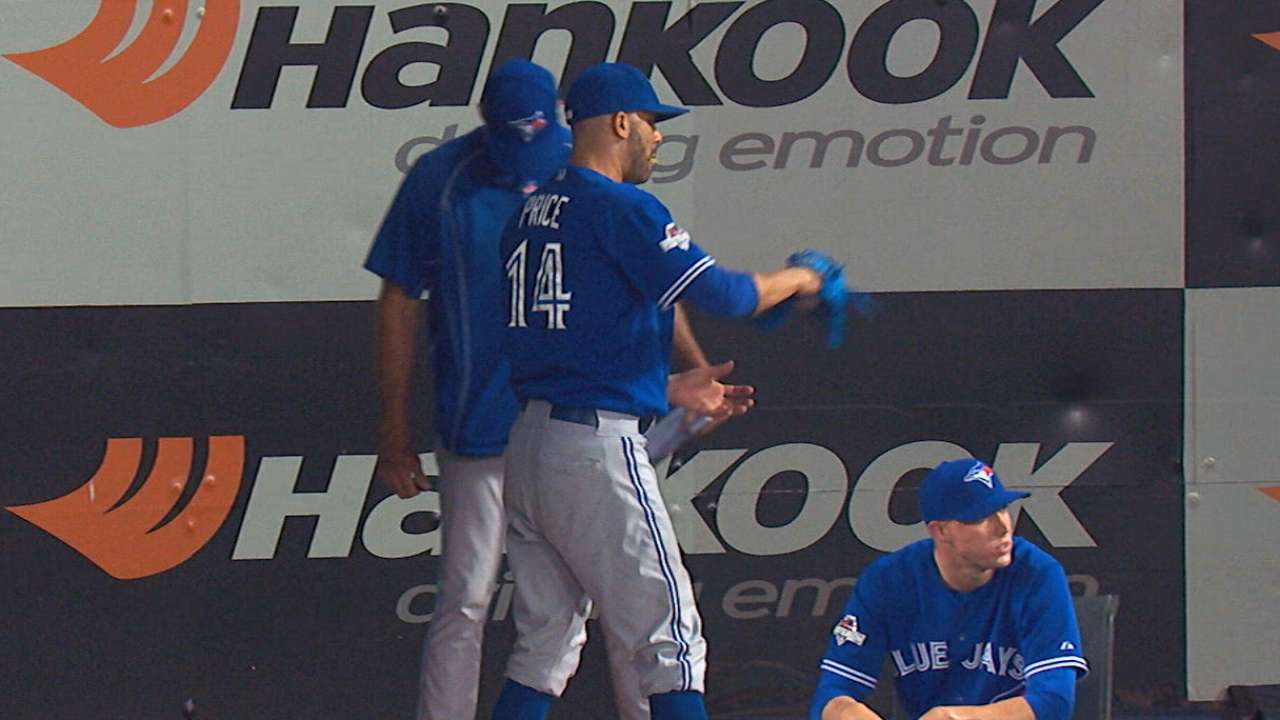 ARLINGTON -- The combination of a must-win game and an injured Brett Cecil led to a by-any-means-necessary bullpen for the Blue Jays in Game 3 of their American League Division Series against the Rangers on Sunday night at Globe Life Park.
Aaron Loup, Toronto's situational lefty, got his situation in a tighter spot, facing series-long pest Rougned Odor with two on and one out in the seventh. Aaron Sanchez, whose .878 OPS allowed to left-handed hitters led to Cecil getting select setup situations during the season, faced Shin-Soo Choo with two outs and nobody on in the eighth.
•
Shop for official Blue Jays postseason gear
And David Price, Toronto's Game 1 starter and the hammer in a potential winner-take-all Game 5 if the Jays can get there, warmed up all the while in case he was needed to lock down Game 3.
There was no Price check required, as Loup, Mark Lowe, Sanchez and Roberto Osuna combined to retire the final eight Texas batters to finish off a 5-1 Blue Jays win. But the sight of Price warming up -- for potentially his first postseason relief appearance since his rookie run for the Rays in 2008 -- spoke plenty about the situation.
Come Monday afternoon, it could be the same scenario for him in Game 4 (4 p.m. ET/3 CT, FOX Sports 1/Sportsnet).
"Being a starting pitcher is cool because you know when you're going to pitch," Price said. "But being an everyday player or reliever, you might get to play every day. And to me, that's really fun. So I'll be ready."
Cecil's loss to a torn left calf muscle suffered in Game 2 did not seem to impact manager John Gibbons' aggressiveness to turn to his bullpen once he felt starter Marco Estrada was nearing his end. Though Estrada retired 19 of Texas' first 22 batters, back-to-back singles with one out in the seventh sent Gibbons to the mound to protect what was a 5-0 lead.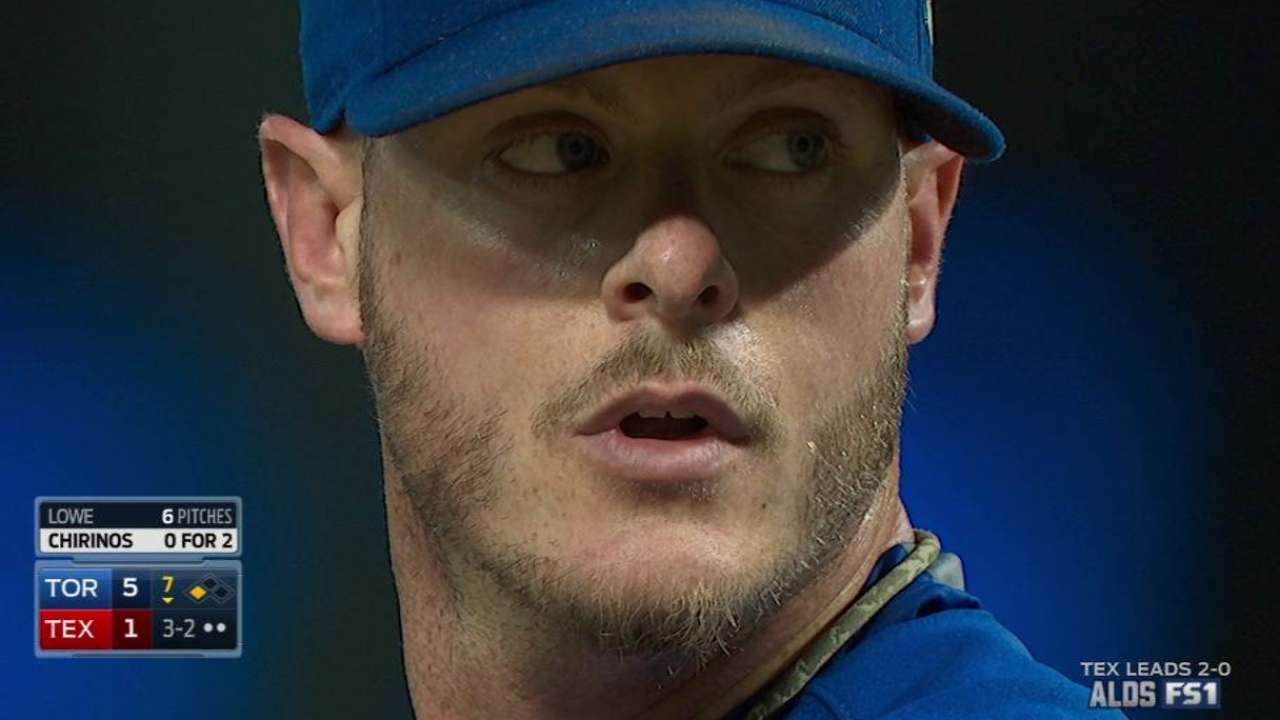 Out came Estrada at 89 pitches for the game. In came Loup, who allowed .275 batting averages to left- and right-handed hitters alike in 2015 but has held lefties to a mere .206 average for his career.
"You hope you get a strikeout, but you've definitely got to get an out," Gibbons said of Loup. "He's become that much more valuable now that Cecil is down, especially the way their lineup [leans left-handed]."
Price was ready in case that didn't happen and the inning worsened. Instead, Loup retired Odor, then Lowe struck out Robinson Chirinos looking at a slider on the inner half.
Though Sanchez began the eighth against No. 9 hitter Hanser Alberto, the lefty-hitting cluster of Choo, Prince Fielder and Mitch Moreland loomed, leaving Price to warm up again.
"If two guys got on, I would've had either Choo or Fielder," Price said, echoing what Gibbons said was his plan.
Once Sanchez retired Alberto and Delino DeShields, he earned his shot against Choo with the bases empty and a four-run lead. Sanchez went at Choo with nearly all fastballs, sending down Choo with a 96-mph heater at the belt for a called third strike.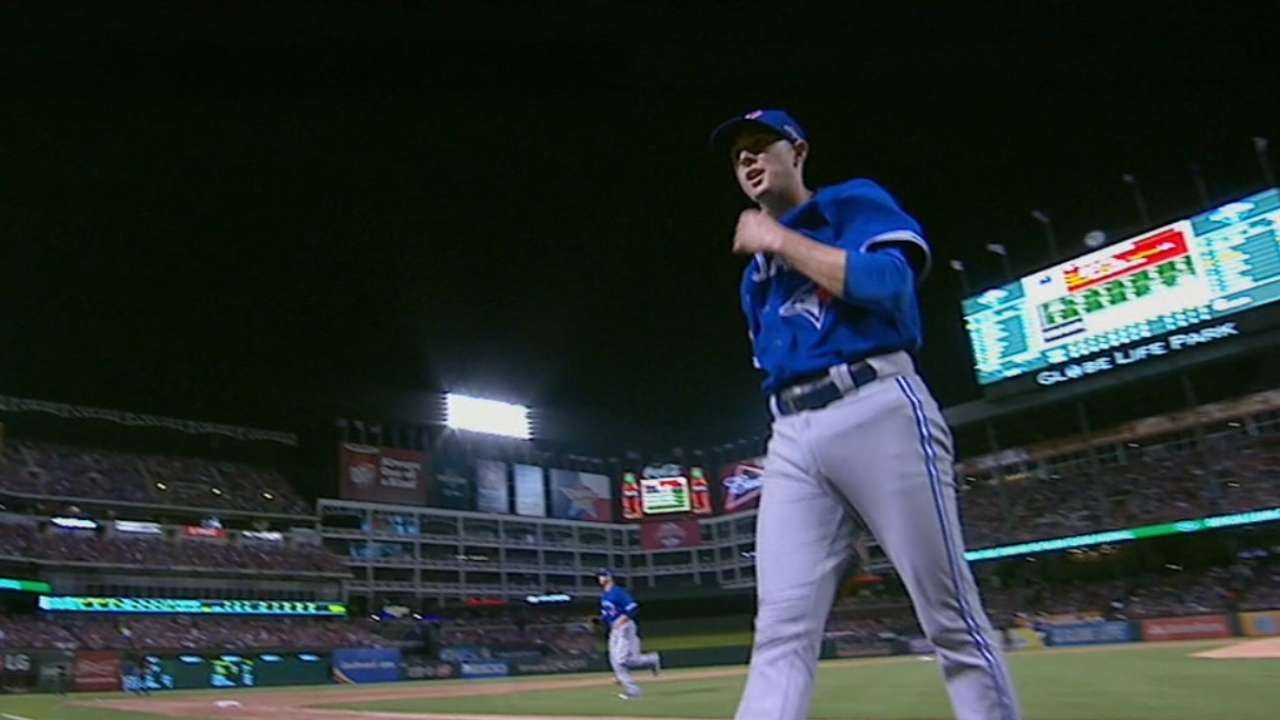 Price was still ready in the ninth in case Osuna found trouble. But Osuna needed just five pitches to retire Fielder, Moreland and Elvis Andrus, leaving the Price relief question for one more day, as knuckleballer R.A. Dickey starts Game 4.
"We'll talk to him. I expect he'll be fine," Gibbons said. "If not, [Game 2 starter Marcus] Stroman will be available tomorrow and then, if we're fortunate to get to a fifth game, then Price would get that one or what have you."
Said Price: "I'm ready tomorrow. I don't think it [pitching tonight] would have affected it. I bounce back pretty quick."
Jason Beck is a reporter for MLB.com. Read Beck's Blog, follow him on Twitter @beckjason and listen to his podcast. This story was not subject to the approval of Major League Baseball or its clubs.