Focused Arrieta confident ahead of Game 3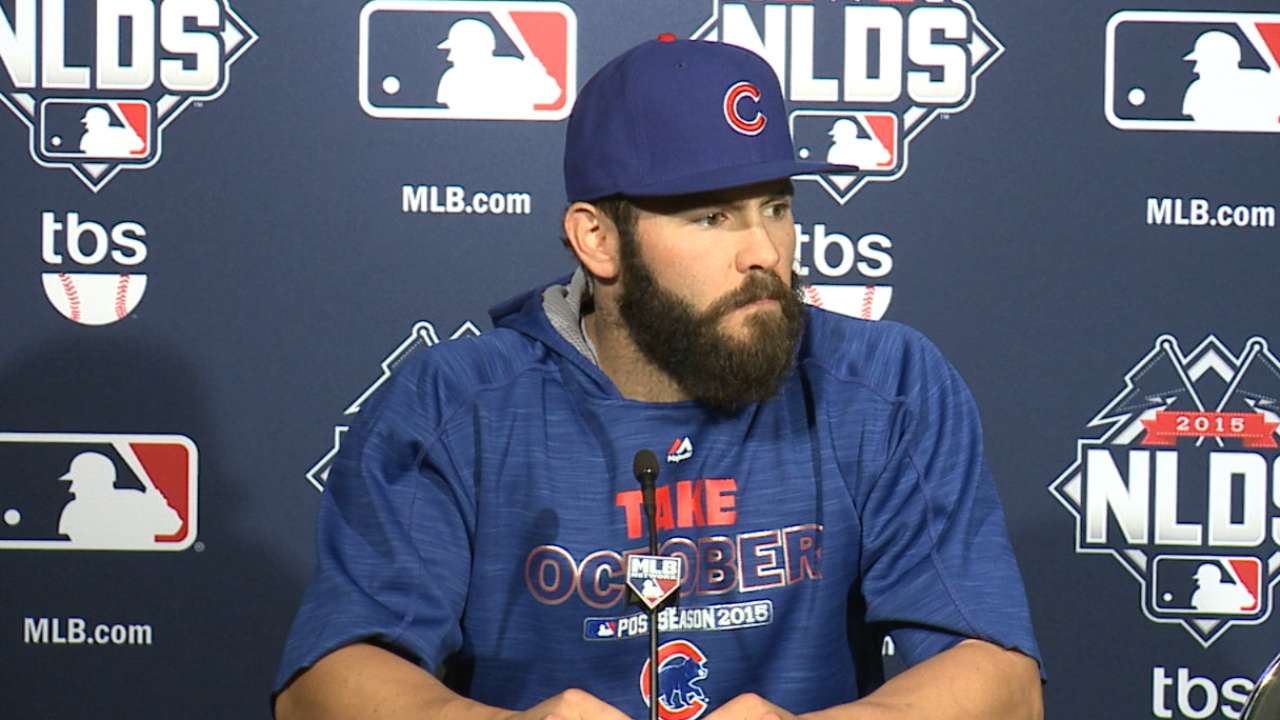 CHICAGO -- Jake Arrieta's teammates call him the "best pitcher on the planet." His coaches are equally optimistic about the right-hander's ability. Really, it's tough to find someone who isn't confident he can pitch well.
But is Arrieta himself, before Monday's pivotal Game 3 of the National League Division Series against the Cardinals at 6 p.m. ET on TBS, feeling that same confidence? And does the Majors' win leader during the regular season think he can continue his stretch of success?
"I think that I'm confident in my ability to go out there tomorrow and give us an outing that's good enough to win the game," Arrieta said in his news conference on Sunday afternoon. "You know, I just intend to keep us in the game, regardless of the circumstances, whatever comes up.
"But I like my chances to go out there and win us a ballgame."
Otherwise, Arrieta isn't focusing on the words of others, as he has all season. He spent the day before his first start of the NLDS in his usual workout routine of Pilates or yoga.
The 29-year-old will take the hill with the series tied at 1-1, following his shutout of the Pirates in the NL Wild Card Game on Wednesday. He finished the second half of the season going 12-1 with a 0.75 ERA in 15 starts.
"I can't be surprised what he does," Cubs first baseman Anthony Rizzo said. "I've heard for the last three years about how nasty he is from every catcher, every guy who gets on first base. It doesn't surprise me."
The last time Arrieta took a loss came on July 25 against Philadelphia, when opposing pitcher Cole Hamels threw a no-hitter. He's thrown a quality start in every outing since June 16 vs. the Indians, when he allowed four runs in five innings.
While Arrieta's teammates have supreme confidence in him, they refuse to be complacent in his starts.
"Just because Jake's on the mound doesn't mean we're unbeatable," Rizzo said. "We've got to go out and win the game."
Added shortstop Addison Russell: "You definitely have to be on your toes. You can't be in the mindset that he's going to go out there and get the job done. You prepare yourself for the worst-case scenario. I think that's the way he prepares himself, and that's the way I prepare myself."
Even Arrieta's manager isn't one to sit back and watch. This season, Joe Maddon has waited for Arrieta to prove he can keep going and then let's him go to work.
"I'm so not that guy to just expect that it's going to keep happening, Maddon said. "I don't take anything for granted. I don't think any of us do. I hope not. The other teams are really good. The team we're playing tomorrow is very good. So you can't assume anything."
Arrieta is 2-1 with a 2.42 ERA in four starts against St. Louis this season, suffering his lone loss on May 7. He remembers nothing from that day, though. This situation, he says, is different anyway.
"I think it's foolish to approach [Monday] any other way," he said, "but obviously this is a big game for us."
Greg Garno is an associate reporter for MLB.com. This story was not subject to the approval of Major League Baseball or its clubs.