Cain's mammoth homer not enough for KC
Statcast projects blast at 423 feet off Houston ace Keuchel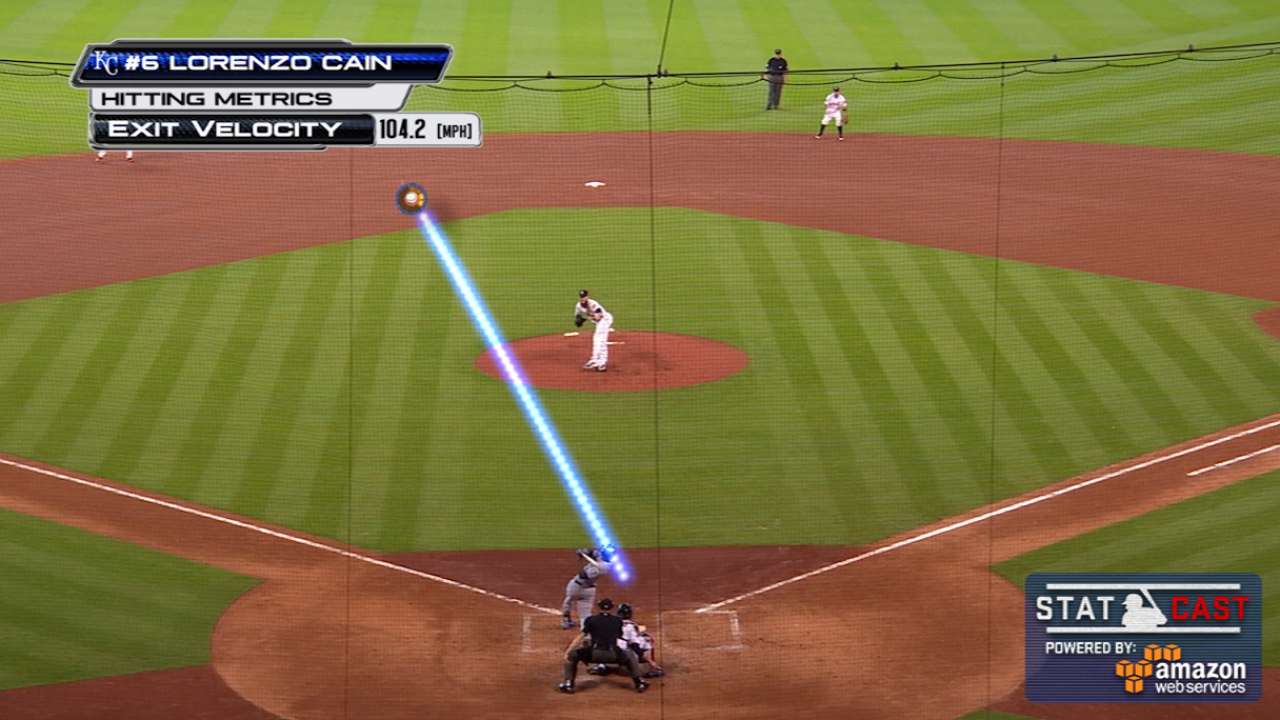 HOUSTON -- With the way right-hander Edinson Volquez was pitching early, Royals center fielder Lorenzo Cain was hoping that his fourth-inning homer off Astros ace Dallas Keuchel would be enough in Game 3 of the American League Division Series on Sunday.
Ultimately, though, Houston was able to rally in the fifth to take the lead in an eventual 4-2 loss for Kansas City, and Cain's solo shot did not become a difference-maker.
• Shop for Royals postseason gear
The blast was impressive -- it came on the 10th pitch of the at-bat and traveled a projected 423 feet, according to Statcast™ -- but the Royals now face elimination heading into Game 4 at 1 p.m. ET on Monday on FOX Sports 1.
"[Keuchel] kept throwing two-seamers and changeups away," said Cain, who went 1-for-4 with an intentional walk. "I don't know if it was a slider or curveball, but I was able to keep my hands in and hit it out. But that homer definitely wasn't enough for the win. It was a good start, but we didn't win the game."
Cain's defense also factored into the game, as he couldn't quite complete what would have been a sensational diving catch in the sixth on a ball hit to the left-center-field gap by George Springer. Instead, the ball popped out of his glove as he hit the ground, allowing Springer to reach second; Springer would eventually score on a two-out single by Carlos Gomez that knocked Volquez from the game.
"I just caught it in the palm of my glove, but I have to make that play," Cain said. "It's a play I always make. I just caught it in the wrong spot, and it popped out."
Cain also stepped up to the plate in a crucial spot in the seventh, representing the potential tying run with Keuchel at 118 pitches. Astros manager A.J. Hinch went out to talk to Keuchel, but he opted to leave him in the game to face Cain.
Cain got ahead in the count after two balls and worked a full count before striking out swinging at an outside fastball to end the inning.
"It was a two-seamer, and I think it was a ball, so I was just too aggressive there," Cain said. "But that's what he does."
Hinch knew it wasn't a great matchup, but he decided to stick with Keuchel, the leading AL Cy Young Award candidate, and the decision paid off.
"It's the at-bat of the game, and it's one of their best guys against our best guy," Hinch said. "At the end of the day, I want the ball in Dallas Keuchel's hand. I know the matchup's not perfect, I know he's tiring, I know [he gave up] the homer early in the game; I had made the decision the previous at-bat to walk him."
Keuchel was pleased Hinch let him face Cain, who made the final out of the game, striking out against Astros closer Luke Gregerson.
"I figured he was going to let me pitch to their best hitter," Keuchel said. "And I thought I deserved it. Made a mistake pitch early in the game, but I felt like I really still had the energy and the pitch quality to get another out."
Rhett Bollinger is a reporter for MLB.com. Read his blog, Bollinger Beat, follow him on Twitter @RhettBollinger and listen to his podcast. This story was not subject to the approval of Major League Baseball or its clubs.