Despite slump, Bryant flashing steady glove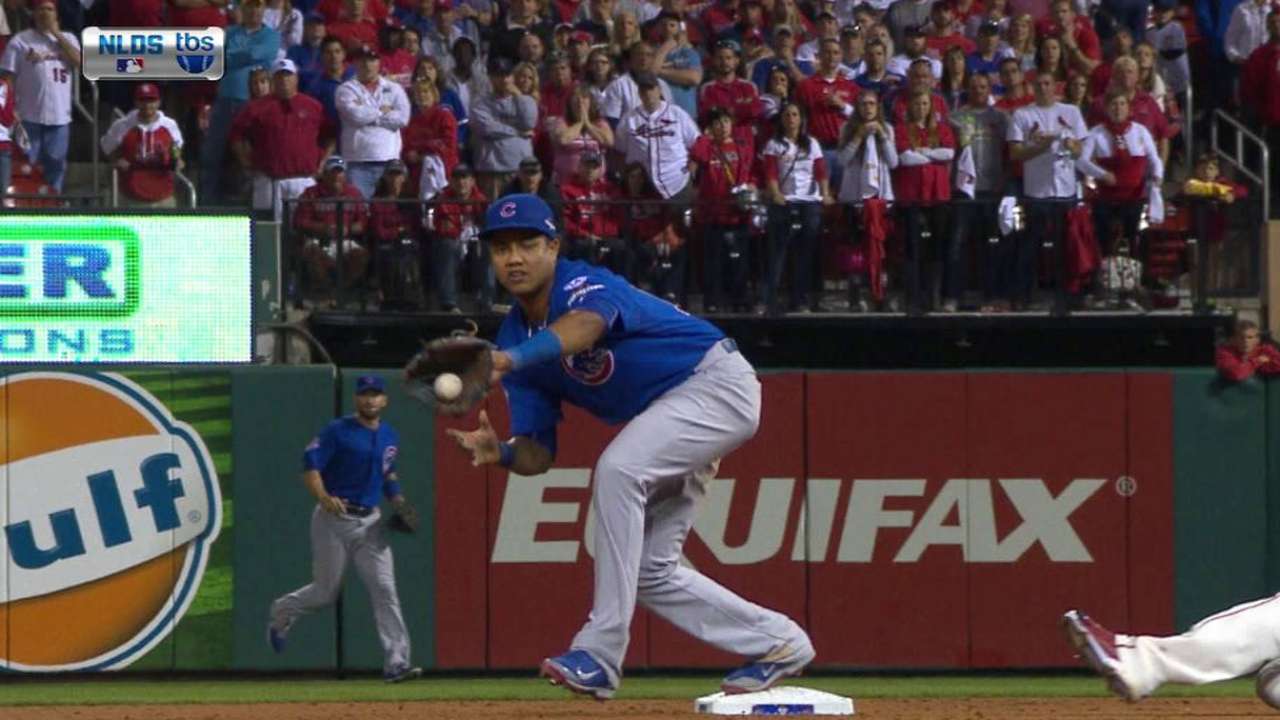 CHICAGO -- Kris Bryant led all Major League rookies in nearly every offensive category -- including RBIs, doubles and runs scored -- yet the Cubs' third baseman has been known for his glovework in the postseason.
Bryant is hitless in 12 at-bats over three playoff games with one walk. He's not alone. Anthony Rizzo, who has batted fourth behind Bryant in all three postseason games, is 0-for-11. And yet, the Cubs won the National League Wild Card Game and are tied, 1-1, with the Cardinals in the NL Division Series, which continues Monday at Wrigley Field at 6 p.m. ET on TBS.
"Isn't that great?" Rizzo said Sunday. "Usually, we're the ones carrying the load. I've said all year, it's not about me, it's not about Kris, it's not about [Jorge Soler] hitting a home run -- it's about the whole team and doing what we can do to win. As long as we win, we have one goal here and that's to win a World Series."
Rizzo wasn't saying it was great that he and Bryant are hitless, but liked the idea that it takes all 25 on the roster. Bryant agrees.
"We're here for the team," Bryant said. "I know Anthony hasn't gotten a hit either, but we've won games and that's what it's all about -- play good defense, help the team win, be a good teammate, cheer the team on. It really doesn't matter my individual accomplishments.
"There are plenty of guys capable in this locker room, and I think that's gotten us where we are today," Bryant said. "There's a new hero every day. All the talk early about our walk-off hits -- I think there are nine different people with walk-off hits. That says a lot about our team. Me and Anthony haven't done much this series, but it's pretty cool that we've come out with a win and the series tied."
However, Bryant was in a little funk at the end of the season. After picking up his 99th RBI on Sept. 27, he finished the campaign 3-for-23. He and Rizzo are the fifth and sixth players in Cubs history to start their postseason careers 0-for-10, joining Hippo Vaughn (0-for-10 in 1918), Phil Cavarretta (0-for-12, 1935), Carl Reynolds (0-for-12, 1938) and Jimmy Sheckard (0-for-21, 1906).
Cubs manager Joe Maddon doesn't see Bryant pressing.
"He's hit a couple ground balls in situations that he normally doesn't, and that tells me he might be off timing-wise," Maddon said. "He's fine. You saw the defense in Pittsburgh [in the Wild Card Game]. He's definitely in the moment."
Maybe being back at Wrigley Field will help. Bryant batted .311 at home, hitting 21 of his 26 home runs there.
"I think it helps all of us," Bryant said about being home. "I think we all play better at home in front of our fans. I think we're all excited to be here. The crowd should be pretty lively and it should be pretty exciting."
So Bryant will continue to stick to his routine, hit in the cage and come ready for Game 3 on Monday.
"There's other ways to win a ballgame than hitting the ball over the fence," Bryant said. "Right now, I'm known for my defense. I enjoy it. It's just funny that early in the season, there were some questions about my defense. I've been able to show everybody what I can do there. I love to play third base and help the team when possible."
Carrie Muskat is a reporter for MLB.com. She writes a blog, Muskat Ramblings. You can follow her on Twitter @CarrieMuskat and listen to her podcast. This story was not subject to the approval of Major League Baseball or its clubs.