Short rest no issue for Yo with season on line
Ace righty set to square off with rookie McCullers in Game 4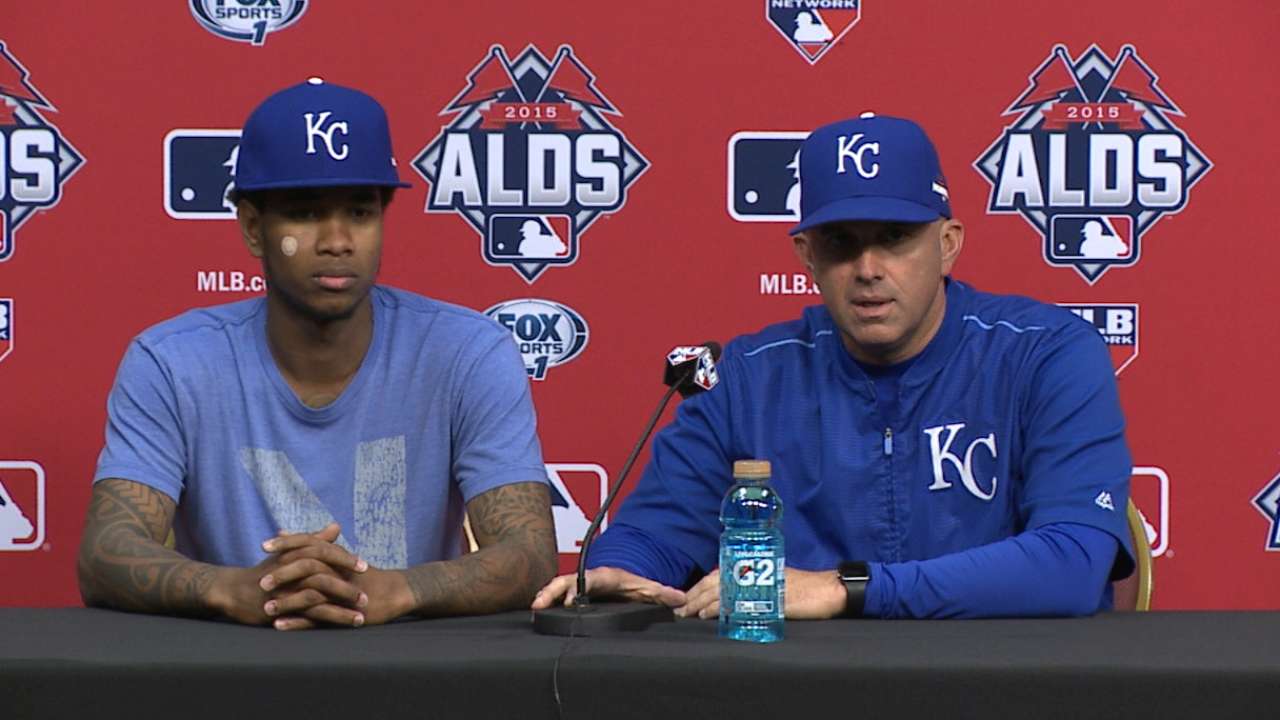 HOUSTON -- After lasting just two innings in a rain-shortened start in Game 1 of the American League Division Series on Thursday, right-hander Yordano Ventura is ready to start against the Astros on short rest with Kansas City's season on the line in Game 4 at Minute Maid Park on Monday at 1 p.m. ET on FOX Sports 1.
The Royals are facing elimination after their 4-2 loss in Game 3 on Sunday, but manager Ned Yost doesn't think it'll affect Ventura, who helped the Royals stave off elimination last year with a strong showing in Game 6 of the World Series against the Giants.
• Shop for Royals postseason gear
"We have to go out and win, and I don't think our mind-set would have changed any if we won today," Yost said. "You've got to go out and win tomorrow. You just don't have much leeway now, but our guys I think are up to the task."
"That plan was set up like that from the beginning," Ventura said through a translator of pitching on short rest. "I feel good, my arm recovers quick. I'll be ready to go tomorrow."
Although there was some speculation before the series that right-hander Kris Medlen could get the nod in Game 4, manager Ned Yost always planned on going with Ventura on three days' rest, as he wanted Chris Young to be used as a long reliever at Kauffman Stadium and Medlen as a long reliever at Minute Maid Park. Young did follow Ventura in the series opener and threw four strong innings, allowing one run and striking out seven.
"Ventura [was] one of our best starters going down toward the end of the season," Yost said. "And we like the fact that we had Chris Young, who has been throwing the ball so well in long relief, to use at home as a fly-ball pitcher in a big ballpark, and Kris Medlen in long relief here as a ground-ball pitcher in a smaller ballpark. So we felt like it set us up real nice."
As Yost noted, Ventura finished the season strong, going 7-1 with a 2.38 ERA over his final 11 starts. The flame-thrower also struck out 81 in 68 innings, with three 11-K games over that stretch.
Even after his struggles in Game 1, Ventura matches up well against the Astros, as they hit only .192 against fastballs of more than 95 mph during the regular season, the lowest average in the Majors. And 79 percent of Ventura's fastballs registered at least 95 mph, according to data from mlbfarm.com.
"We sat down as a group and looked at it," Yost said of using Ventura again so quickly. "Ventura bounces back really, really well. We wanted to have our best power arms coming at these guys."
Ventura, 24, has never pitched on short rest during the regular season, but he did pitch on two days' rest in the postseason last year, and he threw 13 pitches in the AL Wild Card Game before starting Game 2 of the ALDS against the Angels. He fared well in that outing, allowing one run over seven innings in a win at Angel Stadium.
"Obviously, it's a different situation, but my routine is going to remain the same," said Ventura, who has a 3.95 ERA in five postseason appearances, including six starts. "I've got a good defense behind me, and I'm ready to go for tomorrow. I'll attack the strike zone, let the defense play behind me."
Rhett Bollinger is a reporter for MLB.com. Read his blog, Bollinger Beat, follow him on Twitter @RhettBollinger and listen to his podcast. This story was not subject to the approval of Major League Baseball or its clubs.