MLB.com Columnist
Alyson Footer
Hustle Town welcomes postseason baseball
Astros fans pack Minute Maid for first playoff game in 10 years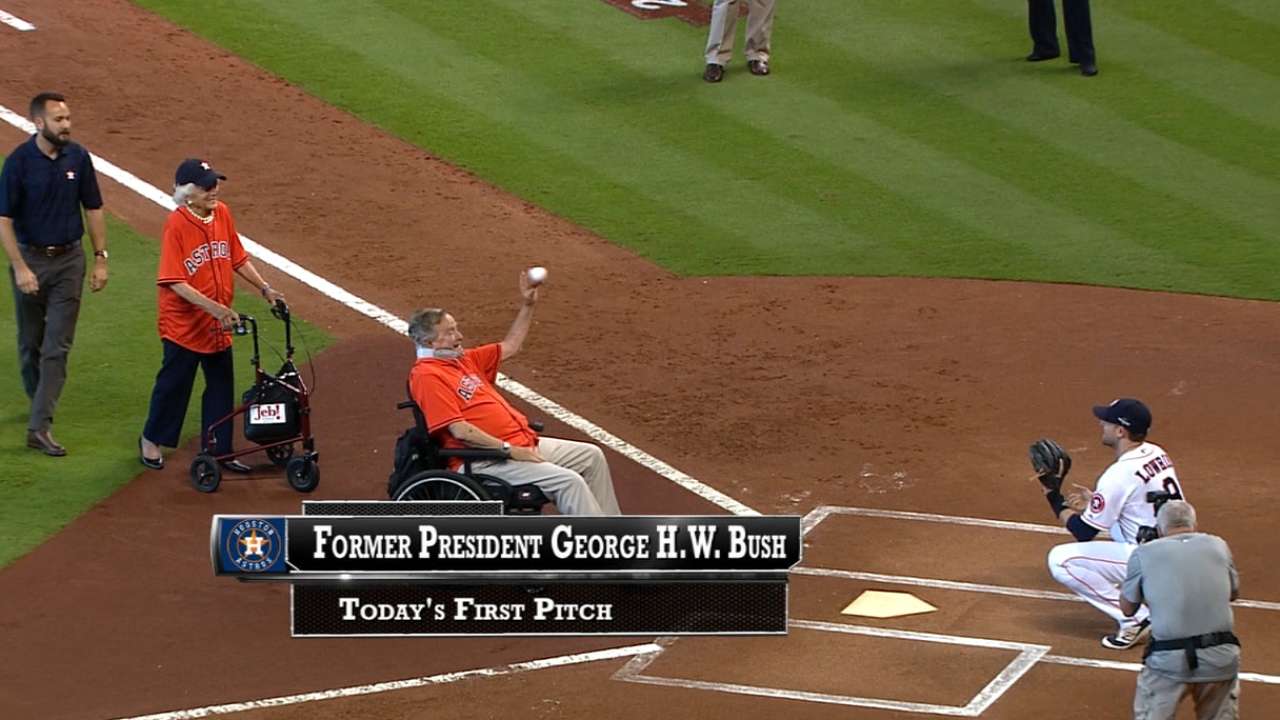 HOUSTON -- A new era of baseball has begun for the Astros, but when it comes to certain aspects of the postseason, there's always room for a nostalgic nod to the past.
Minute Maid Park has been a destination spot for a few prominent Houstonians over the years. Country music recording artist Clay Walker has performed the anthem prior to several high-profile games, practically from the time the ballpark opened in 2000. And the Bushes -- former President George H.W. and his wife, Barbara -- for years attended several home games in the first few months of the season, before heading to their home in Maine for the summer.
• Shop for Astros postseason gear
All three were at Minute Maid Park on Sunday for Game 3 of the American League Division Series -- Walker to sing the anthem, and the Bushes to assume ceremonial first pitch honors.
Sunday's pregame ceremony took place with most of the sellout crowd, wearing orange and clapping their Hustle Town Thunderstixx, already assembled in their seats.
As Walker sang the anthem, 75 season-ticket holders unfurled a large American flag in the outfield. The pregame ceremony concluded with the Bushes throwing the first pitch to infielder Jed Lowrie. President Bush, 91, tossed the ball from his wheelchair just in front of the plate, with Mrs. Bush standing next to him, waving to the crowd.
"I thought it was great," Barbara Bush said of her husband throwing the pitch. "We're big Astros fans. It's very special. See how much they love him."
Walker, who recently finished up a concert tour and is promoting the pending release of his new album "Long Live the Cowboy," featuring hit single "Right Now," estimated he's performed the anthem on Opening Day five times. He also was a regular presence through the postseason runs in 2004 and '05.
Walker's smooth baritone voice, combined with a charming country twang, provided a fitting backdrop to the first postseason game to be played in Houston since 2005. Two players on that pennant-winning team -- Roger Clemens and Andy Pettitte -- are the reason why Walker is an Astros fan first and a Yankees fan a distant second, and why he has such fond memories of performing at the Astros' downtown home.
"I love being called to do this, to sing today," Walker said. "There's a lot of country music fans out there. Historically when I've sung here, I've gotten a lot of support, and you can tell a lot of them are fans. That's always nice and comforting."
Walker can list several players, past and present, as his favorites, but as a left-hander, he has a special affinity for Dallas Keuchel. Performing on a day that Keuchel was pitching made this a little extra special for Walker. Combine that with an old-school admiration for the players of yesteryear -- Clemens, Craig Biggio, Jeff Bagwell -- and Walker sounds like most Astros fans, who have been waiting for the team to come back to prominence for the better part of a decade.
"The new guys are strong," he said. "It looks like they have a young team and could be fun to watch over the next four, five years."
Walker, who considers team owner Jim Crane a friend, remembers the state of the team when the new ownership group took over, and he marveled at the turnaround in a short amount of time.
"I heard a lot of fans calling us a Triple-A ballclub," Walker said. "I don't think they're calling it a Triple-A ballclub anymore."
Alyson Footer is a national correspondent for MLB.com. Follow her on Twitter @alysonfooter. This story was not subject to the approval of Major League Baseball or its clubs.