McCullers can lead Astros to ALCS in Game 4
Rookie understands magnitude of first postseason start, welcomes golden opportunity
HOUSTON -- A clinching opportunity rests on Lance McCullers' shoulders after the Astros celebrated their first postseason game at Minute Maid Park in a decade Sunday with a 4-2 win over the Royals.
The victory gave the Astros a 2-1 edge in this best-of-five American League Division Series, putting them in position to advance to the AL Championship Series with a win in Monday's Game 4 matchup (1 p.m. ET, FOX Sports 1).
• Shop for Astros postseason gear
McCullers, who celebrated his 22nd birthday on Oct. 2, is confident leading his team into the potential clincher.
"You can't go into a game like tomorrow and just say to yourself, 'Oh, it's like every other game you ever pitched in,' because it's not," said McCullers, who will be opposed by Kansas City ace Yordano Ventura. "And I'm OK with that. I'm going to attack that head on, understand that the moment's bigger, the stage is bigger.
"I may get a little anxious like I do before pretty much every start, but I'm going to go out there and I'm going to compete and I'm not going to hold anything back."
McCullers perhaps has an even greater appreciation for the opportunity to experience postseason play after speaking to his father, the elder Lance McCullers, who pitched seven seasons in the Majors without once reaching the postseason.
"I talked to him about it," McCullers said. "I talked to a lot of the other guys about it as well. It's special. It's something that doesn't happen for everybody, as my dad played many years in the big leagues and he never got the opportunity to play in the postseason."
The younger McCullers finished his rookie season with the Astros 6-7 with a 3.22 ERA over 22 starts following his promotion from the Double-A level.
He hardly pitched like a rookie, mostly harnessing a bevy of emotions, which is why Astros manager A.J. Hinch doesn't think of him as one.
• McCullers, Astros look to clinch spot in ALCS
"I have a lot of trust and faith that his stuff is as good as anybody we have and he'll be able to execute that, provided that he can control the little animal inside of him," Hinch said. "He represents a lot of what's right about what we're doing, because he's young, he's energetic, he's going to be competitive and he'll be ready."
"My biggest thing is trying to channel that emotion for the greater good," McCullers said. "I want to use that energy to my advantage rather than my disadvantage. I get a little fired up sometimes. But it keeps me in the game, I think it pumps the guys up, so as long as I can just use that to my advantage, then that's really what it's there for."
• 3 keys for the Astros in Game 4
McCullers last pitched in the club's regular-season finale in Arizona on Oct. 4, allowing a pair of earned runs (three overall) in five innings. Not since Aug. 3, when he endured a six-run outing in Texas lasting one-third of an inning, has McCullers yielded more than three earned runs.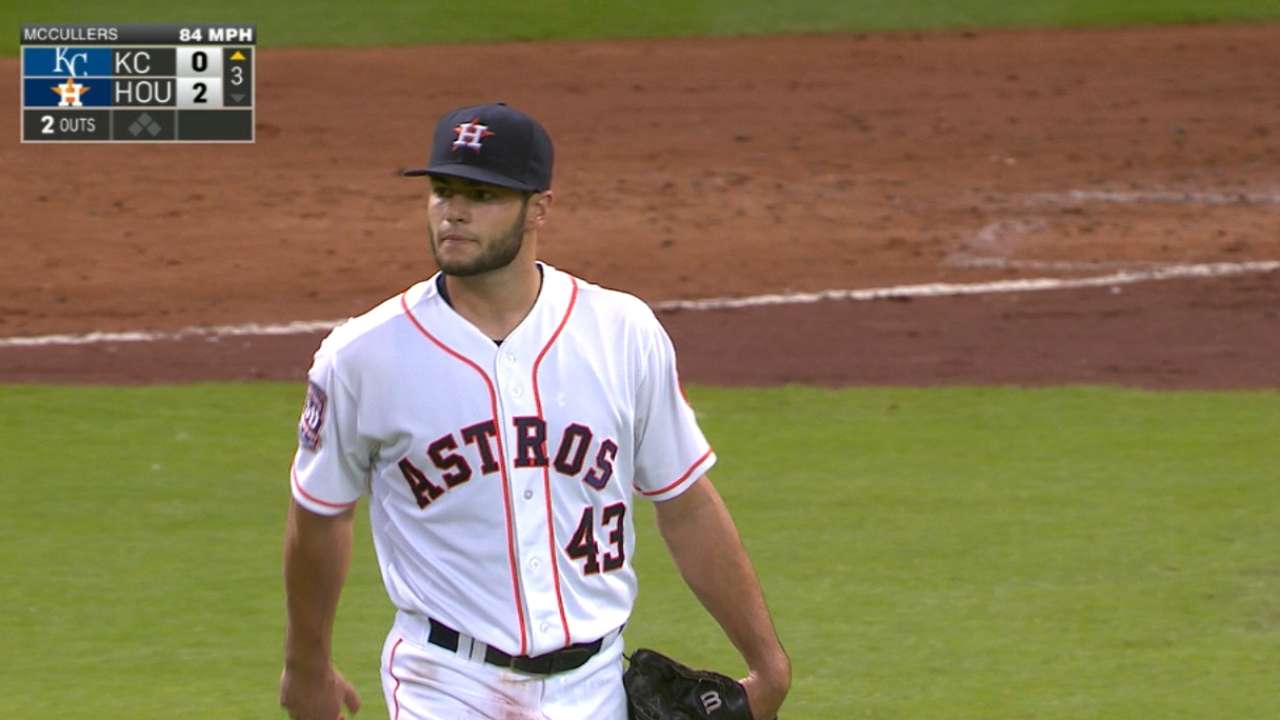 In his only start against the Royals this season, McCullers dominated, allowing one run -- on a solo homer to Salvador Perez -- and four hits in seven innings. He struck out six and walked two in the June 29 win.
"They're an aggressive club," he said. "They can do all things. They can bunt, they can hit for high averages and hit the ball out of the park. So you have to do your best to neutralize them early and often. I have to go out there and trust myself. I can't go out there and do anything that I haven't done all year."
Jane Lee is a reporter for MLB.com. This story was not subject to the approval of Major League Baseball or its clubs.