Gomez starting for Astros, batting sixth
Royals opt for familiar lineup for Game 3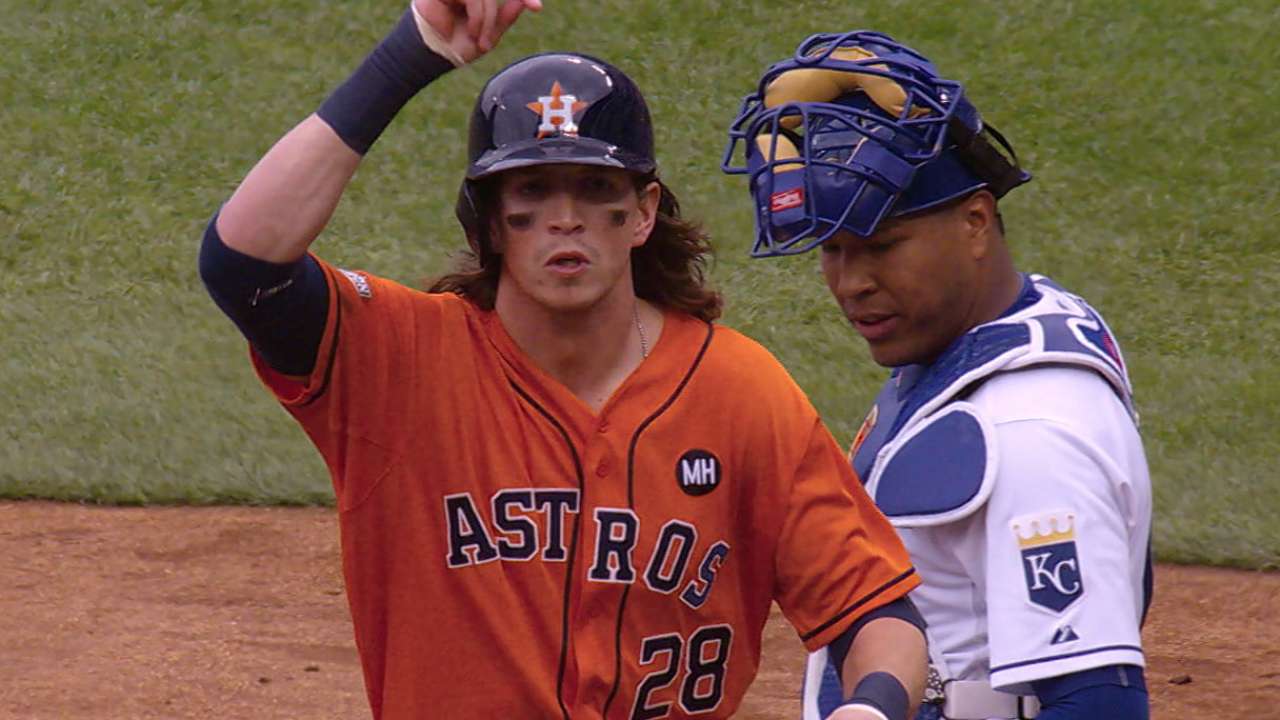 HOUSTON -- Astros center fielder Carlos Gomez returned to the starting lineup for today's Game 3 of the American League Division Series against the Royals at Minute Maid Park (4 p.m. ET on MLB Network). Gomez, nursing a mild left intercostal strain, didn't start the first two games of the series.
Gomez is hitting sixth in place of Jake Marisnick, who started the first two games of the series in center. Gomez is starting for the first time since Tuesday's AL Wild Card Game, in which he hit a home run to help beat the Yankees.
"We're going to give it a go with [Gomez]," Astros manager A.J. Hinch said. "He's feeling the same. I'm sure adrenaline will play a key role today. Now's the best time as ever. He's got pretty decent history with [Royals starter Edinson] Volquez. He'll be ready to go. I worry a little bit about what could happen, but it could also happen good, like it [happened] in New York."
Hinch didn't know if Gomez was going to be able to start back-to-back games.
"I've got to use my eyes and ears a little bit, but I can't really worry about tomorrow until we get through today," Hinch said. "Let's get through today and see what happens."
Gomez suffered a mild intercostal strain Sept. 13 that he aggravated in the final week of the season in Seattle. He's been used mostly as a pinch-runner and a defensive replacement since. Hinch expects Gomez to play hard, even if it means risking further injury.
"I think this time of year in this ballpark, the atmosphere today, we have no shot of telling him to govern it down," Hinch said. "I'm not even sure we want that. This is an important game. We want him to be his best. He's going to do everything he can. I don't know how it's going to go towards the end of the game, just like in New York, where he had a swing that didn't feel very good."
Here's Houston's lineup for Game 3:
1. Jose Altuve, 2B
2. George Springer, RF
3. Carlos Correa, SS
4. Colby Rasmus, LF
5. Evan Gattis, DH
6. Carlos Gomez, CF
7. Luis Valbuena, 3B
8. Chris Carter, 1B
9. Jason Castro, C
Royals stick with status quo
The Royals are going with their core in Game 3 against Keuchel, who went 1-1 with a 3.07 ERA in two starts against them this season.
Right fielder Alex Rios and designated hitter Kendrys Morales have hit Keuchel hard in their careers, with Rios batting .385 (10-for-26) with four doubles and Morales sporting a .375/.412/.438 slash line in 16 career at-bats against the lefty.
Second baseman Ben Zobrist (2-for-11) and catcher Salvador Perez (1-for-12) are two of several Royals who have struggled to pick up Keuchel.
Here's Kansas City's lineup for Game 3:
1. Alcides Escobar, SS
2. Ben Zobrist, 2B
3. Lorenzo Cain, CF
4. Eric Hosmer, 1B
5. Kendrys Morales, DH
6. Mike Moustakas, 3B
7. Salvador Perez, C
8. Alex Gordon, LF
9. Alex Rios, RF

Edinson Volquez, P
Brian McTaggart is a reporter for MLB.com and writes an MLBlog, Tag's Lines. Follow @brianmctaggart on Twitter and listen to his podcast. This story was not subject to the approval of Major League Baseball or its clubs.